Food waste and paper liners
How your food and garden waste is composted
Food waste is collected fortnightly with garden waste in your green bin. The contents collected are combined with other food and garden waste collected in Cambridgeshire and made into nutrient rich compost which is used by local farmers and gardeners.
To find out more about the composting process see the RECAP what happens to waste information. 
Kitchen caddies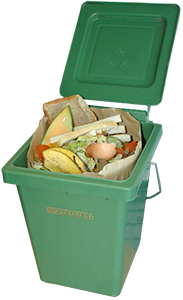 We provide free 5-litre kitchen caddies to South Cambridgeshire residents for collecting food waste to put in your green bin or on your compost heap.
You can collect a caddy from our Cambourne office. Our address is: South Cambridgeshire Hall, Cambourne Business Park, Cambourne, Cambridge CB23 6EA.
Caddy liners
Do not use biodegradable 'plastic' corn starch liners (for example BioBag). These are not accepted in the green bins, even if they display a certification number or seedling logo, as they do not compost quickly enough for our fast composting process.
You can use 100% paper caddy liners, newspaper or brown paper from deliveries, or put your food waste into the green bin without wrapping it first.
If using a paper liner, any 100% paper caddy liners can be used (for example, EcoSack or Alina). They can be bought from our Cambourne offices in packs of 50 for £4.20 (payable by card only, please bring proof of address), or from online retailers or some supermarkets.
Contact Details