Leader's Blog – Cllr Bridget Smith
Thank you for visiting my blog. Through my blog I'm aiming to give you a better insight into what I am doing behind the scenes to represent you and make sure the Council is delivering on the priorities you have helped us set.

If there is anything you want to know more about, or topics you want me to cover in more detail, please get in touch – cllr.bridgetsmith@scambs.gov.uk

Best wishes
Bridget

Investment in our green plans
We agreed our budget for 2020/21 at the Council meeting last week. Now, on the face of it that doesn't sound terribly thrilling, but I'm incredibly excited about the ambitious plans this will allow us to deliver.

Our budget for 2020/21 will see a £5 million investment in South Cambridgeshire to tackle the global climate emergency. We have said in our Business Plan that we want to be green to our core and have pledged to be net zero carbon by 2050. Tackling the climate emergency cannot wait and if we are to achieve our zero carbon ambitions we need to be leading by example and investing to make it happen. And we're putting the money it needs to make real inroads.

Some of the things we will be doing over the next year include,
retrofitting
 our offices to cut our emissions and cut energy bills, providing a further £100,000 in grant funding for community projects under our Zero Carbon Communities programme, investing well over £1 million on improving energy efficiency of our Council homes – which will help cut our tenants' energy bills too – replacing the 1,800 District Council owned streetlights with LEDs to reduce energy consumption by 60% and purchasing an electric bin lorry to see whether it is viable to shift from a diesel to an all-electric fleet.
As well as Council this week, I also attended a workshop with members to look in more detail at how the Council, all of our businesses and residents can really begin to reduce carbon emissions and improve our own environment. This can be little things such as our 3 free trees offer – which 70% of our villages have taken advantage of – to significant community projects such as the Community Wind Turbine in my own village of Gamlingay and the award winning Eco Hub which produces all of its heat and electricity for renewable sources. The important thing is that all these little things soon begin to add up to something which really does begin to have an impact.

As I've said, more is always needed, and we will continue to push for a cleaner, greener future.
12 February 2020: Connecting with local businesses
I met with John Bridge, the Chief Executive of the Chambers of Commerce, in their new offices right by the Busway in Oakington this week. The offices have just opened and will provide a home for the Chamber of Commerce covering both the Cambridge and Peterborough.
One of our Business Plan priorities is to grow local businesses and economies so regularly meeting with people like John is important so we can make sure we are focussing on the right things to help businesses prosper.

Julie Spence, Cambridgeshire's Lord Lieutenant, joined us and spoke passionately about the Queen's Awards for Enterprise and her ambition to get more awards throughout all of the county.
6 February 2020: True heroes
It was huge pleasure to meet the team at the East Anglia Children's Hospice (EACH) and to learn of the fabulous and invaluable work they do. I have always heard great things about them, but had never had the opportunity to visit before this week. Mike, the Service Manager and Philippa and Karen from the Fundraising team helped show me around.
They have a lovely building tucked away by the beautiful historic church in Milton. I learnt that they look after about 150 children and young people who have life-threatening conditions at any one time. This is both as residents (often with their families too) and through their outreach programme. Every little detail had been thought of to ensure that children and their families can feel as if they are in a home away from home at this very difficult time of their lives.  From the sensory room to the teenagers' den, the hydrotherapy pool to the family accommodation on site, the range of support was incredible.
It costs £15,000 to keep the hospice open for a day and the money from Government lasts them until the middle of February. After that they are reliant on fundraising activities and donations. This was a real shock to me.
The other way in which you can help is by volunteering.  I was surprised to hear that the hospice is short of volunteers in a number of areas – so again, if you have some time available please do think about supporting this amazing organisation. It could be anything from housekeeping and garden maintenance to fundraising. Do give them a ring if you would like to join this lovely and committed team of people.
My thanks to the team at the hospice for all they do in our community, and the wider East Anglian community. They are true heroes.
Tuesday 7 January 2020: #ThreeFreeTrees
I spent a lovely hour or so in Fulbourn this morning with some very environmentally-minded young people who helped us to kick off our Three Free Trees initiative. We're offering three free trees to every parish council in South Cambridgeshire and we planted the first one as part of the scheme at Fulbourn Recreation Ground earlier. It's really important we do something to start increasing the amount of tree planting in South Cambridgeshire. I learned back in the autumn that there are fewer trees here than almost anywhere else in the country. We have to do something to address this – particularly in the face of a climate crisis. I really hope that this modest scheme will inspire lots more people – residents, businesses, farmers and more – to think about planting more trees as they have so many benefits. It was excellent to have the support of the Cambridge Independent newspaper and ITV News Anglia, who both came along to our event at Fulbourn, so look out for some headlines soon!
Wednesday 30 October 2019: Celebrating Black History Month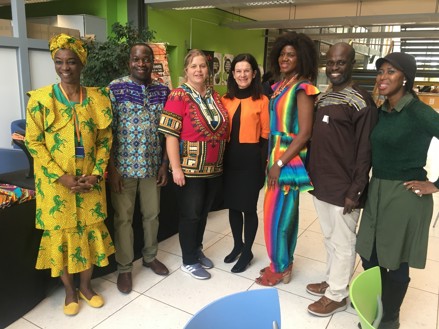 We had a wonderful event at our offices in Cambourne today to celebrate Black History Month 2019. Officers and members came together to mark this important day and celebrate great black British achievers. Thanks to the Cambridge African Network, we were treated to a small bazaar with some beautiful items for sale. I admit to using the time to do a bit of Christmas shopping and came away with two colourful ties with pocket handkerchiefs, a bow tie, six pots of chilli sauce and two jewellery sets. Plus I treated myself to a lovely dress. It was great to be able to support local traders in doing this too. We were also able to try some African and Caribbean food. It all bought back brilliant memories of some of my time as a child in West Africa and the delicious food and marvellous colours I experienced there. 
Wednesday 23 October 2019: Inspirational visit on later living
I visited Warwickshire on Friday to see first-hand two models of inspirational later living villages aimed at people over the age of 60 (which I think of as very young!). I'm describing them as later living villages as they could not be further from the picture you paint in your mind when someone says retirement home. 


Like many parts of the country, we have an ageing population in South Cambridgeshire and we want to make sure we are looking at best practice from around the country to help people to stay well and active for longer whilst continuing to live independently. Additionally, we need to free up all those big family homes with one or two people living in them for the families of the future.  

The Inspired Villages owned and run facility in Warwickshire was more like a very nice hotel or country club. There was a large central building with a wide variety of very high-quality community facilities on the ground floor. This included a coffee shop, restaurant, bar, spa, gym and small swimming pool. In all there were over 150 apartments located either upstairs in the main building or in nearby buildings.

The upstairs apartments had balconies and the downstairs ones had open gardens which people could manage themselves if they wished. Electric taxis were provided for people to get to the shops, station or airport.

What I really liked was the fact that the village felt connected to the existing neighbouring town which makes it part of that community. Good interaction between it and the later living village was encouraged which is a great way to tackle isolation and loneliness. And loneliness has been proven as having a bigger impact on your health than smoking 20 cigarettes a day.

These things cannot be delivered overnight, but we will certainly be continuing to talk to Inspired Villages and other companies about opportunities in South Cambridgeshire.
Thursday 10 October 2019: Housing boost is another positive step
I am really pleased that £215,000 of Combined Authority funding was awarded to help deliver five new affordable homes at Meldreth yesterday.

A total of £100 million was secured as part of the devolution deal for more affordable homes and every single one is much needed. In Meldreth alone, which is a relatively small village, a housing needs assessment showed 45 people or families needed an affordable home. This is one example of why housing that is truly affordable to live in is one of our top priorities as a Council.

Although five homes may seem a small amount, it is another step in the right direction and in this case they might not have been possible without the cash boost. The acute need for truly affordable housing is one of the reasons we have doubled the rate we are bringing forward new Council houses each year from 35 to 70. And we want to do even more to support those on our waiting list and the hidden homelessness. I say hidden homelessness as we know there are people sofa surfing and living with their parents or a family member when the reality is that they are in great need of their own home.
Tuesday 1 October 2019: Biggest iceberg for 50 years is warning
The BBC news article published yesterday about the biggest iceberg breaking off for 50 years is shocking reading. is shocking reading. It is almost the size of the Isle of Skye.

This demonstrates why it is so important that we all think about the environment and protect and improve it for our children and their children's children.
Some modelling shows that Gamlingay, the ward I am local member for, could end up being G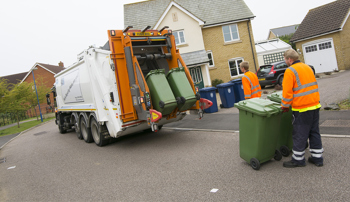 amlingay-by-the-sea in years to come if we do not all play our part. That's why we are making sure we are green to our core and putting the environment at the centre of everything we do.
Helping preserve the plant isn't just about big changes made nationally or internationally, even simple things we can do at home can make a difference. Next time you have a can of coke or finish a box of cereal, 
think hard about what bin to use as packaging should be seen as a resource we can recycle. 
Wednesday 25 September 2019: Students put me through my paces on the green agenda
On Friday last week, the day that the big climate strikes were held, students of Comberton Village College invited me to join them for a chat during which they were able to tell me what they thought I should be doing to tackle the climate crisis.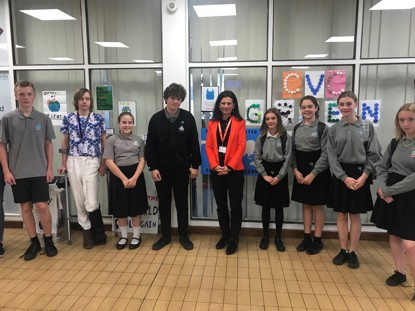 They asked me to ensure that they are able to cycle safely to school on designated cycle paths. They told me about the Refill App which will reduce single use plastics from water bottles. One student whose family comes from Romania told me that all the buses in Romania were electric and asked why that could not be the case in the UK.   They were very concerned about landfill and about all the plastics that they still used in school including plastic folders and pens.  They were worried that we would be building landfill sites in South Cambs which we are not.

The conversation was fantastic and young people pressing us on these issues demonstrates why the Council has put 'green to our core' as one of our main priorities.
Monday 9 September 2019: "The most important document you've never heard of"
It was excellent to see so many representatives from locally-based businesses at our latest Local Plan workshop. The Local Plan has been described by one of the senior managers in our Planning Service as "the most important document you've never heard of" because it covers how where we live will change in the years ahead, be that new homes, schools, jobs or transport.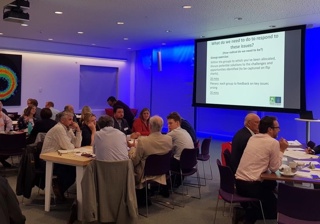 We're right at the start of the process of creating a joint Local Plan with Cambridge City Council and the event at the end of last week was the latest workshop held by our Shared Planning Service. During the past few months we've spoken to parish councils, residents' associations, landowners, developers and many other groups and last week's get-together was aimed specifically at businesses. There was a range of organisations there – including Marshall, the University of Cambridge and Hain Daniels who work out of the old jam factory in Histon.
Because we're at the beginning of making a Local Plan for Greater Cambridge, the workshop posed questions about the opportunities and challenges on the horizon. Unsurprisingly, transport and housing are right up there as key issues but it was great to hear how receptive the attendees were towards our green ambitions. The businesses were pleased to be talking to us at this early stage of the process and we're aiming to involve as many people as possible in the weeks and months ahead.
Up until now we have been engaging with various groups in advance of the first round of consultation on the new joint Local plan. The sessions have been really helpful, and all the comments have been fed into the first milestone in the Local Plan process, which is the Issues and Options consultation towards the end of the year. As the title suggests, this will give all our communities the chance to tell us about what they think the key things will be where we live in the years ahead. There will be much more on this to come before the end of the year so please do look out for it and comment when the time comes.
Wednesday 14 August 2019:  Our new Chief Executive
It was great to spend much of yesterday with our newly appointed Chief Executive, Liz Watts. Liz joins us on 23 September but got her work underway early when she met with me, my Cabinet and officers to understand more about our priorities and how we can make sure we are delivering these for residents and businesses.
Liz was recently the Chief Executive of East Herts Council and has an amazing career which includes working with asylum seekers in London and as part of the post-war peace process in Bosnia-Herzegovina, where she was based in Sarajevo for eight years.
Once Liz joins us I know she will be really keen to get out and about in the district to understand more about the challenges and opportunities in our fantastic and unique communities.
Tuesday 30 July 2019: Two campaigns close to my heart
Fly-tipping is simply a despicable crime and an issue we are trying hard to reduce in the district. Amazingly, most fly-tipping stems from households who give their waste to a 'white van man' who promises to take it away for a small fee.

The SCRAP fly-tipping campaign we are pushing hard here is trying to involve everyone to tackle the problem. We clear fly-tipping from most public land, costing up to £2,000 a pop. The damage isn't just financial, and we've recently changed our processes so we can investigate, try and prosecute and clear it away more quickly.
A huge plea from me. If someone is saying they can take your bulky waste in their van for a price that sounds too good to be true, it is. Being mindful of this is one role you can all play. And you can also help us know about fly-tipping by reporting it to us through our website.
I know the vast majority of people detest fly-tipping so please support the campaign.
There's some great videos on our Facebook page you can share too.
On a more positive note, I had the honour of opening the new British Heart Foundation shop in Cambourne today. It is great to have this as part of the centre of Cambourne and I'm sure it will be a big success. I was born with a congenital heart disease and my family have also benefited from the great work the British Heart Foundation does so this is a campaign I am very close to. The staff today were simply fantastic and I'm sure they would love to see you in the shop soon.
Friday 26 July: OxCam Arc and the environment
I was delighted to be able to meet with Peter Horrocks CBE yesterday to discuss his role as the Chair of South East Midlands Local Enterprise Partnership and our shared vision for creating a truly ambitious environmental strategy for the OxCam Arc.
We both aspire to influencing the Arc through the new environment work stream and through our local authority planning policies to encompass really high environmental standards both for the millions of people currently living in the arc and for those people who may live there in the future. This will translate into improved green and blue bio diversity, increased public access to the countryside, improved air quality, building to the highest energy efficiency standards, providing real alternatives to the car to move around and  boosting renewable energy generation to name but a handful of positives. We both agree that OxCam has to principally benefit the people already in the Arc and must significantly improve their quality of life. The best way to do this is through setting the highest standards for the arc now and into the future.
Friday 5 July 2019: Return of the Saxons!

With all the excitement of the appointment of Chief Exec Liz Watts and my looming holiday, I still was not going to miss an event in Gamlingay last night for the world!!
A very moving celebration was held at Millbridge Brook Meadows, Gamlingay to mark the reinterment of skeletal remains of seven Saxon children and one Saxon woman. The remains had been found in the excavation site in Station Road, Gamlingay in 1997.
County Council Archaeological Officer Quinton Carroll gave everyone an insight into how things would have been in the Saxon community in Gamlingay.
A very special evening, enjoyed by all.
Thursday 4 July 2019: A hectic week and a new Chief Exec

It's been an exciting and action-packed week and my feet have hardly touched the ground.
It started off in London where we held interviews for the new Chief Executive of the Council. We had a large group of talented people from across the country to choose from, which reflects what an exciting place our district is to work.
Following the interviews, then a meeting of our Employment and Staffing Committee and Extraordinary Full Council Meeting today, I'm very excited to share with you that Liz Watts is going to be our new Chief Exec. Liz spent almost four years as Chief Exec at East Herts Council, and has held senior roles at St. Edmundsbury Borough and Forest Heath Councils. She has also worked with asylum seekers and as part of the post-war peace process in Bosnia-Herzegovina.
In between all of this, I found some time to fit in a trip to Bournemouth to attend the Local Government Association conference. This has been a chance to not only visit the seaside, but also have some very useful and interesting discussions with the Leaders of our fellow Councils, share what we're doing, particularly focussing on our green to the core agenda, and pick up some new ideas. We've also discussed the Oxford - Cambridge Arc project, safer communities and funding for Councils.
I don't know about you, but I'm now ready for a holiday! With that in mind, I'm heading away with my family to France for a break. It's an open invitation for my three (adult) children – but you can never be sure how many will turn up!
Thursday 27 June 2019: A chance to enhance nature
I was recently appointed as a member for the environment on the OxCam Arc Joint Advisory Group. I know residents really care about leaving a positive mark on the environment and this is one way to help this to happen.
We want to move away from a view that building houses or roads should 'avoid harm', to see it as a chance to make things better and enhance nature.

Through development we can improve air quality and access to the countryside, increase cycling and use of public transport, improve standards of homes, increase canopy cover and bio-diversity and invest in renewable energy. 
So by working together with partners from South Oxfordshire to East Cambridgeshire we have a real opportunity to encourage and enable people to make positive behavioural change – which we all urgently need if we are to respond to the climate emergency.
Wednesday 19 June 2019: Plastics a focus on politics show
On Sunday I represented the Council on Sunday Politics East. There was some really interesting debate and an item on plastic recycling featured. I was pleased to be able to let people know that all the plastic put in blue wheelie bins in South Cambridgeshire is sorted in our Waterbeach centre and responsibly recycled.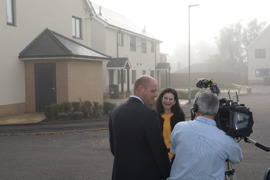 Once processed, almost all of the materials go to be recycled and turned into new products in the UK with around 5% going to highly controlled centres in Spain and the Netherlands. One of my main messages was how important it is to recycle as much as possible so please keep it up.
For anyone wanting to watch the debate you can catch up online by visiting the Sunday Politics East section of the BBC website. The episode was aired on 16 June. The other council leaders on the show also wore red so we were very colour coordinated. 
Wednesday 12 June 2019: In listening mode on Bourn Airfield
At our Cabinet meeting last week, we agreed to consult on the Bourn Airfield Supplementary Planning Document. I know what you are thinking as this sounds dry and technical. However, this is in fact a really important consultation for people to get involved in.

The document sets out a proposed vision and masterplan for the new village to make sure it is a great place to live and work for new residents and people living nearby.

We want the new village to have great schools, shops and a 21st century centre where people enjoy meeting for recreation as well as shopping. We also want to make sure that the new village is designed so it supports our aim of reducing car use.

But what we really want is for you to get involved in the consultation that will launch next week. We are in listening mode so please make sure you have your say.

You can take a look at the draft documents we considered at Cabinet by visiting the agenda page on our website.
From Monday 17 June you can have your say by visiting www.scambs.gov.uk/bournairfieldspd. It closes on Monday 29 July.
Tuesday 4 June 2019: Scout celebration at AGM
Welcome to my new Leader's blog. Through the blog I hope to be able to share with you a mixture of the work I am doing as the Leader of the Council along with some great things taking place in my patch as the local member for Gamlingay.
Last night I attended the AGM of the Gamlingay and Gransden Cubs and Scouts. It was brilliant to witness Chloe, one of the Scouts, being awarded the Queen's Scout Award by the County Commissioner. We were told this is the highest award for a Scout which is an incredible achievement. Well done Chloe.
In my future blogs I hope to also be able to share more photos with you. I'll try remember to take some snaps and make sure we tick all the boxes with permissions too.
Contact Details
Was this web page helpful?