Leader's Blog – Cllr Bridget Smith
Thank you for visiting my blog. Through my blog I'm aiming to give you a better insight into what I am doing behind the scenes to represent you and make sure the Council is delivering on the priorities you have helped us set.

If there is anything you want to know more about, or topics you want me to cover in more detail, please get in touch – cllr.bridgetsmith@scambs.gov.uk

Best wishes
Bridget

Friday 12 May: New electric buses for Greater Cambridge

Finally the start of the bus improvements for Greater Cambridge with the launch of 30 all electric buses at a cost of £17mil. Look out for them travelling to and from all the Park and Ride's. They are a lovely comfortable ride and will play a massive part in reducing our transport related carbon emissions and help improve our air quality.
Friday 17 March 2023: A visit to Ouse Fen
It was lovely to meet up with the RSPB team this week. They are doing the most inspirational work at Ouse Fen Nature Reserve to restore a massive site to nature rich wetland. This exemplar project is being run with Hanson and the County Council and is the largest project of its kind in Europe. Even while material is still being extracted from the quarry, bitterns, bearded tits and marsh harriers are populating the parts that have been restored. There are 19km of trails to walk and you can see for yourselves where the sand and gravel is being removed and get a sense of the scale of the wetland that will eventually be there for future generations to enjoy. Much of the routine maintenance is done by local volunteers and the local community continue to be heavily involved in the site's development. What excites me most of all is the potential for this model of partnership working between the private sector, local authorities and the a national charity to be rolled out across the country thereby greatly improving our landscape and bio diversity.
Wednesday 8 March 2023: International Women's Day
It was a huge privilege to be asked to speak today at the Local Government Association's Women's network on International Women's Day. I focused on how our four day week trial at the Council could help to support women (and men) with caring responsibilities. There was a very interesting debate about how women's progress through employment hierarchies can still be impeded, and a long conversation about how we deal with 'micro aggressions' which for many of us are a daily occurrence. These can so easily be normalized but which should be routinely be called out.
Monday 13 February 2023: MAGPAS Air Ambulance Future 50 Appeal launch
It was a huge privilege to attend the launch of the MAGPAS Air Ambulance Future 50 Appeal on Friday at their new, and nearly completed headquarters, at Alconbury, in the presence of their president, HRH Princess Anne, the Princess Royal.
HRH Princess Anne unveiled a plaque dated just before the passing of The Queen which reminded us why this celebration was postponed. 
We were taken on a guided tour of the fantastic new facilities, that will even include a family room where patients can meet the clinicians who most likely saved their lives. 
The Charity must raise £6 million every year but the work it does is absolutely invaluable - and as one of the speakers said, you never know when you might be very grateful for them being there.
We were able to talk to supporters, volunteers and staff all of whom were absolutely passionate about what they do.
The highlight was when the helicopter, just returned from a mission, landed on the grass outside the pavilion at Alconbury.
Friday 14 October 2022: Talking buses with the Mayor
Thank you to the Mayor of Cambridgeshire and Peterborough, Dr Nik Johnson for coming to Gamlingay Eco Hub yesterday to hear our concerns about the loss of existing bus services but also the considerable difficulties for young people accessing post 16 education. We learnt that some parents drive for three hours every day to get their children to college and some children make journeys which start with the car, then the train and end up on the bus. This can't be good for their learning.
Wednesday 3 August 2022: Voicing local concerns about aircraft noise
Along with some of our other District Councillors, I've been hearing from residents who are concerned about aircraft noise in parts of the district. This has been noticeable in my ward of Gamlingay, but I also know that it's been picked-up by people living in many other parts of the district too. These concerns have followed some changes that were made, in February this year, to the routes that planes take on their way to and from Luton Airport. With that in mind, in my role as Council Leader and as District Councillor for Gamlingay, I met this week with the Head of Flight Operations for Luton Airport.
The first thing I was told was that nothing has changed since the alterations to the flight paths were made back on 24 February this year. However, it was pointed out that there is often an increase in complaints about aircraft noise during the summer because people are spending more time outdoors – such as in their gardens.
One of the landing routes taken by planes takes them over Gamlingay and Little Gransden. This is used by almost a third of flights. These planes are typically flying at between 7,000 feet and 8,000 feet. However, current Government policy does not prioritise noise pollution when aircraft are above 7,000 feet. The priority is emissions and so in my view there was very little about noise in the consultation which was run by the Civil Aviation Authority (CAA) before these flight path changes were made. Also, Government policy is to put flight paths over the fewest number of houses. This means they will spend more time over rural as opposed to built-up areas.
However, the better news is that in February 2023 there will be a Post Implementation Review when Luton Airport will submit all the complaints it has received, along with other data, to the CAA. If necessary, the CAA can then make further changes. If the CAA think that the new route was wrong in light of the data and the complaints, they can either tell Luton Airport to find an alternative and reconsult or may even determine what the new agreement should be. This has happened at Gatwick in the past.
As a District Councillor I will continue to raise local concerns about aircraft noise. However, I would encourage residents with concerns to submit them directly to noise.enquiries@LTN.aero – you will be kept updated on this topic if you do so. You can also submit a noise complaint on the Luton Airport website.
Thursday 7 July 2022: Debate not hate
At the Local Government Association (LGA) annual conference in Harrogate last week I was delighted to be able to support the launch of the Debate not Hate campaign. I was part of a working group which has been looking at standards in public life and the regular abuse that many people in public positions are subjected to. In the most extreme cases we heard from councillors who regularly receive death threats against them and their families, who have excrement put through their letter boxes and even physical attacks. The vast majority of people who responded to our surveys had experienced abuse of one sort or another.
The downside of this, as well as making people's lives very unpleasant and disrupting the democratic process, is that it becomes more and more difficult to encourage people to stand for local government positions and we are already seeing fewer women and people with protected characteristics putting themselves forward.  
So it is incumbent on all of us, councillors, MPs and members of the public to raise standards and make all of our lives better.
Friday 27 May 2022: Welcome to our new Councillors
At yesterday's Annual South Cambridgeshire District Council meeting, we welcomed 17 brand-new Councillors. We have a very good gender balance with 21 members being women and 24 being men. This is unusual in local government where men do tend to dominate. We also have a good spread of ages and we even have two father and son pairs.  It would be lovely to see some mothers and daughters or fathers and daughters next time around. It is also lovely to welcome back Cllr Susan van de Ven after a few years absence – though she has been serving on the County Council for many years.
The new Councillors are all undergoing really intensive training in all sorts of things so that they can hit the ground running. The most important part of their job though is helping residents of their wards with their really varied issues and problems. If you have a new Councillor please do say hello to them. I know they will be very pleased to meet you.
Thursday 17 March 2022: Cambourne's new youth building
It was a real yesterday today to visit the almost completed Cambourne Youth Pavilion – even though it was absolutely bucketing with rain. My thanks to the Town Clerk and the site manager for braving the elements when most of the workforce had been sent home. The Town Council came to see me quite a long time ago to discuss their concerns about the historic lack of youth provision in the town and the obviously increasing need as the population grew in numbers and in years. It was an added frustration to them that they had half of the money needed but would not get the rest of it from developers' contributions until much development had completed. In the meantime there would be nowhere for young people to go. It did not seem to be beyond the wit of man to find a way in which the District Council could make a loan of £500,000 to the Town Council to fill the gap between then and all of the money becoming available. 
The end result is an outstanding facility in a prime location which will meet the needs of the young people in the town for very many years to come.  I must say that I think the Town Council, aided by their developer Lindum, have got tremendous value for money. There is a lot of space and it is all built to a very high standard inside and out.  I am looking forward to the grand opening in May and to see it full of happy young people taking ownership of their special place
Friday 4 March 2022: Visiting TTP at Melbourn Science Park
It was a great pleasure to visit the site of TTP's new expansion in Melbourn yesterday, and to meet the construction team and the architect. I love a building site and this was more exciting than many. It will allow an additional 500 people to work within TTP which is at the cutting edge of innovation and technological developments. I learnt that over 10% of the workforce comes from the village and over a third from South Cambs, so this means more jobs for local people.
During the gales they not surprisingly had to lower the massive gantry cranes but it is clear that the whole site is moving very speedily towards its February 2023 completion date despite the weather. Most of the building is of beautifully polished concrete and massive glass windows which I was pleased to learn are manufactured in the UK. Green roofs and air source heating is all part of the plan along with dozens of electric vehicle charging points and enhanced cycling facilities.
TTP are prioritising the work environment for their employees and an ambitious circular central area will contain a café, a gym and break out and meeting space. They are  thinking about how they can involve local school children once they are open but have already had young people visit the site to experience the excitement of the construction industry.
I am looking forward to seeing the completed buildings in spring pf next year.
Thursday 13 January 2022: Cambridge South Station
Earlier this week, our Cabinet discussed the Council's response to Network Rail's application to build a new station at Cambridge South. We have been working for years to get this much needed station in place, and it might seem odd that we have made any objections. However, as with many things, one can be wildly enthusiastic about the principal of a scheme, but the devil is in the detail and it is the detail that is causing us concern, principally around the impact of the new station on the natural environment. At our Council, we are setting very high ambitions for biodiversity and want to see as many trees as possible planted and much more well managed green space for our residents to enjoy. To put it simply, we think that Network Rail can and should do better and probably want to do better. Our objections, which you can read about in the Cabinet paper, I am sure just reflect the concerns of those residents living close to the new station or to the railway line itself. Our job is to be the voice of our residents and I hope that in this case we have been successful in doing that.
Wednesday 5 January 2022: Looking forwards
I sincerely hope that you all had a lovely Christmas and New Year though I have no doubt that many of you will have been impacted by COVID. My own family was so looking forward to getting together with my brother's family but they all tested positive just before Christmas. Fortunately, all bar one of them was recovered by New Year's Eve so I produced a second Christmas dinner and we did it all again. 26 Christmas dinners in all was quite some feat and I am so grateful to Gamlingay Food Hub for the second turkey which was delicious. In all, the Food Hub found homes and tummies for 90 turkeys which were destined to go into landfill.
Looking forward it is as important as ever that we all continue to test regularly and to get jabbed as soon as we are eligible.  I know there have been some shortages of Lateral Flow Tests, but things are changing on a day to day if not hour by hour basis. Gamlingay Pharmacy had plenty this week and I have heard that Cambourne Hub is a good source if your own chemist has run out. Alternatively you can order them online. I know this is not a huge help if you do not have a computer but in those circumstances you can ring 119.
If you are struggling please do let us know and we will do all we can to help.
Hoping that you all have a happy and healthy 2022.
Monday 20 December 2021: Keep doing your bit to #HelpSleighCovid
Monday 13 December 2021: #HelpSleighCovid
Friday 12 November 2021: So much to take away from COP26
There was so much to take away from COP26. It was like nothing I have ever participated in before but very relevant to those of us in local government despite the main focus being on the actions of countries and their leaders as a whole. It was just not possible to go to all the talks and debates so I focused on transport as this is a number one priority for most of us running local authorities but in many cases is a very hard nut to crack.
One takeaway was that just putting in transport solutions in areas where people are having to commute long distances to work with all the consequences of too many cars on the road, is not always the best thing. There were strong arguments in support of  the '15 minute city' vision which the Mayor of Paris is promoting. This means that the starting point is looking at how we design our town and cities so that people are incentivised to live close to their work so they can walk or cycle.  Putting in a high speed metro  to get people 20km to work does the opposite and actually encourages people to live far away from work, thereby increasing commuting and all its undesirable consequence. 
There were incredibly strong arguments for getting freight on to rail and for a SMART European wide freight transport system creating seamless delivery across borders. There is no reason why the UK cannot benefit from this. 
On a positive note it became very clear that tackling climate change actually creates opportunities to tackle all sorts of other problems including inequality, poverty and congestion whilst increasing activity and creating new skills and high value jobs. 
One of the most disturbing talks I heard highlighted that climate change is not gender neutral and that in many parts of the world it is women and children who are suffering most. For this reason it is obvious that women from all over the world have to be involved in every aspect of planning for Zero Carbon futures so that they are not unforeseen casualties of plans made by others. 
And finally, the reason I was at COP26 was as part of the Local Government Association delegation whose mission was to ensure that our role in local government is fully acknowledged in the final agreement. Have we succeeded? As yet we do not know. It seemed a simple ask but not every country views sub national government in the same way and for some it is a potential threat and so they are cautious about giving powers and responsibilities away.  However, we made a very strong case in a huge number of meeting, presentations and conversation. I am proud to have been a tiny part of this and very grateful for the opportunity to see history in making at first hand.
Thursday 11 November 2021: Update from the Green Zone at COP26
Thursday 11 November 2021: Thoughts following a focus on air travel at COP26
Wednesday 10 November 2021: First reflections from COP26
Tuesday 9 November 2021: On the way to COP26
Today I am off to COP26 as part of a Local Government Association delegation. This is without a doubt the most exciting and significant thing I have done since becoming leader of South Cambridgeshire District Council. This COP is the 'last chance saloon' for the world to do what it should have started doing 50 years ago to save the planet from the dire consequences of the climate change impact of people.
The role of the LGA team is to ensure that the final deal includes significant reference to local government because most councils are already making a real difference at a local level, and, given the tools, the powers and the money, can reduce local emissions by up to 30% nationally.  
At South Cambridgeshire we are making our council houses net-zero carbon with a rolling plan of work to install solar panels, air source heat pumps and external wall insulation. We are also carrying out an extensive retrofit of our own offices at South Cambs Hall, which means the building, by 2050, will be producing only 10% of the carbon it produced in 2019.
We have given over £300,000 to communities to do their bit to make our villages zero carbon via our Zero Carbon Communities grant scheme. We are changing our 1,800 streetlights to LEDs and even have an electric bin lorry and other electric vehicles. This is just a small sample of what we have done and what we plan to do.
My own village of Gamlingay has won national awards for the Eco Hub which uses no fossil fuels. We even have a community wind turbine and the latest innovation is the Food Hub which is reducing the amount of food waste going into land fill by giving it away to people like me (see my blog post from Monday 27 September below for more on this).
I hope to be able to make short VLOGs in the next few days to  keep you up to date with what is going on while I am in Glasgow.
Tuesday 26 October 2021: The value of Mobile Warden schemes
My colleague, Councillor Bill Handley, recently attended a coffee morning, hosted by Age UK, for potential clients of the Mobile / Community Wardens scheme. He tells me that some of the newer schemes have places available and Age UK is trying to raise awareness of what the schemes have to offer, which is to assist older people to continue to live independently in their own home.
Wardens offers support in lots of different ways; it may just be a chat over a cuppa, or a friendly phone call but they can also help with things like finding information about local services, helping to read post or make phone calls; they can even collect prescriptions and small items of shopping.
Above all, they provide a friendly and helpful face, offering comfort to the people that they visit and reassurance to their friends and family that someone is watching out for their loved ones when they are unable to do it themselves. The service is supported by us and is well worth the small weekly charge for peace of mind alone.  
If you think you would benefit from this scheme, or know someone who may, then do consider getting in touch with whatever scheme is closest.
Friday 15 October 2021: Out and about
I have been on a bit of a grand tour of the district's Parish Councils of late and the variety in size of councils has made this extremely interesting. Sawston, one of our largest communities, gave me a very warm welcome in their lovely sports pavilion. Although concerned about the amount of development the village has had approved in recent years, they are pleased that the new draft Local Plan does not allocate anymore housing to them. Sawston has an impressive range of facilities including, I was interested to see, a bakery called Dorringtons - my mother's maiden name was Dorrington so I shall have to pop in next time I am there.
Stapleford may be smaller than Sawston but has an impressively engaged community; many of whom turned out to question me about some of the infrastructure schemes currently live in the district and which affect them. Many people are concerned about any further release of green belt land for housing but did appreciate the need to provide decent homes for people on lower incomes especially when the proximity to a railway station means that families do not need to own multiple cars.
At the other end of the size spectrum is Great and Little Chishill and Heydon. Three beautiful little gems tucked away on the far side of the A505. But just because they are small does not mean that they are any less active and we had a very stimulating debate about affordable homes, the dangers of the A505 and local flooding issues.
South Cambridgeshire, with over 100 villages, is a really interesting place and all of these villages have their own unique identities and it has been a real pleasure to visit them.
Tuesday 5 October 2021: Helping villages have their voices heard
It was a pleasure to speak with many of our parish council representatives earlier this week, during a virtual meeting about infrastructure that was organised by our Greater Cambridge Shared Planning Service. The idea of this meeting was to try and help our villages un-pick and understand
the many different transport and housing schemes that are likely to have an impact on South Cambridgeshire in the years ahead. It's not an easy picture to comprehend as there is a lot happening both on a national and more local level, but we want to do all we can to ensure parish councils make their voices heard. The positive thing is that there are a lot of transport upgrades in the pipeline, which will help to reduce our reliance on private cars. These schemes are critical if we are to reduce congestion and our carbon emissions, improve air pollution and provide convenient ways for people to travel around Greater Cambridge.
The main Government-led project that is being consulted on now is the OxCam Arc Spatial Framework and I would urge anyone in our district who hasn't fed into this to make their views known. If done right, there is a real opportunity to Double Nature over a very large area in a way that no local Council can do alone. Then of course we have our upcoming consultation, starting on 1 November, on our joint Greater Cambridge Local Plan with Cambridge City Council. One of the main proposals in the draft plan is to protect our rural areas from unsustainable and inappropriate development, placing strict limits on village development between now and 2041.
As well as these two projects, I wanted to list here details of some of the other schemes that are due to progress in the months and years ahead, along with the main body responsible for them, to try and help paint a picture for you too.
A428 Black Cat to Caxton Gibbet upgrade (Highways England)
North East Cambridge Area Action Plan (Greater Cambridge Shared Planning)
Cambridge wastewater treatment plant relocation (Anglian Water)
East West Rail (East West Rail company)
Cambridge South Station (Network Rail)
City Access proposals (Greater Cambridge Partnership)
Greenways (Greater Cambridge Partnership)
Local Transport Plan (Cambridgeshire and Peterborough Combined Authority)
Monday 27 September 2021: A brilliant initiative to reduce food waste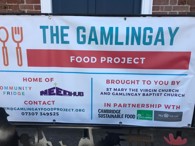 The Gamlingay Food Project is a real inspiration for people wanting to reduce the amount of food waste going into landfill. The scheme runs five days a week from 10am to 12pm in the Almshouses Chapel in Church Street and is managed by a terrific group of volunteers. Food is received daily from a number of high-end retailers including the Co Op, M&S and Woodview Farm Shop and is essentially giving food away to anyone, including me, who can use it. Last week I had sourdough bread, filled vine leaves, coleslaw and salad leaves. Yummy! The volunteers weigh everything that comes in and everything that is left over at the end of the day so they know exactly how much food they are stopping being wasted.
Like all the most successful projects this is a partnership led in this case by the Baptist Church and St Mary the Virgin Church together with Cambridge Sustainable Food, our own Zero Carbon Communities scheme and Fill the Gap.
The Chapel also houses the NEEDHUB Project which helps families on low incomes.
If this is a model that could work in your village please do let me know and I can put you in touch with the organisers in Gamlingay, who can provide some advice.
Thursday 16 September 2021: Natural Cambridgeshire
It was a huge pleasure this week to be asked to chair the Natural Cambridgeshire Conference, albeit on Zoom. There were almost 80 participants and a fantastic programme of speakers. We started off with Hannah Phillips from the RSPB talking about the brilliant work being done at Ouse Fen to turn gravel pits into wetland habitats and the success in establishing species such as bitterns and marsh harriers.
Sue James from the Trees and Design Action Group made a plea for councils of all sizes to create Tree and Hedgerow Strategies in order to move at speed to improve the dire lack of tree cover in our region. We were inspired by Michael Sly telling us all about his nature friendly farming techniques and also by Carly Leonard of Peterborough Environment City Trust which now even supports schemes outside of the UK. Do check out their website. After a break for stimulating questions from the very engaged audience we were blown away by Gavin Shelton's example of the CoFarm movement in Cambridge which involves communities working together to produce their own food in sustainable ways. 
The day ended with the nitty gritty of money to pay for all these marvelous schemes and a plea from Helen Dye of Natural Cambridgeshire for support in establishing a £30 million funding pot for our region and then finally a great talk from Andrew MacDermott of Nene Park Trust about how you actually go about securing significant funds to do great things.
I rounded off by explaining how important it is for Council leaders to be 'in the room' of the OxCam Arc in order to be able to influence Government projects such as this and to ensure that the environment really does benefit and that if the economy is doubled then so is nature.
Thursday 2 September 2021: Net Zero Tour
It was an absolute pleasure to be asked to host the Carbon Stories session at the Net Zero Tour this week, held in Storey's Field Centre in Eddington. This is the most extraordinary road show travelling the length and breadth of the country in the next 12 weeks and finishing up at Glasgow for COP 26. They aim to collect stories from all over Britain about what businesses, organisations and communities have done to get them to Zero Carbon in the shortest time possible. We heard a great presentation from Andrew Griffiths of Planet Mark, who are leading these events and I for one learnt a lot about what all the complex terminology around Zero Carbon really means. Dame Polly Courtice, who is a member of the Cambridgeshire and Peterborough Climate Commission, spoke passionately about how time is so very short and we are at the point of having to do everything, rather than pick and choose to do bits.
Most interesting of all though were the Carbon Stories. I was very taken by the lightweight, collapsible electric commuter bike and by learning that rain water run off from solar panels can be managed by planting deep rooted plants underneath them. Cambridge Marketing College told us that they are about to launch a level four apprenticeship in corporate responsibility and Peterborough Environment City Trust are doing outstanding work to link small businesses with support and funding to help them on their race to zero carbon.
I shall be watching the progress of their flashy, electric bus with interest and thank the organisers again for inviting me.
Thursday 26 August 2021: Be kind to the NHS
It seems a long time ago that we were all going outside our houses on chilly winter evenings to clap for our NHS workers - the doctors, the nurses, the ambulance drivers, the porters, the cleaners, - everyone who keeps this massive NHS ship afloat and on whom the burden of COVID has weighed the heaviest. We were all so incredibly grateful that they were there, working the longest hours they had ever worked, under the worst sorts of pressure, with inadequate and limited equipment and resources and facing the horrors of the pandemic at its most raw. We saw nurses weeping in cars, doctors pleading for the right PPE, family members whose loved ones died alone in terrible distress.
And we all understood, and we were all incredibly grateful and we all did our very best to help and support them. Friends of mine 3D printed face masks and delivered them to care homes; others sewed dozens of sets of hospital scrubs; we put rainbows in our windows, and we gave the NHS the respect it deserved.
But something has changed and it's not the Coronavirus – it is still there; it is still making thousands of people ill, it is still hospitalising people, and it is still killing our loved ones. The NHS remains under impossible pressure, not only to continue to deal with the daily battle of COVID, but also to return to business as normal whilst trying to deal with an absolutely massive backlog of treatments that could not take place during the height of the pandemic. 
Even though most of us now have some sense of things returning to normal, it is a very different picture for those people working in the NHS, where things are getting worse, not better. We read in this week's newspapers that a huge number of doctors and NHS workers are planning to change career in the next year. Why is that?  The bottom line is that they are completely exhausted and, even more shockingly, many of them are failing to see a continuation of the kindness, tolerance and gratitude that was extended to them earlier in the pandemic.
I have a number of friends in the NHS, who are planning to retire years before they have to because of this and, if they do all of their knowledge and experience will be lost to us all. What a terrible waste that would be. I have a close family member answering the phones in a GP practice who is abused constantly - not occasionally but on every shift and the rudeness and aggression she describes is hard to believe. She has had to significantly reduce her hours for the sake of her own health.
Why are we now mistreating the very people who have done so much for us, made so many sacrifices, kept us safe, and given us hope? The pandemic is not over; we have to be patient and we have to continue to make allowances and, above all else, we have to return to supporting and treasuring our NHS and all of the people who work in it.
Tuesday 17 August 2021: Leading on the environment in Cambridgeshire and Peterborough
I am extremely pleased to have been made the Lead Member for the Environment for the Cambridgeshire and Peterborough Combined Authority (CPCA). I take this new role as a vote of confidence in all we have been doing at South Cambridgeshire to fulfil our commitment to be 'Green to our Core'.
The new role will be primarily about implementing the ambitious recommendations of the CPCA Independent Climate Commission - which was chaired by Baroness Brown - which are focused on moving our region to net-zero carbon well before the Government's target of 2050.
I hope that, with another of my roles being to lead on the environment for the OxCam Arc, this will help me to get things moving really quickly and support my call to Government to create a Green Strategic Infrastructure Fund to allow us to move to a position where we can really make a difference on the big issues, as well as the small, in Cambridgeshire and Peterborough.
Tuesday 3 August 2021: A new playground for
Eltisley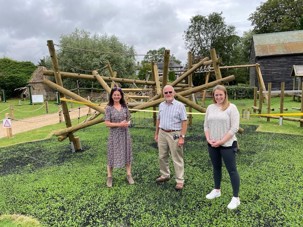 It was a great pleasure to be invited to the beautiful village of Eltisley at the weekend to cut the ribbon on their very impressive new play area.  Prior to COVID-19 striking I did occasionally get to do lovely things like this, but this is the first time since the pandemic which made it even more enjoyable. The Parish Council has worked very hard indeed to  put this new equipment in and I was delighted to hear that they had been helped in this by a Community Chest grant from us. As well as equipment for the younger children they have also installed some very exciting fitness kit aimed at teenagers and adults – some of which was quite challenging!
Wednesday 14 July 2021: Get your vaccine in Cambourne this weekend
I am so pleased and relieved that a walk-in vaccination site will be open this Sunday (18 July) in Cambourne. Anyone aged 18 or over can just turn up to receive their jab and with numbers rising in South Cambridgeshire I really hope that lots of people do so. I know that younger people do not generally become very ill with Covid but my son's girlfriend (aged 22) still felt very miserable and unwell for about a week when she caught it. She lost a lot of weight, was very breathless and has still not regained her sense of taste four weeks later. I think it was a pretty scary experience and one that is best avoided. So get our skates on and get to Cambourne on Sunday. The walk-in centre is at The Hub on Sunday from 10am to 4pm.
Monday 5 July 2021: Cabinet update
Some Councillors and officers joined us remotely but only those in the room were able to vote. Huge effort has gone into getting a slick operation running and I am very grateful to all the staff who worked tirelessly to achieve this.
At today's Cabinet meeting we agreed our latest performance report. It is nothing short of a miracle that our performance as a Council has held up so well, and even improved in many instances, whilst we have been battling a pandemic. We also approved a Private Sector Housing Policy which allows us to intervene and take action, including fining landlords if private rental housing falls below the standards we expect. 
Cabinet agreed to move forward with a number of reviews of Conservation Areas, of which we have over 80, starting with Fulbourn, Fulbourn Hospital and Melbourn and Stapleford. We also agreed that the new Biodiversity Supplementary Planning Document could go out for consultation. This is an extremely important piece of work that sets very high ambitions for bio diversity in our district. Cllr Pippa Heylings told Cabinet that South Cambridgeshire was one of the poorest areas in the country with regard to the amount of land managed for nature and for the number of trees. We intend that this document, together with our Doubling Nature Strategy [PDF], will go a long way to addressing this. 
Thursday 1 July 2021: Combined Authority update
It was a very full agenda at this week's Cambridgeshire and Peterborough Combined Authority board meeting chaired by the new Mayor, Dr Nik Johnson. There were a couple of new Council leaders present as well as a new Police and Crime Commissioner and a new representative for the Fire Authority. 
We learned that a new Chief Executive will be joining the Combined Authority in the Autumn and that a new Transport Strategy will be presented to the July Board meeting when we will hear about the Mayor's plans for the CAM Metro - which he inherited from his predecessor. 
Of great interest to those of us in villages with little if any public transport will be the news that work on bus franchising is to continue at speed. This has the potential to put more buses on the roads, with greater frequency of services and some control over fares. I would love to see very subsidised bus travel for young people in order to help them access post 16 education and training. 
The most important item for me was the adoption of all of the recommendations of the Independent Climate Commission Report. This excellent study was chaired by Baroness Julie Brown and has resulted in a large set of ambitious recommendations to move to Zero Carbon. There was a lot of debate about this which you can see by looking at the recording of the meeting but my main point was that 'just because it was going to be difficult to do all these things was not a good reason not to do them'.
Wednesday 3 February 2021: New rapid testing centre in Cambourne
A rapid testing site at The Hub in Cambourne opened today. It's for people aged 18+ who have no symptoms and are key workers and / or have to leave home for work.
Thursday 7 January 2021: We must all obey all of the rules, all of the time
The latest Coronavirus case numbers are available via the Government's website.
Wednesday 23 December 2020: South Cambridgeshire to move to Tier 4 from 26 December
View Tier 4 restrictions. 
"This is the right thing to do to save lives: cases have jumped this month from 40/100,000 to well over 200/100,000 (and rising) - current measures are not slowing the spread."
Tuesday 22 December 2020: 
The safest thing to do is to stay at home for Christmas and to just spend it with your own household
The latest Coronavirus case numbers are available via the Government's website.
Monday 21 December 2020: Coronavirus cases are rising in South Cambridgeshire. Please stay and shop local
The latest Coronavirus case numbers are available via the Government's website.
Monday 14 December 2020: Please shop local this Christmas
Visit the business directory to find which local shops are open near you this festive season.
Thursday 5 November 2020: Don't hesitate to contact us if there's anything we can to do help keep you in business
For further advice and support information for local businesses, contact us via openforbusiness@scambs.gov.uk.
Thursday 22 October 2020: Helping our hospitals cope
Wednesday 7 October 2020: An appeal to the district's young people
Please note the figures quoted are accurate as of the end of the day on Tuesday 6 October 2020. You can get more statistics about local cases from the Government dashboard.
Friday 25 September 2020: Download the NHS Covid-19 app
Please note the figures quoted in the video are a count of Coronavirus cases recorded in South Cambridgeshire in the past 10 days, based on the latest available data as of Thursday 24 September 2020.
Friday 18 September 2020: A tipping point
Please note that the above vlog contains figures which were accurate as of the morning of Friday 18 September 2020. You can view the latest Coronavirus figures for South Cambridgeshire and other areas.
Friday 11 September 2020: Coronavirus has not gone away
Please note that the above vlog contains figures which were accurate as of Thursday 10 September 2020. You can view the latest Coronavirus figures for South Cambridgeshire and other areas.
Wednesday 9 September 2020: Solar Together Cambridgeshire
Solar panels are an excellent way to save money on energy bills and cut carbon emissions, and this is why we are working with Cambridgeshire County Council to deliver Solar Together Cambridgeshire, a group-buying scheme to help you purchase high-quality and competitively priced solar panels and battery storage systems for solar panels.
Thursday 23 July 2020: Discretionary Grants
You can read more about the latest discretionary grants we are distributing following Government funding being provided in our news release.
Friday 12 June 2020: Shop Local
You can read more about our appeal to residents to shop local in today's news release.
Tuesday 2 June 2020: Apply now for further financial support for small businesses
You can now apply for the business grants mentioned in the above video. The deadline to do this is 22 June.
15 May 2020: Further support for small businesses on the way
This update is about an additional grant fund, announced by Government, aimed at small businesses with ongoing fixed property-related costs. Read more in our latest business newsletter. [PDF, 0.3MB]
Councils are being asked to prioritise businesses in shared spaces, regular market traders, small charity properties that would meet the criteria for Small Business Rates Relief, and bed and breakfasts that pay council tax rather than business rates. Businesses must be small, under 50 employees, and they must also be able to demonstrate that they have seen a significant drop of income due to Coronavirus restriction measures.
To register your interest in the upcoming discretionary grant scheme, please email businessgrants@scambs.gov.uk 
13 May 2020: Keeping safe and healthy
You can find your local District Councillor, read the Government FAQs on what you now can and can't do and tell us if you, or someone you know, needs help because of Coronavirus.
1 May 2020: Business grants still available
22 April 2020: Don't delay seeking medical help
17 April 2020: Business grants, paying suppliers and smaller companies
16 April 2020: The importance of mental health
9 April 2020: Look out for your neighbours and please don't be afraid to ask for or accept help
Read more about the support for residents and find out how to inform us that you or someone that you know needs help.
8 April 2020: Around £5 million in support grants handed to 422 local businesses so far
3 April 2020: Update on providing grants to local businesses
In addition to the above message, you can also read our latest business newsletter [BE] which was published today.
You can also read in further detail information about the support for small businesses, and businesses in the retail, hospitality and leisure sectors.
1 April 2020: Support for local businesses
Read our latest information for local businesses [DOCX] who are affected by the Coronavirus outbreak.
30 March 2020: Shop local - shop sensibly
26 March 2020: Stay at home
The message from Government and all the health advisors is now very clear.
Stay at home
Only by following this advice will we provide any protection to the health workers who all of our lives may very well depend on.
In my village of Gamlingay, people are now crossing to the other side of the street to avoid any contact whatsoever, when they go out for their daily walk or run.  It may seem rude but it is essential. 
Staff at South Cambridgeshire District Council are now working from home if at all possible. However, for some of our staff their job inevitably involves being out and about. At the front line are our waste operatives on whom we all depend to empty our bins. These people are at greater risk than those of us who can stay at home. The consequence is that as of today 47 of the waste team of 152 are off work and of these 24 are sadly unwell. And that is why we have stopped the Green Bin collection, because we cannot run the service with a third of our staff off. Most other councils have either done the same thing or will be doing so very soon.
We have had a lot of calls from people who are unhappy about this. We cannot change the situation and I am not going to put our hardworking front line staff at any more risk than I have to. If there is garden waste in your green bin, please move it to your compost heap or put food waste in the black bin. The picture of the sign on this page shows how we are trying our best to keep our crews as safe and isolated from others as possible. Please also think carefully about how important your call is before ringing our contact centre where our staff is under considerable pressure already.  
We are updating our website daily. There is now a 'I want to help' section where you can learn about how to volunteer to help in your own community - if you have not already done so.
The response from South Cambs residents of all ages has been fabulous and there are quite a few examples on our advice for communities page. Please do email me or your district councillor to let them know what you and your community are doing if you have not already told us. You are all heroes and I am immensely proud of all of you.
I'm also really interested to hear about any innovative solutions South Cambs businesses of any size have come up with to keep on running whilst offering a 'different way of doing things' to their customers. I was delighted to be able to participate this week in a ZOOM Pilates class at 8am on Wednesday.  What a clever way of keeping a business going and continue to offer classes. Most enjoyably, all the participants were able to have a chat with each other at the beginning and the end of the session. So good not only for our physical health but also for our mental health.
Stay Home, Keep Safe and Keep Well.
24 March 2020: Keeping you informed
My latest video blog covering why we've suspended green bin collections, support for local businesses and helping identify vulnerable residents.
23 March 2020: Help us to help the vulnerable
We are living in extraordinary times and I am going to try to keep you as fully informed as possible about what we at South Cambridgeshire District Council are doing to keep you safe and to carry on as much as normal as is possible.
There are 2 really important things for you all to do:
Be a good neighbour
Follow all of the Government advice and don't take risks
We have links to the latest Government and NHS advice and there is also information on many of your Parish Council's websites.
I am aiming to update this blog every couple of days and you can also follow me on Twitter for updates. 
There are people in our villages who are at real risk, either because of their underlying health conditions or because they have no family or friend support. It is becoming apparent that people with learning difficulties or dementia are particularly at risk of falling through the support networks that the local authority and the village groups are putting in place. If you even think that there is a person in this category living near you, you must let your District Councillor or the Parish Council know straight away. Fast action could save a life. All of the contact details for our Councillors are on our website.
The District and County Councils are working together, 24 hours a day, along with all the other agencies such as the blue light services, health, education, Age Concern etc and so we have a really impressive, coordinated response in our area but if you don't do your bit our hospitals and services will be overwhelmed. 
We are trying hard to keep up with business as usual, but things are changing day to day and we are going to have to make some difficult decisions and even stop doing some things as the situation progresses. The first thing that has had to go is the green bin collection because it is simply not possible to keep it going when we have staff absences and we judge it more important to collect the black and blue bins. Please reduce your food waste, compost more and if you have food waste put it in the black bin.
Just about every village in South Cambs has had people step forward very quickly to set up village support schemes to help people who are isolating by making sure that they have their medication and food essentials. A huge thank you to all of you. It is really important that we know what is going on so if you have set up any scheme, or are doing anything to help, no matter how small, or want to volunteer  please let your Parish Council or District Councillor know.
Also, if you have email please let our County wide Covid Hub know as well as they are mapping all of the support to make sure there are no gaps. Please email communitycv@cambridgeshire.gov.uk
Of huge concern to me, as Leader of the Council, is the impact of this situation on our local businesses. We have regularly updated information for businesses and we are coordinating all those agencies supporting businesses to make sure that they are able to get the latest information quickly and reliably. Please where you can shop local. This will not only reduce the pressure on the supermarkets, which are not coping well, but it also will ensure that when we get to the end of this we still have local business to provide services to us and to employ us. If you are a village based business struggling to find the support you need please contact your District Councillor or me on 07729836449.
And just to show how personal this all is, my family and I are socially distancing because I have asthma, my mum who lives in the village is 90 and 3 of my close family members (2 of whom are at home) have type 1 diabetes. So, like the vast majority of my staff, I am working from home. My local farm shop and my friends are going to keep me fed and I am keeping regular contact with my family and friends by using group FaceTime - which is great. I have also been going on lovely 'distancing walks' where we stay 2m away from each other and just talk loudly.
And finally it is the little things that make the difference. Please take a couple of minutes every day just to phone someone you know who is alone or anxious. For me, it was the lovely little posy left on my door step from St Marys Church Gamlingay, for Mother's Day. 
Thank you, keep safe and stay well. 
Bridget
20 March 2020: Keeping services running
My first video blog where I talk about how we are doing our very best to keep services running during the Coronavirus outbreak.
18 March 2020: Doing our best for you
This is an increasingly difficult time for all of us but I wanted to write to reassure you that the Council is doing everything possible to keep services running and provide as much help and support to our communities as we can. These are unprecedented times and we are constantly reviewing how we deliver essential services. For now, we are taking a business as usual approach as much as possible although we have of course already cancelled many events and sports camps to avoid unnecessarily getting groups of people together.
We're running services with the majority of our staff being asked to work from home. For some this isn't an option though – our bin collection crews for example. We are likely to need to make short notice changes to some services in the coming days, weeks and months and I'd personally ask you to bear with us while we do our very best for you.
One aspect of our work to help deal with the impacts of the virus locally that I'm already very proud of is an advice pack that we have created and sent to all our parish councils. Many are eager to do whatever they can, while staying safe, to help neighbours – especially elderly and vulnerable residents. We've sent parishes suggestions on supporting vulnerable people, resources to help coordinate volunteer efforts and health advice. Our communities know their areas best and will know what will work in each village.
Please keep safe, follow the NHS advice and let me know if we can support you.
27 February 2020: Investment in our green plans
We agreed our budget for 2020/21 at the Council meeting last week. Now, on the face of it that doesn't sound terribly thrilling, but I'm incredibly excited about the ambitious plans this will allow us to deliver.

Our budget for 2020/21 will see a £5 million investment in South Cambridgeshire to tackle the global climate emergency. We have said in our Business Plan that we want to be green to our core and have pledged to be net zero carbon by 2050. Tackling the climate emergency cannot wait and if we are to achieve our zero carbon ambitions we need to be leading by example and investing to make it happen. And we're putting the money it needs to make real inroads.

Some of the things we will be doing over the next year include,
retrofitting
 our offices to cut our emissions and cut energy bills, providing a further £100,000 in grant funding for community projects under our Zero Carbon Communities programme, investing well over £1 million on improving energy efficiency of our Council homes – which will help cut our tenants' energy bills too – replacing the 1,800 District Council owned streetlights with LEDs to reduce energy consumption by 60% and purchasing an electric bin lorry to see whether it is viable to shift from a diesel to an all-electric fleet.
As well as Council this week, I also attended a workshop with members to look in more detail at how the Council, all of our businesses and residents can really begin to reduce carbon emissions and improve our own environment. This can be little things such as our 3 free trees offer – which 70% of our villages have taken advantage of – to significant community projects such as the Community Wind Turbine in my own village of Gamlingay and the award winning Eco Hub which produces all of its heat and electricity for renewable sources. The important thing is that all these little things soon begin to add up to something which really does begin to have an impact.

As I've said, more is always needed, and we will continue to push for a cleaner, greener future.
12 February 2020: Connecting with local businesses
I met with John Bridge, the Chief Executive of the Chambers of Commerce, in their new offices right by the Busway in Oakington this week. The offices have just opened and will provide a home for the Chamber of Commerce covering both the Cambridge and Peterborough.
One of our Business Plan priorities is to grow local businesses and economies so regularly meeting with people like John is important so we can make sure we are focussing on the right things to help businesses prosper.

Julie Spence, Cambridgeshire's Lord Lieutenant, joined us and spoke passionately about the Queen's Awards for Enterprise and her ambition to get more awards throughout all of the county.
6 February 2020: True heroes
It was huge pleasure to meet the team at the East Anglia Children's Hospice (EACH) and to learn of the fabulous and invaluable work they do. I have always heard great things about them, but had never had the opportunity to visit before this week. Mike, the Service Manager and Philippa and Karen from the Fundraising team helped show me around.
They have a lovely building tucked away by the beautiful historic church in Milton. I learnt that they look after about 150 children and young people who have life-threatening conditions at any one time. This is both as residents (often with their families too) and through their outreach programme. Every little detail had been thought of to ensure that children and their families can feel as if they are in a home away from home at this very difficult time of their lives.  From the sensory room to the teenagers' den, the hydrotherapy pool to the family accommodation on site, the range of support was incredible.
It costs £15,000 to keep the hospice open for a day and the money from Government lasts them until the middle of February. After that they are reliant on fundraising activities and donations. This was a real shock to me.
The other way in which you can help is by volunteering.  I was surprised to hear that the hospice is short of volunteers in a number of areas – so again, if you have some time available please do think about supporting this amazing organisation. It could be anything from housekeeping and garden maintenance to fundraising. Do give them a ring if you would like to join this lovely and committed team of people.
My thanks to the team at the hospice for all they do in our community, and the wider East Anglian community. They are true heroes.
Tuesday 7 January 2020: #ThreeFreeTrees
I spent a lovely hour or so in Fulbourn this morning with some very environmentally-minded young people who helped us to kick off our Three Free Trees initiative. We're offering three free trees to every parish council in South Cambridgeshire and we planted the first one as part of the scheme at Fulbourn Recreation Ground earlier. It's really important we do something to start increasing the amount of tree planting in South Cambridgeshire. I learned back in the autumn that there are fewer trees here than almost anywhere else in the country. We have to do something to address this – particularly in the face of a climate crisis. I really hope that this modest scheme will inspire lots more people – residents, businesses, farmers and more – to think about planting more trees as they have so many benefits. It was excellent to have the support of the Cambridge Independent newspaper and ITV News Anglia, who both came along to our event at Fulbourn, so look out for some headlines soon!
Wednesday 30 October 2019: Celebrating Black History Month
We had a wonderful event at our offices in Cambourne today to celebrate Black History Month 2019. Officers and members came together to mark this important day and celebrate great black British achievers. Thanks to the Cambridge African Network, we were treated to a small bazaar with some beautiful items for sale. I admit to using the time to do a bit of Christmas shopping and came away with two colourful ties with pocket handkerchiefs, a bow tie, six pots of chilli sauce and two jewellery sets. Plus I treated myself to a lovely dress. It was great to be able to support local traders in doing this too. We were also able to try some African and Caribbean food. It all bought back brilliant memories of some of my time as a child in West Africa and the delicious food and marvellous colours I experienced there. 
Wednesday 23 October 2019: Inspirational visit on later living
I visited Warwickshire on Friday to see first-hand two models of inspirational later living villages aimed at people over the age of 60 (which I think of as very young!). I'm describing them as later living villages as they could not be further from the picture you paint in your mind when someone says retirement home. 


Like many parts of the country, we have an ageing population in South Cambridgeshire and we want to make sure we are looking at best practice from around the country to help people to stay well and active for longer whilst continuing to live independently. Additionally, we need to free up all those big family homes with one or two people living in them for the families of the future.  

The Inspired Villages owned and run facility in Warwickshire was more like a very nice hotel or country club. There was a large central building with a wide variety of very high-quality community facilities on the ground floor. This included a coffee shop, restaurant, bar, spa, gym and small swimming pool. In all there were over 150 apartments located either upstairs in the main building or in nearby buildings.

The upstairs apartments had balconies and the downstairs ones had open gardens which people could manage themselves if they wished. Electric taxis were provided for people to get to the shops, station or airport.

What I really liked was the fact that the village felt connected to the existing neighbouring town which makes it part of that community. Good interaction between it and the later living village was encouraged which is a great way to tackle isolation and loneliness. And loneliness has been proven as having a bigger impact on your health than smoking 20 cigarettes a day.

These things cannot be delivered overnight, but we will certainly be continuing to talk to Inspired Villages and other companies about opportunities in South Cambridgeshire.
Thursday 10 October 2019: Housing boost is another positive step
I am really pleased that £215,000 of Combined Authority funding was awarded to help deliver five new affordable homes at Meldreth yesterday.

A total of £100 million was secured as part of the devolution deal for more affordable homes and every single one is much needed. In Meldreth alone, which is a relatively small village, a housing needs assessment showed 45 people or families needed an affordable home. This is one example of why housing that is truly affordable to live in is one of our top priorities as a Council.

Although five homes may seem a small amount, it is another step in the right direction and in this case they might not have been possible without the cash boost. The acute need for truly affordable housing is one of the reasons we have doubled the rate we are bringing forward new Council houses each year from 35 to 70. And we want to do even more to support those on our waiting list and the hidden homelessness. I say hidden homelessness as we know there are people sofa surfing and living with their parents or a family member when the reality is that they are in great need of their own home.
Tuesday 1 October 2019: Biggest iceberg for 50 years is warning
The BBC news article, published yesterday, about the biggest iceberg breaking off for 50 years is shocking reading. It is almost the size of the Isle of Skye.

This demonstrates why it is so important that we all think about the environment and protect and improve it for our children and their children's children.
Some modelling shows that Gamlingay, the ward I am the local member for, could end up being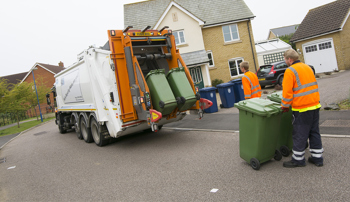 Gamlingay-by-the-sea in years to come if we do not all play our part. That's why we are making sure we are green to our core and putting the environment at the centre of everything we do.
Helping to preserve the plant isn't just about big changes made nationally or internationally, even simple things we can do at home can make a difference. Next time you have a can of coke or finish a box of cereal, think hard about what bin to use as packaging should be seen as a resource we can recycle. 
Wednesday 25 September 2019: Students put me through my paces on the green agenda
On Friday last week, the day that the big climate strikes were held, students of Comberton Village College invited me to join them for a chat during which they were able to tell me what they thought I should be doing to tackle the climate crisis.
They asked me to ensure that they are able to cycle safely to school on designated cycle paths. They told me about the Refill App which will reduce single use plastics from water bottles. One student whose family comes from Romania told me that all the buses in Romania were electric and asked why that could not be the case in the UK.   They were very concerned about landfill and about all the plastics that they still used in school including plastic folders and pens.  They were worried that we would be building landfill sites in South Cambs which we are not.
The conversation was fantastic and young people pressing us on these issues demonstrates why the Council has put 'green to our core' as one of our main priorities.
Monday 9 September 2019: "The most important document you've never heard of"
It was excellent to see so many representatives from locally-based businesses at our latest Local Plan workshop. The Local Plan has been described by one of the senior managers in our Planning Service as "the most important document you've never heard of" because it covers how where we live will change in the years ahead, be that new homes, schools, jobs or transport.
We're right at the start of the process of creating a joint Local Plan with Cambridge City Council and the event at the end of last week was the latest workshop held by our Shared Planning Service. During the past few months we've spoken to parish councils, residents' associations, landowners, developers and many other groups and last week's get-together was aimed specifically at businesses. There was a range of organisations there – including Marshall, the University of Cambridge and Hain Daniels who work out of the old jam factory in Histon.
Because we're at the beginning of making a Local Plan for Greater Cambridge, the workshop posed questions about the opportunities and challenges on the horizon. Unsurprisingly, transport and housing are right up there as key issues but it was great to hear how receptive the attendees were towards our green ambitions. The businesses were pleased to be talking to us at this early stage of the process and we're aiming to involve as many people as possible in the weeks and months ahead.
Up until now we have been engaging with various groups in advance of the first round of consultation on the new joint Local plan. The sessions have been really helpful, and all the comments have been fed into the first milestone in the Local Plan process, which is the Issues and Options consultation towards the end of the year. As the title suggests, this will give all our communities the chance to tell us about what they think the key things will be where we live in the years ahead. There will be much more on this to come before the end of the year so please do look out for it and comment when the time comes.
Wednesday 14 August 2019:  Our new Chief Executive
It was great to spend much of yesterday with our newly appointed Chief Executive, Liz Watts. Liz joins us on 23 September but got her work underway early when she met with me, my Cabinet and officers to understand more about our priorities and how we can make sure we are delivering these for residents and businesses.
Liz was recently the Chief Executive of East Herts Council and has an amazing career which includes working with asylum seekers in London and as part of the post-war peace process in Bosnia-Herzegovina, where she was based in Sarajevo for eight years.
Once Liz joins us I know she will be really keen to get out and about in the district to understand more about the challenges and opportunities in our fantastic and unique communities.
Tuesday 30 July 2019: Two campaigns close to my heart
Fly-tipping is simply a despicable crime and an issue we are trying hard to reduce in the district. Amazingly, most fly-tipping stems from households who give their waste to a 'white van man' who promises to take it away for a small fee.

The SCRAP fly-tipping campaign we are pushing hard here is trying to involve everyone to tackle the problem. We clear fly-tipping from most public land, costing up to £2,000 a pop. The damage isn't just financial, and we've recently changed our processes so we can investigate, try to prosecute and clear it away more quickly.
A huge plea from me. If someone is saying they can take your bulky waste in their van for a price that sounds too good to be true, it is. Being mindful of this is one role you can all play. And you can also help us know about fly-tipping by reporting it to us through our website.
I know the vast majority of people detest fly-tipping so please support the campaign.
There's some great videos on our Facebook page you can share too.
On a more positive note, I had the honour of opening the new British Heart Foundation shop in Cambourne today. It is great to have this as part of the centre of Cambourne and I'm sure it will be a big success. I was born with a congenital heart disease and my family have also benefited from the great work the British Heart Foundation does so this is a campaign I am very close to. The staff today were simply fantastic and I'm sure they would love to see you in the shop soon.
Friday 26 July: OxCam Arc and the environment
I was delighted to be able to meet with Peter Horrocks CBE yesterday to discuss his role as the Chair of South East Midlands Local Enterprise Partnership and our shared vision for creating a truly ambitious environmental strategy for the OxCam Arc.
We both aspire to influencing the Arc through the new environment work stream and through our local authority planning policies to encompass really high environmental standards both for the millions of people currently living in the arc and for those people who may live there in the future. This will translate into improved green and blue bio diversity, increased public access to the countryside, improved air quality, building to the highest energy efficiency standards, providing real alternatives to the car to move around and  boosting renewable energy generation to name but a handful of positives. We both agree that OxCam has to principally benefit the people already in the Arc and must significantly improve their quality of life. The best way to do this is through setting the highest standards for the arc now and into the future.
Friday 5 July 2019: Return of the Saxons!

With all the excitement of the appointment of Chief Exec Liz Watts and my looming holiday, I still was not going to miss an event in Gamlingay last night for the world!!
A very moving celebration was held at Millbridge Brook Meadows, Gamlingay to mark the reinterment of skeletal remains of seven Saxon children and one Saxon woman. The remains had been found in the excavation site in Station Road, Gamlingay in 1997.
County Council Archaeological Officer Quinton Carroll gave everyone an insight into how things would have been in the Saxon community in Gamlingay.
A very special evening, enjoyed by all.
Thursday 4 July 2019: A hectic week and a new Chief Exec

It's been an exciting and action-packed week and my feet have hardly touched the ground.
It started off in London where we held interviews for the new Chief Executive of the Council. We had a large group of talented people from across the country to choose from, which reflects what an exciting place our district is to work.
Following the interviews, then a meeting of our Employment and Staffing Committee and Extraordinary Full Council Meeting today, I'm very excited to share with you that Liz Watts is going to be our new Chief Exec. Liz spent almost four years as Chief Exec at East Herts Council, and has held senior roles at St. Edmundsbury Borough and Forest Heath Councils. She has also worked with asylum seekers and as part of the post-war peace process in Bosnia-Herzegovina.
In between all of this, I found some time to fit in a trip to Bournemouth to attend the Local Government Association conference. This has been a chance to not only visit the seaside, but also have some very useful and interesting discussions with the Leaders of our fellow Councils, share what we're doing, particularly focussing on our green to the core agenda, and pick up some new ideas. We've also discussed the Oxford - Cambridge Arc project, safer communities and funding for Councils.
I don't know about you, but I'm now ready for a holiday! With that in mind, I'm heading away with my family to France for a break. It's an open invitation for my three (adult) children – but you can never be sure how many will turn up!
Thursday 27 June 2019: A chance to enhance nature
I was recently appointed as a member for the environment on the OxCam Arc Joint Advisory Group. I know residents really care about leaving a positive mark on the environment and this is one way to help this to happen.
We want to move away from a view that building houses or roads should 'avoid harm', to see it as a chance to make things better and enhance nature.

Through development we can improve air quality and access to the countryside, increase cycling and use of public transport, improve standards of homes, increase canopy cover and bio-diversity and invest in renewable energy. 
So by working together with partners from South Oxfordshire to East Cambridgeshire we have a real opportunity to encourage and enable people to make positive behavioural change – which we all urgently need if we are to respond to the climate emergency.
Wednesday 19 June 2019: Plastics a focus on politics show
On Sunday I represented the Council on Sunday Politics East. There was some really interesting debate and an item on plastic recycling featured. I was pleased to be able to let people know that all the plastic put in blue wheelie bins in South Cambridgeshire is sorted in our Waterbeach centre and responsibly recycled. 
Once processed, almost all of the materials go to be recycled and turned into new products in the UK with around 5% going to highly controlled centres in Spain and the Netherlands. One of my main messages was how important it is to recycle as much as possible so please keep it up.
For anyone wanting to watch the debate you can catch up online by visiting the Sunday Politics East section of the BBC website. The episode was aired on 16 June. The other council leaders on the show also wore red so we were very colour coordinated. 
Wednesday 12 June 2019: In listening mode on Bourn Airfield
At our Cabinet meeting last week, we agreed to consult on the Bourn Airfield Supplementary Planning Document. I know what you are thinking as this sounds dry and technical. However, this is in fact a really important consultation for people to get involved in.

The document sets out a proposed vision and masterplan for the new village to make sure it is a great place to live and work for new residents and people living nearby.

We want the new village to have great schools, shops and a 21st century centre where people enjoy meeting for recreation as well as shopping. We also want to make sure that the new village is designed so it supports our aim of reducing car use.

But what we really want is for you to get involved in the consultation that will launch next week. We are in listening mode so please make sure you have your say.

You can take a look at the draft documents we considered at Cabinet by visiting the agenda page on our website.
From Monday 17 June you can have your say. It closes on Monday 29 July.
Tuesday 4 June 2019: Scout celebration at AGM
Welcome to my new Leader's blog. Through the blog I hope to be able to share with you a mixture of the work I am doing as the Leader of the Council along with some great things taking place in my patch as the local member for Gamlingay.
Last night I attended the AGM of the Gamlingay and Gransden Cubs and Scouts. It was brilliant to witness Chloe, one of the Scouts, being awarded the Queen's Scout Award by the County Commissioner. We were told this is the highest award for a Scout which is an incredible achievement. Well done Chloe.
In my future blogs I hope to also be able to share more photos with you. I'll try remember to take some snaps and make sure we tick all the boxes with permissions too.
Contact Details