News release from 14/02/2020
Zero Carbon Communities grant scheme boosts Cambourne planting
More than 1,200 young trees and shrubs are being planted in Cambourne thanks to local councils and schoolchildren.
As part of its Zero Carbon Communities grant scheme, South Cambridgeshire District Council awarded Cambourne Town Council £2,538 for extensive planting of hedgerows and trees around the Great Cambourne cricket outfield.
The first of the new shrubs and trees were planted today (Friday 14 February) as 30 pupils from Cambourne Village College lent a hand to members of the Town and District Councils. Next week, during half term, Cambourne residents have been invited to volunteer time to help plant the remaining hedge plants under the guidance of Town Council ground staff.
Trees and hedgerows slow climate change by absorbing Carbon Dioxide. Those planted at Cambourne will remove around 420kg of CO2 per year as they reach maturity. An additional bonus is that the hedge will provide a wind break to the Great Cambourne cricket wicket and prevent cricket balls leaving the boundary.
John Vickery, Town Clerk for Cambourne Town Council said: "The Zero Carbon Communities grant offers a great opportunity for Town and Parish Councils to work with the District Council to reduce the Carbon Footprint. We would like to thank South Cambridgeshire District Council for the grant, and Cllrs Aidan Van de Weyer and Ruth Betson for attending to plant one of the trees and welcome the support of the pupils from Cambourne Village College. We look forward to seeing the residents of Cambourne come out to help our grounds team plant the remaining hedges on Wednesday 19 and Thursday 20 February."
Cllr Aidan Van de Weyer, Deputy Leader of South Cambridgeshire District Council helped plant some of the trees and hedgerows, and said: "I'm really pleased the weather held and I could get out into the fresh air and lend a hand with the planting in this lovely area. We've given out more than £120,000 in grants to 19 different community projects that are all aiming to help reduce carbon emissions and it's excellent to see that Cambourne Town Council have put the funding to use so quickly. We're determined to be green to our core and our Zero Carbon Communities scheme is one way we can help local residents who want to tackle the climate emergency we face."
One of South Cambridgeshire District Council's members for Cambourne ward, Cllr Ruth Betson, also lent a hand and said: "It was really windy but there was some nice sunshine today and it was great to see local children helping to plant the trees. If you want to get involved, there's a load more trees to plant so come along next Wednesday or Thursday. It's the school holidays so get involved and have some fun."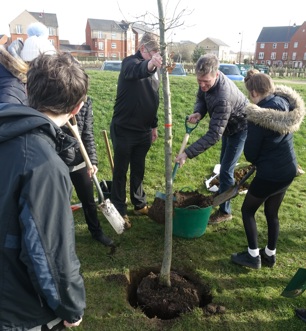 South Cambridgeshire District Council's Zero Carbon Communities grant scheme was established in May 2019 to drive the Council's ambition for the district to become net zero carbon before 2050. The fund will support local groups to undertake ambitious activities to reduce carbon emissions and reliance on fossil fuels, and promote behaviour change towards low carbon lifestyles. Groups were invited to bid for £1,000 to £15,000. The grants are expected to open for new applications later this year.