News release from 13/01/2020
Your ideas. Our future. Get involved now.
The first conversation to create "the most important document most people have never heard of" has started – with residents urged to get involved now in planning how we live, work and play in Greater Cambridge in the decades ahead.
A six-week consultation as part of the first steps to create the Greater Cambridge Local Plan has begun. Questions are being posed around the key themes of climate change, biodiversity and green spaces, wellbeing and social inclusion and great places – all underpinned by homes, jobs and infrastructure.
This will be a joint plan between Cambridge City and South Cambridgeshire District Councils. When finalised, it will set out where development will take place, and identify land for new housing, community facilities, shops and employment while meeting the climate change challenge, helping to create great places where people can lead happy and healthy lives.
Members of both Councils have said they're determined to do more than ever to make sure as many people as possible get involved in developing the plan. In the coming weeks, videos on social media are set to play a key role in spreading the word about this consultation among groups who don't usually get involved in planning issues.
A fully accessible plain English website with a full glossary of planning related terms has also been created and this will be the hub where people can record their thoughts, views and opinions. The website will help people comment on all the issues or just the ones they're more concerned about.
A roadshow will be taken to locations around Greater Cambridge including shopping centres, schools, community centres and other places where the Councils can reach out to as many people as possible, making it easy for them to spend a few minutes finding out more and sharing views.
The consultation, officially titled 'Issues and Options', runs from now until 5pm on Monday 24 February 2020. It is expected to take around four years to create the next Local Plan and this first conversation is the first step to help local people get involved the whole way through.
Both South Cambridgeshire District and Cambridge City Councils are committed to growing our economy and planning for new homes and a range of jobs which meet the needs of all our community. Both Councils have declared a climate emergency and so the Local Plan is an important tool to help both authorities as they work towards becoming a net zero carbon society and towards the target of doubling biodiversity.
Councillors have said that the first conversation sets out the issues they think the joint Local Plan needs to consider, and some of the big questions we need it to answer.
The two councils' current Local Plans, which were given final approval in 2018, set out how the two areas will be developed up until 2031, with 33,500 new homes to be built and 44,000 new jobs to be created.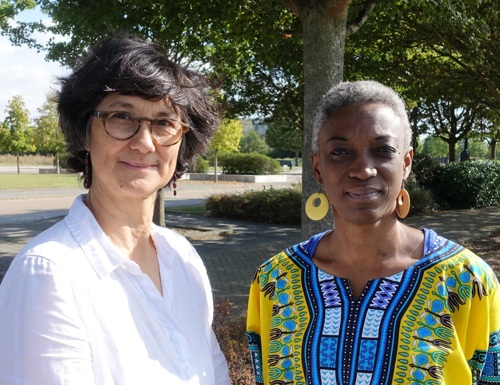 South Cambridgeshire District Council's Lead Cabinet Member for Planning, Cllr Dr. Tumi Hawkins (pictured - above right), said: "This is a very exciting few weeks – it's not often we all have the chance to get involved in shaping such an important document that touches so many areas of our lives. We're calling the Local Plan 'the most important document most people have never heard of' because it impacts on so much, whether it's what kind of new homes get built and where, where businesses can grow and how buildings and spaces should be designed. Protecting and enhancing the environment of course is vital alongside all these considerations. There are choices to be made and we're absolutely determined to reach as many people as we can – especially those who don't normally have their voices heard in the planning process. We'll be using social media heavily and taking a roadshow to where people are already spending their time because we genuinely want to listen and hear what everyone has to say about Greater Cambridge's future."
Cambridge City Council's Executive Councillor for Planning Policy and Open Spaces, Katie Thornburrow (pictured - above left), said: "It's so important to us that we reach people who don't usually comment on big issues like this and so we're working incredibly hard to reach everybody, especially those who can find it difficult to get involved for different reasons. We have the chance to make sure we have the right homes, jobs, transport, services and facilities in the right places in the decades ahead – while ensuring we preserve and enhance the environment at the same time. This is no easy task and will mean balancing many competing priorities and issues – and this is why we are determined to make it easier than ever before for people connected to Greater Cambridge to have their say. Please do give us your ideas because this really is our future."
The first conversation runs from Monday 13 January to Monday 24 February. Get involved now.