News release from 25/09/2018
Villages getting more influence over design of new development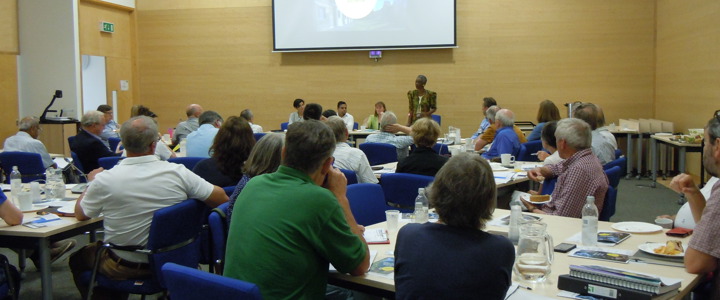 Eight South Cambridgeshire villages are getting more of a say in the look and feel of new development in their communities, as part of a ground-breaking planning initiative.
The District Council is using Government funding to work with the villages to develop their own 'Village Design Statements' which will carry significant weight in the planning process. These statements will show how buildings, streets, spaces, landscape and materials come together to create areas with distinctive identity and character.
The idea of the process is to ensure new development is responsive to the character of the community that it is adding to, and enhances it. The documents will help communities express what is important to them about the visual character of their village, provide clarity for developers on design issues, and enable Council planners to push for high quality design.
The scheme is being paid for after South Cambridgeshire District Council successfully bid for funding from the Ministry of Housing, Communities and Local Government's Design Quality Fund. It will see village groups given expert help and guidance to pull together their Design Statements.
The statements will then become Supplementary Planning Documents that must be taken into account when development is planned for an area.
Earlier this year, 18 villages expressed an interest in taking advantage of this process. The communities were ranked by how much the project is likely to benefit them. Eight were then selected to receive assistance to create their own Village Design Statement. These are Caldecote, Fulbourn, Gamlingay, Histon and Impington, Over, Papworth Everard, Sawston and Swavesey.
Community members will guide the process in each village, working with expert consultants. They will take part in workshops and activities to map the characteristics that make a village unique and draw up guidelines for new development. Drawings and written guidelines will then be created that capture the results of the workshops, before planning consultants write-up the final document.
South Cambridgeshire District Council's Lead Cabinet Member for Planning, Cllr Dr. Tumi Hawkins, said: "This is a fantastic way for residents to have a big say on future development near where they live. Having this guidance prepared by communities will mean all sides have a clear understanding of what we expect to see built, right at the start of the planning process. I'm looking forward to seeing new designs emerge that truly enhance communities. This is a great example of planners and communities working together."