News release from 25/09/2019
Updated vision for thriving new village published
An updated vision for a thriving new village at Bourn Airfield has been published which takes into account more than 300 views from a recent public consultation.
South Cambridgeshire District Council's Local Plan, which was adopted last year, allocates land south of the A428 at Bourn Airfield for a new community of around 3,500 homes along with facilities and transport links.
Earlier this year, the Council asked people to comment on a Supplementary Planning Document (SPD) which will provide extra detail and guidance about how the new village will come forward. Once finalised and adopted, the SPD will be used to help assess planning applications for the site.
A six-week consultation into the SPD was held in June and July, with 71 people and organisations having their say. Three local drop-in events were also held to help people comment. All responses have now been looked at and an updated SPD has been published.
The Council's Cabinet will meet on Wednesday 2 October to decide whether to formally adopt the SPD.
Amongst the changes that have been made as a direct result of the public consultation are the refinement of the location of the village centre, bringing it closer to the middle of the community, the addition of a second mixed-use area which could include a hotel, offices or a care home, the creation of a longer green buffer between the new village and Highfields Caldecote, altering some walking and cycling routes and amending the location and layout of sports pitches.
The SPD says the new development should be:
Well connected with traffic-free, active travel routes and high-quality public transport, both locally, to Cambridge and ultimately St Neots
Vibrant, prosperous and inclusive with housing for all, schools, sports and leisure, community uses, shops and jobs
Healthy, active and resilient with an emphasis on walking and cycling and lots of green spaces offering opportunities for recreation and meeting places
Locally distinctive, respecting its context whilst creating a modern new village
Responsive and sustainable, planned to enhance the environment, responsive to climate change and an exemplar of sustainability
Cohesive, well planned and well governed through careful master planning and design, supporting community building and creating community focussed governance
The SPD says that the aim will be to prioritise walking, cycling and public transport. It sets out the need for the creation of a mixed community with a wide range of housing types and tenures, including homes that are affordable for people to live in.
The proposals for services and shops say that the village centre will be the community's heart, with a flexibly-designed community centre that can accommodate indoor sports, healthcare, library and other information and advice services. There will also be schools, shops plus places to eat and drink. The idea would be for the village centre to come forward as part of the first phase of the development, but not compete with other facilities already open nearby.
Green spaces would be prioritised, with sports pitches coupled with an extensive network of green areas and routes for walking, cycling and horse-riding and a large country park. Biodiversity will be key, with an emphasis on leaving a positive green mark on the environment and electric vehicle charging points provided throughout the village.
The guidance also gives further detail about access to the new village. Access from the west will include bus and cycle links to Cambourne and ensure no direct vehicle access for traffic to turn south towards the village of Bourn. Access from the east would include segregated routes for high quality public transport and cyclists towards Cambridge.
The SPD does not suggest that there should be direct access for the new village onto the A428. This report says this was a popular topic of conversation during the consultation. However, the SPD reflects the approach taken in the Council's current Local Plan, which having tested the transport impacts of the proposed new village, concluded that a new high quality transport link is necessary to provide links to jobs and services in and around Cambridge, but did not identify a need for a new junction onto the A428. Technical consultees such as Highways England confirmed during the SPD consultation that they do not consider it necessary. It's also not seen as desirable by the Council given the importance it places on environmental issues and its aspirations for a zero carbon South Cambridgeshire by 2050.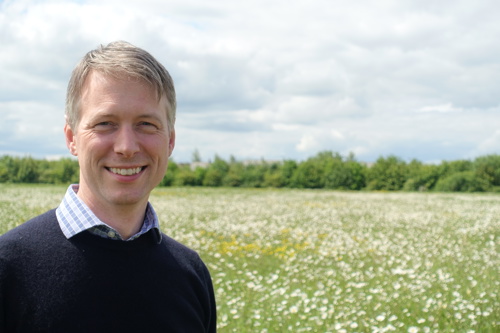 Deputy Leader of South Cambridgeshire District Council and Lead Cabinet Member for Strategic Planning and Transport, Cllr Aidan Van de Weyer (pictured - above), said: "I'd like to personally thank everyone who took part in the consultation into this important planning document. We'll be carefully considering it and deciding whether to adopt it at our Cabinet meeting on Wednesday 2 October. While we know we cannot include everything that everyone has asked for, the responses we received have helped to shape a vision for a thriving and green new community. We're serious about being green to our core and this is one of the reasons why we are not supporting calls for an extra junction on to the A428 that would take cars straight to and from the village. We want to build a new village where the car is not king, and we have a unique opportunity here to do that. We'll be working with our partners at the Greater Cambridge Partnership and Cambridgeshire and Peterborough Combined Authority to push for high quality public transport that provides excellent links to and from this new village at Bourn Airfield."
Last year, developers Countryside submitted a planning application for a new village of up to 3,500 homes at Bourn Airfield. This application provides considerably greater detail on the proposed new village, supported by detailed evidence including on transport impacts, and can go on to be determined once the SPD is adopted.
The report due to considered by the Council's Cabinet on Wednesday 2 October can be found within the meeting agenda.