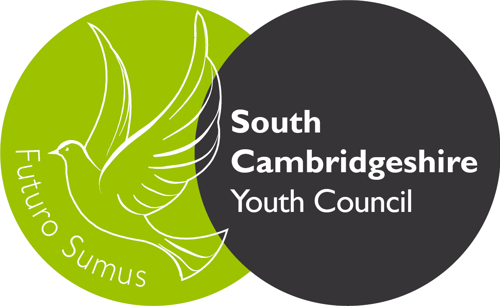 South Cambridgeshire Youth Council is made up of young people between the ages of 13 and 18 who live or go to school in the district.
The Youth Council was established in 2012 to give young people a say in decisions that directly affect them. We have been members of the British Youth Council since 2014. 
Last year we took full advantage of our membership by participating in the Make Your Mark campaign, which allowed us to canvas 13% of young people in Cambridgeshire and make sure their views on local and national issues were heard.
We will be participating in Make Your Mark again this year, and would love to have your help to give young people in South Cambridgeshire and the wider county an even bigger voice.
You don't need to be into politics to be a Youth Councillor, and the Youth Council is not party affiliated. All we ask is that you are passionate about representing young people and making a difference in your community.
The Youth Council have a very important function in supporting the work of the senior council. It is the role of the Youth Council to give young people a voice that is listened to by decision makers, and to involve them in decisions about issues and services that affect young people in the district.
Joining the Youth Council
We are always looking to recruit new Youth Councillors.
We would like for our Youth Council to represent the whole of the district, and will be working with schools, young people's services, and community projects to try to represent as many young people as possible.
We don't expect you to have any specific experience to become a youth councillor, but there are certain qualities that are really important:
Drive and enthusiasm
Commitment
A desire to make a difference
The ability to listen to others
Good communication skills
...and lots of ideas!
If you think you've got what it takes, complete a nomination form and return it to youthcouncil@scambs.gov.uk or by post to SCDC, South Cambridgeshire Hall, Cambourne Business Park, Cambourne, Cambridge, CB23 6EA.


British Youth Council
The British Youth Council (BYC) is a UK Charity whose mission is to empower young people aged 25 and under to influence and inform the decisions that affect their lives. They support young people to get involved in their communities and democracy locally, nationally and internationally, making a difference as volunteers, campaigners, decision-makers and leaders.
BYC is made up of more than 230 member organisations (including South Cambridgeshire District Council) who support their vision for young people. Members elect their board, determine their policies and prioritise their campaigns. They also act as the link between BYC and millions of individuals.
Contact Details
Was this web page helpful?