Leader's Blog – Cllr Bridget Smith
Thank you for visiting my blog. Through my blog I'm aiming to give you a better insight into what I am doing behind the scenes to represent you and make sure the Council is delivering on the priorities you have helped us set.

If there is anything you want to know more about, or topics you want me to cover in more detail, please get in touch – cllr.bridgetsmith@scambs.gov.uk

Best wishes
Bridget

Friday 5 July 2019: Return of the Saxons!

With all the excitement of the appointment of Chief Exec Liz Watts and my looming holiday, I still was not going to miss an event in Gamlingay last night for the world!!
A very moving celebration was held at Millbridge Brook Meadows, Gamlingay to mark the reinterment of skeletal remains of seven Saxon children and one Saxon woman. The remains had been found in the excavation site in Station Road, Gamlingay in 1997.
County Council Archaeological Officer Quinton Carroll gave everyone an insight into how things would have been in the Saxon community in Gamlingay.
A very special evening, enjoyed by all.
Thursday 4 July 2019: A hectic week and a new Chief Exec

It's been an exciting and action-packed week and my feet have hardly touched the ground.
It started off in London where we held interviews for the new Chief Executive of the Council. We had a large group of talented people from across the country to choose from, which reflects what an exciting place our district is to work.
Following the interviews, then a meeting of our Employment and Staffing Committee and Extraordinary Full Council Meeting today, I'm very excited to share with you that Liz Watts is going to be our new Chief Exec. Liz spent almost four years as Chief Exec at East Herts Council, and has held senior roles at St. Edmundsbury Borough and Forest Heath Councils. She has also worked with asylum seekers and as part of the post-war peace process in Bosnia-Herzegovina.
In between all of this, I found some time to fit in a trip to Bournemouth to attend the Local Government Association conference. This has been a chance to not only visit the seaside, but also have some very useful and interesting discussions with the Leaders of our fellow Councils, share what we're doing, particularly focussing on our green to the core agenda, and pick up some new ideas. We've also discussed the Oxford - Cambridge Arc project, safer communities and funding for Councils.
I don't know about you, but I'm now ready for a holiday! With that in mind, I'm heading away with my family to France for a break. It's an open invitation for my three (adult) children – but you can never be sure how many will turn up!
Thursday 27 June 2019: A chance to enhance nature
I was recently appointed as a member for the environment on the OxCam Arc Joint Advisory Group. I know residents really care about leaving a positive mark on the environment and this is one way to help this to happen.
We want to move away from a view that building houses or roads should 'avoid harm', to see it as a chance to make things better and enhance nature.

Through development we can improve air quality and access to the countryside, increase cycling and use of public transport, improve standards of homes, increase canopy cover and bio-diversity and invest in renewable energy. 
So by working together with partners from South Oxfordshire to East Cambridgeshire we have a real opportunity to encourage and enable people to make positive behavioural change – which we all urgently need if we are to respond to the climate emergency.
Wednesday 19 June 2019: Plastics a focus on politics show
On Sunday I represented the Council on Sunday Politics East. There was some really interesting debate and an item on plastic recycling featured. I was pleased to be able to let people know that all the plastic put in blue wheelie bins in South Cambridgeshire is sorted in our Waterbeach centre and responsibly recycled.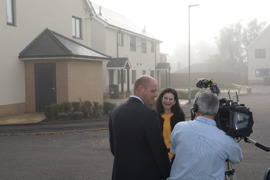 Once processed, almost all of the materials go to be recycled and turned into new products in the UK with around 5% going to highly controlled centres in Spain and the Netherlands. One of my main messages was how important it is to recycle as much as possible so please keep it up.
For anyone wanting to watch the debate you can catch up online by visiting the Sunday Politics East section of the BBC website. The episode was aired on 16 June. The other council leaders on the show also wore red so we were very colour coordinated. 
Wednesday 12 June 2019: In listening mode on Bourn Airfield
At our Cabinet meeting last week, we agreed to consult on the Bourn Airfield Supplementary Planning Document. I know what you are thinking as this sounds dry and technical. However, this is in fact a really important consultation for people to get involved in.

The document sets out a proposed vision and masterplan for the new village to make sure it is a great place to live and work for new residents and people living nearby.

We want the new village to have great schools, shops and a 21st century centre where people enjoy meeting for recreation as well as shopping. We also want to make sure that the new village is designed so it supports our aim of reducing car use.

But what we really want is for you to get involved in the consultation that will launch next week. We are in listening mode so please make sure you have your say.

You can take a look at the draft documents we considered at Cabinet by visiting the agenda page on our website.
From Monday 17 June you can have your say by visiting www.scambs.gov.uk/bournairfieldspd. It closes on Monday 29 July.
Tuesday 4 June 2019: Scout celebration at AGM
Welcome to my new Leader's blog. Through the blog I hope to be able to share with you a mixture of the work I am doing as the Leader of the Council along with some great things taking place in my patch as the local member for Gamlingay.
Last night I attended the AGM of the Gamlingay and Gransden Cubs and Scouts. It was brilliant to witness Chloe, one of the Scouts, being awarded the Queen's Scout Award by the County Commissioner. We were told this is the highest award for a Scout which is an incredible achievement. Well done Chloe.
In my future blogs I hope to also be able to share more photos with you. I'll try remember to take some snaps and make sure we tick all the boxes with permissions too.
Contact Details
Was this web page helpful?