News release from 14/05/2019
Teens take to the water in paddle board race ahead of Parklife on Sunday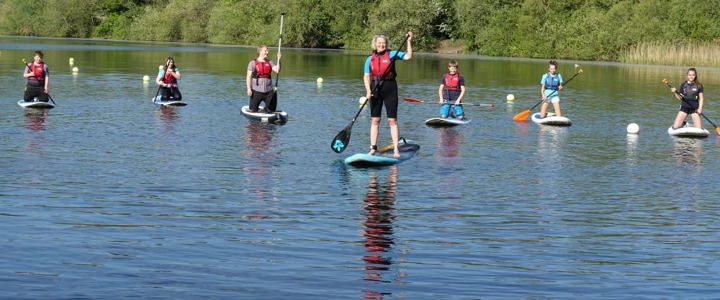 Ahead of South Cambridgeshire District Council's annual Parklife event this Sunday six local teenagers took to the water at Milton Country Park to get a taste for paddle boarding. Joined by Mick Woolhouse, Executive Director of Cambridge Sport Lakes Trust at Milton Country Park and Cllr Philippa Hart, South Cambridgeshire District Council Cabinet Member, the paddle boarders split into two teams of four for a relay race across the lake on Monday evening.
Despite having no previous paddle boarding experience, the 'wet team' – consisting of siblings Bobby (12), Bryony (14) and Cameron (15) and led by Mick Woolhouse – completed their four laps first to win the race. The 'dry team' – consisting of Zach (12), Lucy (13) and Posy (14) and led by Cllr Philippa Hart, finished just a couple of seconds behind after a sprint finish.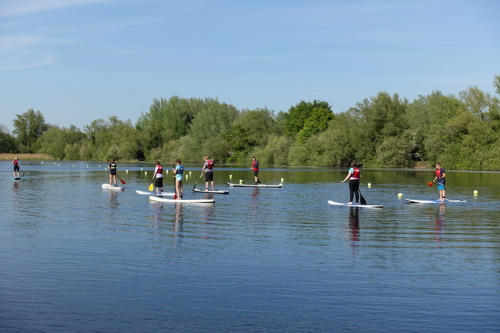 Parklife – which takes place on Sunday 19 May at Milton Country Park – is a free day for all the family to enjoy a range of activities, organised by the Council in partnership with Cambridge Sport Lakes Trust, a charity that manages the country park. Parklife brings together thousands of people who are invited to try a new activity or return to a previous year's favourite. Activities range from water sports, like paddle boarding, canoeing and kayaking, to mobile caving, zorbing, archery, bush craft and more.
The water sports can be booked on the day on a first come, first served basis. Bookings are taken at the main marquee by the park's entrance and tend to be booked up extremely quickly, so it is advisable to queue early to avoid disappointment – queuing has started at 9am in previous years. Activities open at 10am with Junior Parkrun kicking the day off. For all other activities no booking is required and visitors can simply queue at each activity's entrance. The only equipment people need to bring is a pair of socks – for those planning to enjoy the bouncy castle – and reusable water bottles for those wishing to use the water stations provided around the park. There will also be plenty of outlets for people to purchase food and drinks on the day.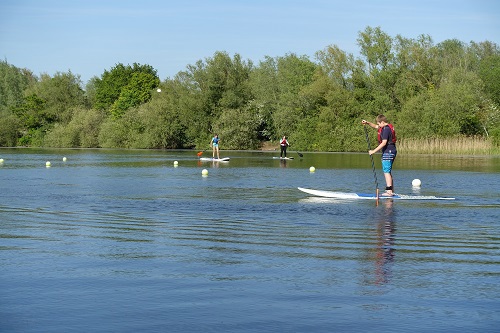 At the race on Monday evening Cllr Philippa Hart (pictured below) said: "As a keen paddle boarder I absolutely loved being on the water again tonight for the first time since last year. More than anything I just enjoyed seeing how, in the space of half an hour or so, the six teenagers who hadn't previously paddle boarded learnt the ropes and were soon flying across the lake!
"This just shows it's not skill or years of practice that make people enjoy being active outdoors – it's as simple as having some guidance, encouragement, time, and easy access to have a go with some friends. This is exactly what Parklife offers as all activities are free and led by qualified instructors. It really is quite a unique opportunity for people in the local area to discover a new way to enjoy being active."
Parklife would not be possible without the help of Cambridge Sport Lakes Trust, Tesco, Wildly Curious and Crossfit Stags and Does.