News release from 02/05/2019
Take a free Fitness MOT to stay stronger for longer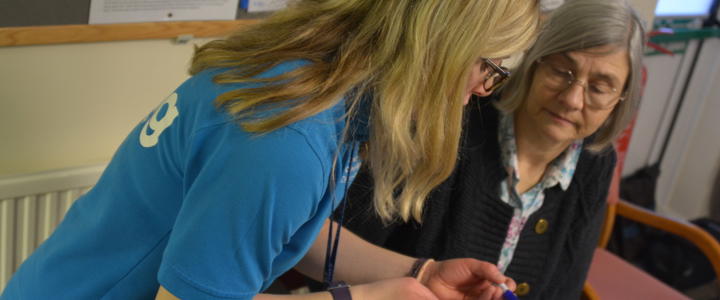 Taking a simple fitness MOT test could help older people in South Cambridgeshire keep doing the things they enjoy.
Whether it's shopping, socialising with friends or playing with the grandchildren the FREE MOTs can give an indication of what someone needs to do to stay stronger for longer.
With the help of a qualified instructor, a person will learn about their level of fitness to do everyday activities and find out what simple strength and balance exercises they could do at home or at recommended classes in the community. This is the second round of FREE fitness MOTs put on by South Cambridgeshire District Council as part of the Let's Get Moving Cambridgeshire programme, which is funded by Cambridgeshire County Council.
Prevent a fall
Falls are one of the most common causes of accidental injury in older people and the most common cause of accidental death in the population aged 75 and over in the UK with one in 3 people aged 65 and over falling every year. However, by taking part in strength and balance activities, an individual can reduce the chances of falls by around a third.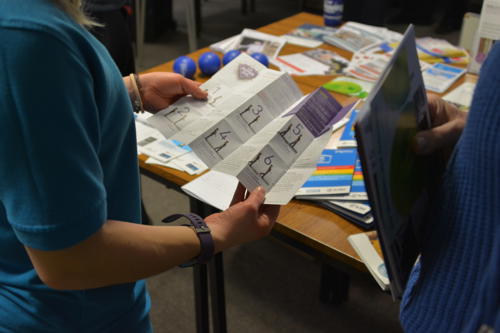 Sessions will be held this month in Histon, Girton and Gamlingay. There's no need to book and residents can simply turn up on the day.  The importance of remaining active will be highlighted at the sessions. Gentle exercise helps to keep muscles strong and improves balance, posture and co-ordination. Professional guidance on staying active and exercise will be available at the fitness sessions. Staff running the classes will also be able to signpost residents to local strength and balance classes suitable for them. MOT sessions are taking place in Cambridge City too.
Positive feedback
Rex Collinson and his wife Liz, both from Cottenham, attended one of the first sessions. Rex said: "We found the fitness MOT very helpful in measuring things like how easily and quickly we could stand up from a chair, how well we could balance and how flexible we were in reaching. The MOT wasn't threatening in any way and the staff were very encouraging and supportive. As a result we've joined a local strength and balance class which lasts for one hour once a week and which we're really enjoying. The exercises we do are certainly helping our movement, balance and flexibility and are always tailored to what we can manage."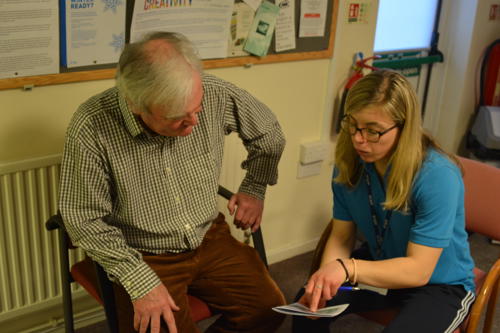 South Cambridgeshire District Council's Lead Cabinet Member for Housing, Cllr Hazel Smith (pictured - very top of page along with Ellen Bridges from Let's Get Moving Cambridgeshire), said: "The first round of our fitness MOTs was really well received – I went along to one myself and it was brilliant to see many residents taking advantage of this very useful health advice and information. This is about not only maintaining that basic level of wellbeing to allow people to keep getting on with daily tasks, but also giving them the freedom and confidence to do what they enjoy, especially outdoors during the warmer summer months. We're committed to doing all we can to improve the wellbeing of South Cambridgeshire residents and this is an excellent way of passing on valuable fitness advice and, hopefully, making a real difference."
Dr Liz Robin, Director of Public Health from Cambridgeshire County Council, added: "Strength, as well as good balance, is needed for everything we do. Whether it's socialising with family and friends, playing with the grandchildren or even everyday things like making a cup of tea or shopping. Simple exercises can make a huge difference to strength and balance, they can increase your confidence and keep you steady and stronger for longer. I'd encourage you to attend a free fitness MOT to help you understand with the help of an instructor, how strength and balance activities can help you to keep doing the things you enjoy."
The fitness MOTs are being led by South Cambridgeshire District Council as part of the Let's Get Moving Cambridgeshire programme which is funded by Cambridgeshire County Council. They also form a part of the County Council's 'Stronger for Longer' campaign which highlights how doing strength and balance exercises at least twice a week helps lots of people to keep doing the things they enjoy - for longer.
Dates, times and venues
The second round of fitness MOTs will take place at the following dates, times and venues which are all sheltered housing schemes run by South Cambridgeshire District Council:
Thursday 9 May 2019, 10am to 12pm, Kay Hitch Way Communal Room, Histon, CB24 9YR
Wednesday 15 May 2019, 2pm to 4pm, Orchard Close Communal Room, Girton, CB3 0PS
Thursday 16 May 2019, 10am to 12pm, Blythe Way Communal Room, Gamlingay, SG19 3JQ