News release from 20/05/2019
Sunday fun day for all the family at Council's busiest Parklife
Organisers believe Parklife 2019 – the free day of activities for all the family at Milton Country Park, which took place yesterday (Sunday 19 May) – was the busiest to date.
Run by South Cambridgeshire District Council in partnership with Cambridge Sports Lake Trust, the charity that runs Milton Country Park, Parklife brings together thousands of people to try activities such as paddle boarding, canoeing, kayaking, pond dipping, mobile caving, a climbing wall, zorbing, archery, bush craft, circus skills and much more – all free of charge.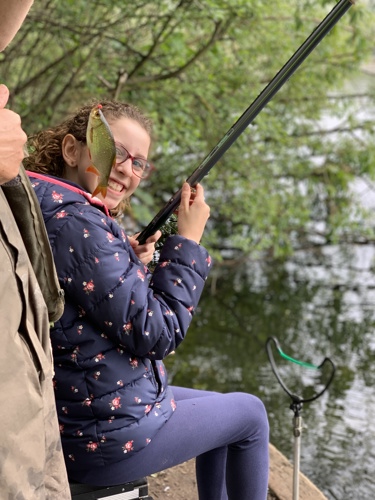 The idea behind the event is to enable people to try something new and to encourage everyone in the community to find a way to enjoy being active, with all activities not only free but led by qualified instructors.
With more people attempting the climbing, archery and caving than in previous years; more families booking pond dipping; food vans selling out of food earlier in the day despite increased supplies; and all of the park's overflow car parks being opened for use for the first time, organisers believe Parklife 2019 was the busiest – and most successful – to date.
The day kicked off at 10am with Junior Parkrun, a 2km run for four to 14 year olds, which is a regular occurrence at the park and around the country. Gold medal Paralympic cyclist Louis Rolfe, who was spotted before Junior Parkrun, was attending the run to be 'the last finisher', a role which makes sure none of the runners are left behind.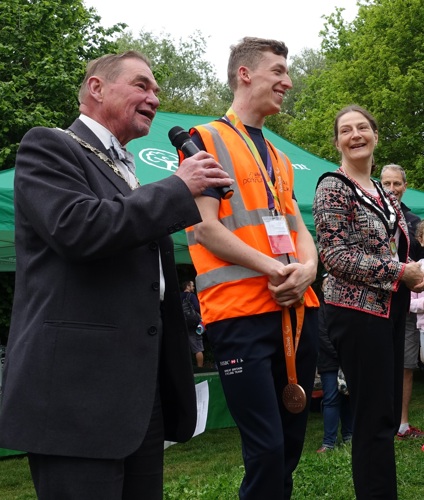 Before the race started Louis (pictured above with Chairman Douglas de Lacey and Vice Chairman Anna Bradnam) explained: "I like to get people inspired and into sport in the community. It's great to see the turnout today and hopefully I'll be able to inspire the next generation of runners, and cyclists, and potentially triathletes. The whole reason I got into cycling was because I went to a similar event to this and you were able to try out all these different sports – that's how I actually got spotted for cycling."
Cllr Aidan Van de Weyer, South Cambridgeshire District Council Deputy Leader (pictured below), said at the event: "It's been such a great day. Not only did I have a wonderful time myself out on the lake, in the sun (once it came out of the mist), having a go at kayaking – but I've been walking around chatting and seeing such a lot of people just enjoying being outdoors in this fantastic park, with many trying a new activity for the first time.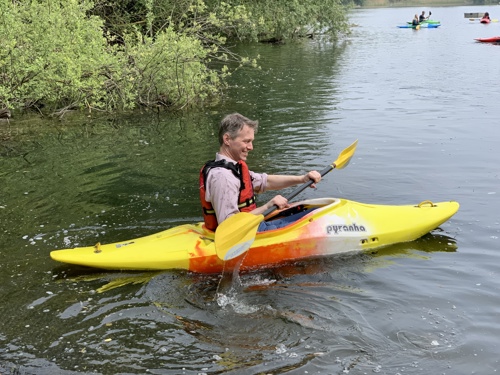 "It takes a huge amount of effort by Council staff and Cambridge Sports Lake Trust staff, who partner with us to host this event each year. We also couldn't put the event on without the activity providers, some of which offer their equipment and time for free, or without supporters like Tesco, which contributed to the 2,800 free fruit kebabs for everyone.
"So I would just like to thank everyone who has worked so hard to organise the day and to offer visitors a warm welcome to the park, and an impressive range of activities. Such a day wouldn't be possible without so many different groups coming together to encourage our community to enjoy spending time outdoors trying new activities."