News release from 12/06/2020
'Spend locally' plea as South Cambs shops set to reopen after lockdown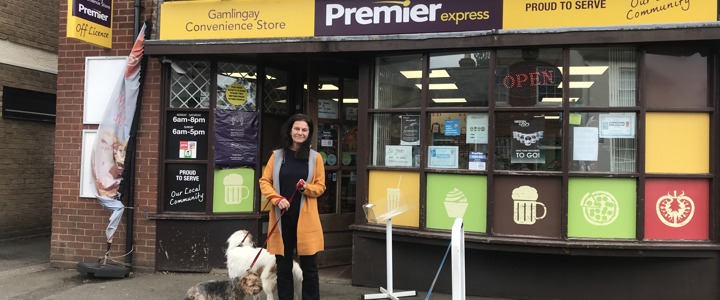 Shop locally and support your neighbourhood high street – that's the District Council's call to South Cambridgeshire shoppers as non-essential retailers prepare to open their doors for the first time since lockdown on Monday.
As part of its Business Plan priority to grow local businesses and economies, the Council is appealing to consumers to shop closer to home and help their local community and economy to recover from COVID-19.
Cllr Peter McDonald, Member Champion for Business Support, said with many small firms having to find new ways to keep trading these past three months, now was a crucial time to continue to support them.
The Council has also been working closely with Shepreth Wildlife Park and Linton Zoo to find ways to support them through the challenges. With zoos allowed to reopen from Monday, both South Cambridgeshire attractions have been putting COVID-19 safety measures in place and hope to welcome their first visitors from 22 June, with Linton planning a 'Soft reopening'.
Linton zoo has received £10,000 from the Council under the Government's Retail, Hospitality and Leisure Grant Fund – one of almost 1,950 local businesses to benefit from more than £22.75 million of lockdown support.
The Council has allocated the first of many relief payments to other businesses under the £1.25m discretionary grants scheme to help them recover from the pandemic and secure jobs and has also been lobbying Government for crucial funding to support Shepreth Wildlife Park.
Cllr McDonald (pictured - above) said: "One of our top priorities is to help local businesses and economies to grow so that everyone across the district can benefit, and that's what continues to drive our efforts.
"Many independent shops, traders and other businesses like our zoos are having a really tough time of it and we need to do all we can to help them in this next phase.
"I think we've all come to realise how important these businesses are, not just in supplying our needs but feeding into the local economy, too. And, if we want them to continue and prosper on our high streets, our role as loyal customers is essential.
"We applaud a growing number of shoppers who've come to rely on their local stores in this pandemic and we're appealing to them to carry on buying locally as we move out of lockdown."
Retailers have been busy putting new measures in place at their premises to meet the 2-metre social distancing rule and other government guidance designed to keep shoppers and staff safe.
The team at Sawston hardware store, Merlin Mica Hardware (store cash desk pictured - below along with Senior Supervisor Falina Hammond), knows what it takes to adapt to a new way of working – and the importance of local customer loyalty.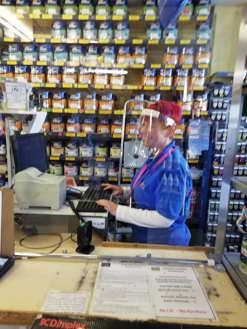 When they reopened as an essential business on 6 May, they limited the number of customers allowed in the small shop at any one time to three - and set up a one-way system to guide people around the aisles. Plexiglass screens and hand sanitizers at the tills add an extra level of protection and all 5 staff members wear visors and have access to masks and gloves.
"It's worked well and we've been extremely busy," said Assistant Manager Suzanne Sayers. "Customers have been telling us that they're so glad we're back.
"Not only have our regulars been returning, but we've also seen lots of new faces too. We've sold plenty of paint, particularly for fencing and decking, and a whole host of other things, from wheelbarrows to garden furniture. The good weather has definitely helped."
By shopping locally, customers were not only getting a personal service from well-trained staff, they were helping to retain local jobs and support the local economy to recover, she said. "That's what makes shopping locally so appealing."
Meanwhile, small businesses that were not eligible for previous Coronavirus support schemes are being urged to apply to the Council for discretionary grants funding - before midnight on 22 June.
Local charities, B&Bs, market traders and people in shared or flexible workspaces who meet the criteria will receive grants ranging from £2,500 to up to £10,000.
You can apply for grant aid or find out more.
You can also read Government social distancing guidance for shoppers.
There is also advice available on getting to work and working safely in a shop.
Finally, the Council would like to hear from small to medium sized customer facing businesses in South Cambridgeshire. The authority is finding out views on reopening businesses so that it can further develop support for them.
This survey can be completed here.