News release from 30/08/2018
South Cambs Council homes ranked top for energy efficiency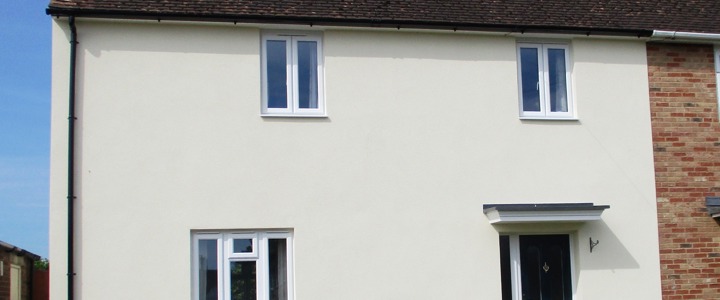 Council homes across South Cambridgeshire are now among the most energy-efficient Council properties in the country, according to the latest industry ratings.
This means they are better for the environment, and easier and cheaper to heat and run for tenants.
This follows a £15-million, four-year programme to make the District Council's housing stock as green as possible. This has been funded almost entirely by the authority itself, through the rent it receives.
Improvements carried out since 2014 have combined to give the Council's 5,700 homes an overall Standard Assessment Procedure (SAP) rating of 75.5. This is the equivalent of a 'C' score on Energy Performance Certificates commonly seen by people buying or renting homes.
This numerical rating, which is the average of all the individual scores of the Council's homes combined, is the highest in the country for any authority that has housing stock and is monitored by HouseMark.
SAP ratings score properties on a scale of one to 100. The higher the number, the more energy efficient the home is. They are used across the housing sector to monitor factors such as heat loss through walls, roofs, windows and doors and estimate the amount of fuel, light and hot water a home requires.
This rating was achieved by scores of upgrades to homes, such as the installation of extra loft insulation, fitting external solid wall insulation and improving heating systems, especially at homes not supplied with mains gas. The programme has also seen older windows replaced with triple glazing and older doors bought up-to-date to prevent draughts.
Extensive refurbishment works have been carried out on the authority's houses that were built using older, non-traditional construction methods, such as prefabricated houses constructed after World War Two. Upgrades to these homes have included improvements to the outside fabric, resulting in much more insulated structures, as well as the additions of improved heating systems and solar panels. In most cases, as well as improving energy efficiency, this has also contributed to the regeneration of areas.
In two villages, South Cambridgeshire District Council's bungalows were previously very poorly insulated and had inefficient electrical storage heaters that were expensive for residents to use. Work done at these properties included adding external wall insulation, improving loft insulation, installing triple glazed windows and doors and bringing heating systems up-to-date with more energy efficient electrical set-ups where there is no mains gas. Where mains gas is available locally, properties were connected-up to receive it.
Additionally, during the past few years, around 2,400 Council properties have benefited from the installation of solar panels, providing clean, renewable electricity and further reducing energy bills, particularly during the recent heatwave. Where possible and appropriate, air source heat pumps have also been installed.
South Cambridgeshire District Council's Lead Cabinet Member for Housing, Cllr Hazel Smith, said: "I'm very proud that we have invested our money in making sure our Council homes are as affordable to live in as possible. The cheapest unit of energy is the one you never use, so it's excellent news that this work has enabled our tenants to cut energy consumption. Our work isn't done though. We're committed to making South Cambridgeshire as green as possible, and plan to look at how we may be able to incorporate new and emerging technologies such as battery storage. We're also making a big effort to make sure our tenants know how to get the best out of their heating systems before the winter, by providing helpful information during visits."
One Council tenant, who lives in Willingham, said: "We would just like to say how happy we are with the external wall cladding recently completed on our home. The cream finish is beautiful and it makes the house look brand new. The contractors were very professional throughout the process and we were kept informed at each stage. We can honestly say that our house was much cooler in the recent heatwave because of the extra insulation, and no doubt there will be considerable savings on our heating bill in the winter. We are very happy with our 'new' house!"