News release from 01/12/2020
Seven new Warden schemes launch as funding for 2021-2024 announced
Seven new Mobile/Community Warden schemes covering 20 villages in South Cambridgeshire have launched this month, with wardens visiting older people in their homes. Meanwhile, an increase in funding for the schemes for 2021-2024 has been announced by the Council.
In 2019/2020, over 300 South Cambridgeshire residents were helped with household tasks around the home by Mobile/Community Wardens, so that those who prefer to remain living independently can do so safely and happily. A regular visit from a warden might include lunch being made or delivered (think a Fish 'n' Chips treat for those who can't get to the chip shop themselves), forms being filled in, or shopping and prescriptions being delivered.
The wardens are also a familiar face for their clients, helping people not to feel isolated. They offer a listening ear and help to keep people living in the communities that they know and that know them, reassuring both clients and their families. The wardens also help to delay early transfer into care environments and help to get people home more quickly from hospital stays.
Seven new schemes
A number of new schemes are launching this month, partly thanks to South Cambridgeshire District Council's grant funding of £200,000 which was ring fenced to enable new schemes to be established. The Council committed to establishing three new schemes so that more residents from across the district would be able to access a warden scheme in their area, but seven have in fact been set up.
The seven new schemes cover 20 additional villages, building on the work of an existing 15 schemes already part funded by the Council, which cover a further 30 villages. The new schemes mean that almost half of the district can now access a Mobile or Community Warden.
Apply for funding for 2021 to 2024
Another change this year sees funding available for a 3-year period (2021 to 2024) instead of just one year, as well as an increase in the amount of funding available per year, up to £52,255 from £27,000 last year.
Mobile/Community Warden schemes are invited to bid for this funding now. The Council expects to be able to provide the same funding to the groups that regularly apply successfully, but encourages applicants to demonstrate how they would use any additional funding to enhance their offering, to be eligible for an increase in the funding they are awarded.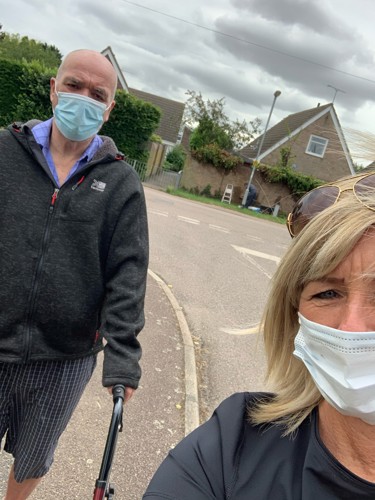 Tracey Booth (pictured left), a warden for the Swavesey scheme, managed by Age UK Cambridgeshire and Peterborough, said: "At the moment we're doing things a bit differently because of the pandemic – we're having socially distanced coffee mornings on the doorstep, or visiting in people's gardens, or taking short walks. I telephone all my service users in the morning to check in with them, and then work out what needs to be done where during the rest of the day. Even before the pandemic, the job would bring up different things every day – which I love. It can be challenging, but I love being able to help people to stay living in their own homes – it really feels like you're a lifeline to your clients."
One local client said: "That phone call every day to check on me gives me such a great deal of security. You can't believe what a phone call can mean at my age."
Sarah Thomson, Service Manager at Age UK Cambridgeshire and Peterborough, said: "We are delighted to work with the Council and be able to provide a further six services in the district, meaning we now deliver 19 community warden services across the county, 14 of these in South Cambridgeshire. We take pride in building a relationship with someone and helping them to stay independent in their own home, which is where most of us want to stay. Last year our wardens made over 60,000 contacts, that's 5,000 home or phone visits a month, supporting approximately 170 older people."
Cllr Bill Handley (pictured above), Lead Cabinet Member for South Cambridgeshire District Council, said: "We pledged to set up at least three new Mobile/Community Warden schemes to help people live in their homes for longer and I'm absolutely thrilled that we've been able to achieve more than double that target and set up seven new schemes. Of course, these schemes would not be possible without the hard work and dedication of the wardens themselves, as well as the organisations that administer them, such as Age UK Cambridgeshire and Peterborough, so I'd like thank all of our providers, both existing and new, for everything they do. Their work is especially important in the midst of this dreadful pandemic.  
"Please make sure to get your applications in for the next three years' funding. By moving to an application process that covers three years, we hope that there will be a substantial reduction in the burden of paperwork and hassle and, as ever, if anyone needs any help or support in applying, the Council's team is very happy to help."
New or existing Mobile/Community Warden groups can apply to the scheme. The deadline to apply is 5pm, 29 January 2021.