News release from 03/06/2019
Refuse crews trial shorts following staff feedback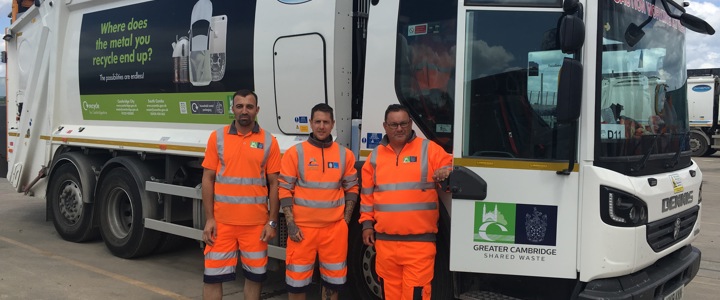 Refuse crews in Cambridge City, South Cambridgeshire and Huntingdonshire have started trialling wearing high-visibility shorts following feedback from staff.
After extensive preparation, a trial allowing refuse loaders to wear high-visibility shorts is starting today (Monday 3 June). It will run until October and will be carefully monitored. The risk of wearing shorts while emptying bins has been evaluated as part of this process and residents can play their part by keeping glass inside their recycling bin only and not in additional clear sacks.
Pictured at top of page, left to right: Refuse workers Mailat Nicolae, Gordon Cullum and Mark Souter.
2018 saw one of the hottest summers on record, with temperatures regularly peaking over 30 degrees. Both the Greater Cambridge Shared Waste Service between South Cambridgeshire District and Cambridge City Councils and Huntingdonshire District Council provided crews with water and sunscreen during the scorching conditions. However, refuse loaders, who each walk the equivalent of almost a half marathon during every shift, also asked whether they could wear shorts to help keep them cool.
The improved wellbeing and comfort of staff helps to minimise the risk of accidents. It is for this reason that both the Greater Cambridge Shared Waste Service and Huntingdonshire District Council have agreed to carry out a trial that allows some refuse crews to wear shorts. The outcome of the trial will be evaluated before any future permanent arrangements are discussed or put in place.
Cllr Bill Handley (pictured - above), South Cambridgeshire District Council's Lead Cabinet Member for Environmental Services and Licensing, said: "Our refuse loaders do a vital job for residents and they walk up to 12 miles during their shift – almost a half marathon. We're always open to suggestions as to how we can make their jobs easier and, in this case, crews have approached us asking if they can be allowed to wear shorts. Their health and safety is paramount but we've listened to their feedback and arranged this trial; we'll be keeping a close eye on how it goes."
Cllr Rosy Moore, Cambridge City Council's Executive Councillor for Climate Change, Environment and City Centre, commented: "The Greater Cambridge Shared Waste Service has more than 150 frontline bin collection staff, with each crew emptying up to 1,300 bins during a typical day. We wanted to let residents know that they may well soon be seeing our refuse loaders in shorts emptying their bins and re-assure them that this trial is being carefully monitored. Our crews do a tough job that is even more tiring during the increasingly regular hot weather that we're having, and so we will always listen to their suggestions to make them more comfortable."
Executive Councillor for Operations and Regulation at Huntingdonshire District Council Marge Beuttell said: "We welcome the opportunity to give our refuse workers the choice of wearing shorts during warmer weather periods. It's important to us that we do not compromise the health and safety for our staff or put them at necessary risk, which is why we are beginning with a trial period. I hope that it proves successful allowing refuse workers to be more comfortable as we approach the summer months and leads to improved morale amongst our teams."
More information about bin collections and waste and recycling services can be found on the recycling section of our website.