News release from 24/09/2018
Proposed changes to some bin collection arrangements
Changes to some aspects of bin collections in Cambridge City and South Cambridgeshire are being proposed, which could cut morning rush-hour traffic on a key commuter route and generate savings to help fund frontline services that residents rely on.
The proposed changes by the Greater Cambridge Shared Waste Service, a partnership between Cambridge City and South Cambridgeshire District Councils, would mean residents receiving the same high-quality service regardless of where they live.
If approved by both Councils during the next two months, the changes would see:
Monthly green bin collections in Cambridge City for three months in winter, as is done in South Cambridgeshire
Cambridge City crews beginning to collect all waste and recycling earlier, from around 6:30am, as is already the case in South Cambridgeshire
A small fee payable for South Cambridgeshire residents who wish to have more than one green bin collected, as is the case in nearly all other Council areas including Cambridge City
Since the Greater Cambridge Shared Waste Service began waste collections in February 2017, work has been done to line-up many policies and back-office functions to help ensure it operates as efficiently as possible. The service recycles around 50% of all waste collected across Cambridge and South Cambridgeshire, and, according to latest figures, collects 99.7% of all bins on-time.
If approved by Councillors at both authorities, the proposed changes to bin collections would further align policies between the two areas, resulting in increased efficiencies that will help ease some financial pressures facing the Councils.
Cambridge City proposals
Currently, Cambridge City residents receive fortnightly green bin collections throughout the year, including in winter when demand for the service falls. The amount of garden waste left-out for collection by Cambridge City residents drops by around 60% between December and February. As a result, the proposal is to collect green bins from Cambridge City residents on a monthly basis in December, January and February from this year. When the same change was made in South Cambridgeshire back in 2014, there was no impact on the overall amount of garden waste being recycled, but it did lead to fewer emissions from waste collection vehicles and savings for Council tax-payers.
The second proposed change for Cambridge City residents is to allow waste crews to begin collecting all bins earlier in the morning. Currently, collections in Cambridge City start at 7am. The proposal is to bring this forward to around 6:30am immediately, as is already the start-time in South Cambridgeshire.
Moving to an earlier start-time in central Cambridge would mean fewer lorries leaving the depot on the A10 at Waterbeach during the peak of the morning rush hour. It would also mean less confusion for residents on the edge of Cambridge who may be unsure as to what time their bins should be out by. This earlier start time in Cambridge City has been trialled in the last few months during the heatwave to help crews avoid the hottest period of the day, and there were no complaints as a result of the trial. Crews also support this plan.
Cambridge City Council's Environment and Community Scrutiny Committee will debate the proposals at their meeting on Thursday 4 October. Following that debate, a decision about whether to approve the changes will be made by the City Council's Executive Councillor for Environmental Services and City Centre, Cllr Rosy Moore.
Cllr Moore said: "The Greater Cambridge Shared Waste Service provides a vital function for Cambridge residents and we are always looking for ways to improve the service whilst making it greener and more efficient. This year we have introduced a new IT system which is helping our waste crews to give a more responsive and effective service. We are now considering whether we could have monthly green-bin collections in winter rather than the fortnightly service we currently have. Meanwhile, getting crews to start collecting bins earlier could cut traffic on one of the main routes into the city, and give more certainty to those living on the edge of the city, so this is something we will also give careful consideration."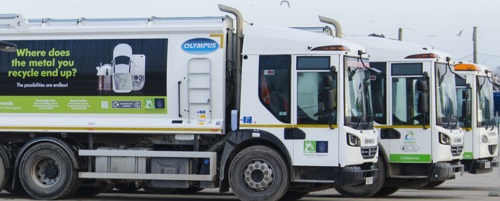 South Cambridgeshire proposal
The one proposed change for South Cambridgeshire residents is the introduction of a charge for those who want more than one green bin, which Cambridge City residents already pay. The first green bin will remain free. 95% of Councils that offer a garden waste service already charge for additional green bins, including Cambridge City Council.
Evidence from authorities elsewhere shows that introducing a charge for extra green bins does not lead to a noticeable reduction in the amount of garden waste collected. If approved, this would mean residents who want to have a second green bin collected would need to pay £35 per year. However, during the proposed scheme's first year of operation, this fee would be reduced to £20. Residents would be able to sign-up for the scheme and make the payment from early next year, with the scheme officially coming into effect in April.
There are currently 3,000 properties with additional green bins across South Cambridgeshire, out of a total of around 66,000 households.
South Cambridgeshire District Council's Scrutiny and Overview Committee will debate the proposal on Thursday 18 October, before a final decision is made at authority's Cabinet meeting on Wednesday 7 November. The scheme would officially begin in April 2019 with residents able to sign-up from early next year.
Cllr Neil Gough, South Cambridgeshire District Council's Lead Cabinet Member for Environmental Services and Licensing, said: "It is right that we look at introducing a charge for more than one green bin, as it is only a relatively small proportion of households that currently use this free service and it is not fair that other residents are subsidising this through their Council Tax. Every other district across Cambridgeshire already operates in this way, including Cambridge City, so it is common sense that we should be seeing whether it is something that is also appropriate for South Cambridgeshire. This is an opportunity to look at whether we can make the Greater Cambridge Shared Waste Service more efficient for taxpayers, which we should always be open to do. It could also be a useful way of highlighting the benefits of home-composting to residents. These benefits would include residents contributing to reduced carbon emissions from our green waste collection trucks, because they would be making fewer journeys."
The report that proposes the above changes can be read on this part of our website.