News release from 03/09/2018
Plans for new jobs and homes given backing by Government Inspectors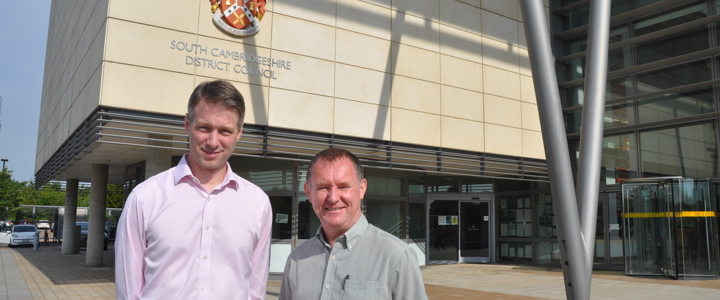 Two plans that propose 44,000 new jobs and 33,500 new homes by 2031 have been found sound by Government Inspectors.
The development strategy for the Greater Cambridge area was given approval by independently appointed Government Planning Inspectors after they reviewed the two Local Plans submitted by Cambridge City Council and South Cambridgeshire District Council.
The Inspectors have written to the two Councils with their final reports following examinations that have taken over four years. The examinations, much of which were undertaken jointly, included reviewing evidence supplied by the two Councils, representations of objection and support made during public consultations, site visits and a series of hearings.
Both Councils submitted their Local Plans in March 2014.
The Plans are not adopted by the Councils until they are debated and confirmed at respective Full Council meetings being held at the end of September and mid-October. However, the Councils receiving the Inspectors' reports means significant weight can be attributed to the Local Plans in decision making.
Key housing sites in the two Local Plans that have been found sound by the inspectors are below. Only a proportion of the homes at the larger sites would be built by 2031:
A new town north of Waterbeach – approximately 8,000-9,000 homes
A new village at Bourn Airfield – approximately 3,500 homes
An expansion to Cambourne to the west – since the South Cambridgeshire Local Plan was submitted planning permission has been granted for 2,350 homes
Homes on land north of Cherry Hinton and west of Teversham – 1,200 homes
Around 900 homes in the better served South Cambridgeshire villages
Continue to develop Northstowe – around 10,000 homes
Continue to build homes in existing growth sites on the edge of Cambridge (Southern Fringe, Cambridge East, Darwin Green and Eddington)
Worts Causeway – 430 homes
Extension to Cambridge Biomedical Campus to support the growth of this cluster
Extension to the Peterhouse Technology Park on Fulbourn Road
Other key policies in the plans and findings of the Inspectors include:
A commitment to an early review of the Local Plans. This was already a commitment of both Councils as part of signing up to the City Deal agreement. The review would commence in 2019 with submission for examination in 2022
Confirmation by the Inspectors that the Councils' Green Belt evidence is robust and that no additional sites, beyond the limited sites proposed by the Councils, need to be allocated for development in the Green Belt
For South Cambridgeshire, the Inspectors confirm that the plan makes adequate provision for Gypsies and Travellers who have been identified as meeting the current government planning definition. Further consideration will be given as part of the Local Plan review on the needs of Gypsies and Travellers who no longer travel.
Cllr Kevin Blencowe, Cambridge City Council's Executive Member for Planning Policy and Transport, said: "The Local Plan process has been complex and unusually lengthy, but we have now reached an important milestone as the Inspectors have provided their final report and found the plan sound. We are pleased that our work to assess how many jobs and homes are needed to support local people and the strategy for providing them has been approved and would like to thank the wide range of local organisations and stakeholders who have all been involved in this process.
"It is important to have up to date policies in place when we are considering proposals for all types of development in the City. The type of housing provided is also important and the plan includes policies to secure social housing as well as ensuring internal design of housing provides decent liveable spaces.
"The plan is also about more than just housing and we have responded to local issues by putting forward key policies that have been endorsed by the Inspectors. These include appropriate provision of accommodation for students and visitors, continued protection and provision of new open spaces and community facilities, and protection of public houses. These are all policies that continue to protect and enhance the quality of life and place in this historic City."
Cllr Aidan Van de Weyer, Deputy Leader and Lead Cabinet Member for Strategic Planning and Transport at South Cambridgeshire District Council, said: "Today is about looking forward as the plan has been found sound and this gives our communities the certainty over how we can deliver well planned and managed growth. However, we are really disappointed it has taken so long for the Government inspectors to complete their review as we understand this was one of the longest examinations in the country. This is simply too long by the inspectors and has meant the wrong type of development, in the wrong locations, has been approved in many of our villages.
"People growing up here need somewhere to live and by building more homes we will help deliver a range of properties that, when you add up all your living costs, are affordable for people to live in. I am a parent and want my children to be able to get on the housing ladder near where they grew up, as will thousands of other parents in the area.
"It is never possible to put forward a plan that has complete consensus but if we had been in power at the Council when this process began, the plan put forward would have been different. However, we need to put the best interests of the area as a whole first and our job now is to ensure that we put existing communities, especially those living nearest to where new homes will be built, at the heart of developing plans. That's the assurance I can give to all communities now. Part of this is ensuring new homes and communities go hand-in-hand with the necessary transport improvements and facilities, such as GP surgeries. We will be working with the Mayor, Greater Cambridge Partnership and County Council to make sure transport improvements happen."
The South Cambridgeshire Local Plan will be presented to a Cabinet meeting in late September before a final decision on adoption is made at a Council meeting on Thursday 27 September.
The Cambridge Local Plan will be discussed at a Policy and Transport Scrutiny Committee meeting on Tuesday 2 October before a final decision on adoption is made at a Council meeting on Thursday 18 October.
The Inspectors' final report for South Cambridgeshire can be found by visiting this part of our website.
The report for Cambridge can be found by visiting the Cambridge City Council website.