News release from 19/10/2018
New Council houses made homes by Gamlingay residents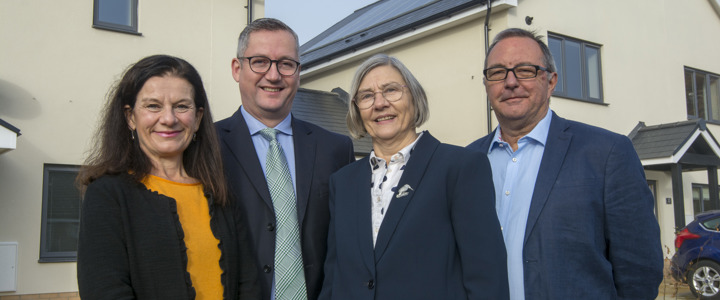 The first residents have moved into new affordable housing in Gamlingay – taking the number of new Council homes built or under construction across South Cambridgeshire to 100 since 2015.
Pictured above from left to right: Leader of South Cambridgeshire District Council and local member for Gamlingay Cllr Bridget Smith, Cambridgeshire County Councillor for Gamlingay Cllr Sebastian Kindersley, South Cambridgeshire District Council's Lead Cabinet Member for Housing Cllr Hazel Smith and Operations Director at Taylor French Developments Brian Ball.
The redevelopment of the District Council's Robinson Court site in Gamlingay saw 32 old bedsits make way for 14 new homes – ten of which are affordable Council homes.
You can watch a video about this story on our YouTube Channel here.
The new homes, built by contractor Taylor French Developments, were recently completed and Council tenants with local connections to Gamlingay have now moved in.
They help address the shortage of affordable housing in Gamlingay with several one and two-bedroom flats for affordable rent, and some one and two-bedroom houses for shared ownership. The remaining four homes were made available for sale on the open market, which enables the provision of affordable housing on the bulk of the site.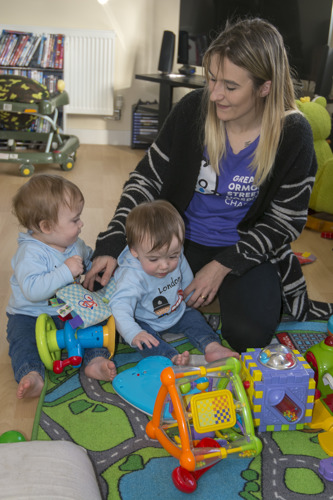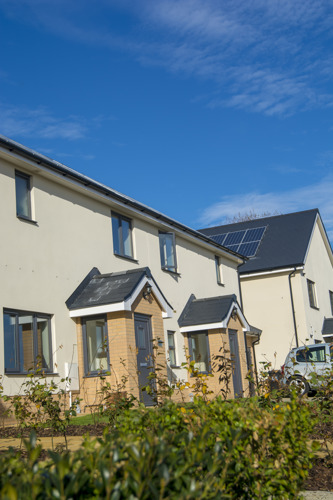 The new, energy-efficient homes have solar panels on top, giving tenants access to free daytime electricity. They were built on the Council-owned site that was previously made-up of buildings constructed in 1973 but became difficult to rent out due to their layouts.
The completion of the ten new Council homes on the site means that, since 2015, 84 new Council homes have been built in villages across South Cambridgeshire. These are Gamlingay, Swavesey, Linton, Foxton, Great Abington and Waterbeach.
A total of 16 Council homes are currently being built on sites in Longstanton and Balsham.
The Council already has plans for up to a further 200 new Council houses to be built across the district over the next five years, including in Waterbeach, Teversham, Caldecote, Great Abington, Hardwick and other villages.
Lucie Brown (pictured above with her children, twins Tommy and Patrick) from Gamlingay has recently moved into one of the affordable properties at Robinson Court with her young family. Lucie, who works in nearby Potton, said: "Me and my family love the new homes and are so pleased we got allocated one. Me, my twin sons and partner all love where we live! The flat we live in is really big and my twins can have loads of fun playing in their walkers. My family live so close by so they support me with the twins, especially the one that's been poorly. The people we have living around us couldn't be any friendlier and we absolutely love living here."
Leader of South Cambridgeshire District Council and local member for Gamlingay ward, Cllr Bridget Smith, said: "These are exactly the type of homes that we are working as hard as possible to deliver across South Cambridgeshire. Having a local home that is affordable to live in has a huge knock-on effect. It means residents like Lucie, her boys and partner can stay near friends and family, in the communities where they have grown up. My administration is focussed on bringing forward homes that are affordable to live in, both when it comes to mortgage or rent and running costs. These new homes are energy-efficient, so residents will spend as little as possible on bills. For too many people, the bulk of income goes on rent or mortgage, then energy bills, leaving little left for them to live their lives, buy necessities and have fun. I'm thrilled that these new homes are helping local people find high-quality homes."
Operations Director at Taylor French Developments, Brian Ball, added: "We were delighted with winning the tender to deliver the 14 new homes at Robinson Court for South Cambridgeshire District Council. It was the first scheme we have built for the Council and the construction process ran smoothly, given the tight access and restricted space for the construction related activities. We believe that the partnership approach with the Council, Taylor French Developments and local residents considerably aided the efficient delivery of the site and we are grateful to everyone involved for their assistance. The final product is one that we are immensely proud of and we believe it bears testament to the hard work of all involved. Our hope is that the new homes provide good quality, sustainable dwellings for both the inhabitants and the residents of the nearby area."