Zero Carbon Communities Grant funded projects
These are the projects that we have funded so far:
2019
Nature 
Cambourne Town Council 
Received £2,538 and planted 1,200 young trees and shrubs around the Great Cambourne cricket outfield in February 2020. Residents and pupils from Cambourne Village College helped the Town Council by volunteering their time to help with planting. 
Great Wilbraham Parish Council
Received £1,000 for phase 1 of their project which is to plant 6 standard Oak trees in the village. The project completion date was scheduled for mid-March 2021.
Histon & Impington Trees Action Group (known as HI Trees)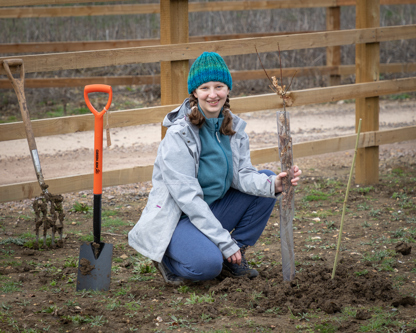 Received £6,500 to restore woodland that was destroyed in the A14 expansion project. 1,000 trees and 750 metres of hedges were planned for 2020 but the planting was delayed due to Covid. The project re-started on March 6 2021 with a low-key launch and with the use of a COVID-safe contractor were able to plant about two-thirds of the planned trees. They are aiming for community engagement in the maintenance of the trees and will do the final planting in Winter 2021 to 2022 with the help of the community. More information can be found on the Hi Hub webpage.
Orwell Benefice
Received £4,150 for their project known as the Orwell Living food bank. The project, which links local people using existing church-based food boxes to a programme that enables them to build local vegetable plots.  Despite difficulties caused by both the weather and lockdown, progress has been made in the ordering of fruit trees, planting of heritage seeds and the donation of tools and plants as well as linking in with all the food banks in the villages. The community café aspect of their project should open later in 2021. 
Whittlesford Parish Council
Received £3,611 to plant 80 trees to absorb carbon, increase biodiversity, beautify the village and inspire residents to take climate change seriously. The planting of 80 trees in the village was due for completion by the end of March 2021, they are just waiting for some more trees to be delivered. They will also be putting a piece in the local LOOK magazine to let all residents know what has been achieved.
Cycling
Cambridge Cohousing
The cohousing community undertake environmental initiatives for the benefit of both the cohousing community and residents of Orchard Park. They received £5,000 and purchased and launched an electric cargo bike which is now in use by Orchard Park residents and local non-profit groups. The trike, which will soon be decorated in eye catching artwork to highlight climate change, has also been used in a community litter pick.
CycleStreets Ltd
Received £10,000 for a project to combine 'PlanIt', a national aggregator of Local Authority planning application data with 'Cyclescape', a site to enabling local people to crowdsource long-desired changes to street infrastructure. The website, known as StreetFocus is almost ready for launch and will auto-identify cases for planning gain.
Fen Ditton Parish Council
Received £1,500 for the installation of a cycle rack and a water fountain in Fen Ditton.
Great Abington Parish Council
Received £2,055 in round one for their project to reduce car round-trips from the Abingtons by switching to Electric Bikes through an Awareness-raising/promotional weekend and purchase of an e-bike for extended free trials by parishioners of Great Abington, Little Abington and Hildersham over a 12-month period. The e-bike scheme is proving to be very popular, being out on loan 100% of the time.
In round 2 they received further funding of £3,050 to Kickstart a commercial share-bike scheme with bikes and expertise provided by Cambridge Electric Transport.
Meldreth, Shepreth and Foxton Community Rail Partnership
Received £6,500 for a double story cycle rack (30 bikes) including CCTV cameras and a cycle repair café at Meldreth Station. The cycle repair café is on hold until Covid restrictions are lifted. The rest of the project is complete.
Papworth Trust
Received £13,392 to provide Pop Up Bike Shops and Safe Cycling and Repair Workshops outreaching to local communities across South Cambridgeshire using a company called 'Owl Bikes' who support disabled adults to develop the practical skills of customer service, IT and bike mechanics. The Pop-Up Bike Shops and Safe Cycling and Repair Workshops have all been put on hold but will re-open soon once Covid restrictions are lifted. 
Teversham Parish Council
Received £14,477 for the Teversham Cycle Plan and now have four subsidised community e-bikes ('bizbikes') supplied by Cambridge Electric Transport with lockers across the housing estates and commuting nodes of the parish. Four further cycle stands have also been installed to serve Teversham village businesses, the school and social club. A Community Engagement Day took place on 24 October 2020 to raise awareness of the Cycle Plan and its environmental, economic and health benefits.
Waterbeach Cycling Campaign
Received £1,200 and with some additional funds from Waterbeach Parish Council, three sets of cycle stands have recently been installed in the centre of Waterbeach village with a campaign targeted at villagers to encourage them to cycle rather than drive to the village.  Publicity has been provided on the local Facebook page and the Waterbeach Cycling Campaign website.
Other
Cambridge Carbon Footprint
Received £15,000 for their Net Zero Now, project-a new scheme to help train and support community climate leaders across the district. The programme, which will run from June until October 2021, will provide free training in effective carbon reduction strategies for local communities. 
Cambridge Sustainable Food
Received £15,000 towards their Food for Our Future campaign to raise awareness of the issues and encourage practical solutions to reduce the carbon footprint of food. The Campaign and Challenge was adapted to ensure it could still continue with the Covid restrictions in place. The online campaign launched on Saturday 24 October 2020 with a food waste challenge, cookery workshops, recipes, talks and storytelling-all to support families in reducing their food waste. They will also be running a community focused meat reduction campaign in early Summer 2021. 
Gamlingay Eco Community Group
Received £2,129 to offer plastic free alternatives with a monthly pop up shop offering a range of plastic free household products for the community to try for free then buy. Covid has delayed the launch of the pop-up shop but this should be opening very soon. They have also started to present online sessions on plastic pollution-the first of which took place in September 2020 when they met online with Gamlingay Brownies. Plans are to hold more sessions like this to various youth groups in the village. Find out more on the Gamlingay Eco Community Group Facebook page. 
Ickleton Village Hall committee
Received, £8,387 and in May 2020 replaced all the current lighting in the village hall with Low Energy equivalents.
Melbourn Parish Council
Received £6,000 for their project with Melbourn Village College to reduce single plastic water bottle use by providing six anti-vandal water bottle refill stations on the Melbourn Village College site. Although the water stations have been installed, the rest of the project, which includes issuing pupils with reusable water bottles and educating communities about the effect of wasting resources and plastic pollution was put on hold due to COVID. This should be completed soon now the school have re-opened.
Sustainable Cottenham
Received £2,520 and have already worked with Cambridge Sustainable Food with their Food Waste Challenge back in Autumn 2020. They are currently developing rest of their Eco Eats Campaign and festival to encourage sustainable eating and the urgent need to reduce the carbon footprint of food production, distribution and waste. The Eco Eats Working Group are hoping this festival will be feasible in Autumn 2021. They will also be helping with the Cambridge Sustainable Food's 'Food for our Future' campaign in early summer. An Eco Eats recipe book is currently being developed too. 
2020
Nature
Babraham Parish Council
Received £9,835 to help create a 'Forest Garden' to be located on approximately 0.7 hectares of Babraham Institute managed land for growing edible and usable produce.
Barrington Parish Council
Received, £2,037 and have started to create the 'Barrington Community Forest Garden' which will consist of 6 East Anglian fruit and nut trees, 10 berry and currant bushes plus other herbs and shrubs.
Eltisley Parish Council
Will be receiving a total of £5,367 to create new woodlands to act as a carbon sink, improve the environment and create a green amenity space for the village to enjoy. To aid biodiversity glades will be included to encourage wildflowers, while shrubs will be planted around the edges to encourage species such as butterflies, bats, and birds.
Foxton Parish Council
Received £834 and will be working with Friends of Dovecot and Friends of Foxton Woods, to create seedbeds for more drought resistant wildflower species to grow in Dovecot meadow. Situated next to Foxton Primary School, the site is ideally located to enable the teaching of the history, ecology and biodiversity.
Gamlingay Parish Council
Received funding of £5,965 for the 'Grow Gamlingay' project which aims to steadily increase the tree canopy of Gamlingay Parish over the next 10 years. In year one they will plant 'A Tiny Forest' (600 trees in a 200 metre-squared area) and set up Gamlingay Tree trail and a community tree nursery.
Great Shelford Parish council
Received £5,750 to plant eight mature trees in their new play area (playscape) planned to be built on the recreation ground in 2021 and employ a tree consultant to:
develop a planting guide for currently underutilised areas of the recreation ground
identify any further tree planting sites around the village centre
Little Shelford Community Orchard and Woodland Project (SCOWP)
A newly formed group that received £3,165 to manage the planning, implementation, and maintenance of a community woodland/orchard on the land known as 'Blennies Patch' on behalf of the landowners (Little Shelford Parish Council).
Funding is for phase one of this two phase project, which has already started and includes the clearing and preparing of Blennies Patch and then the planting of 200 whips (to form hedgerows), nine apple trees and nine hardwood trees including associated supports and protection, and the coppicing of some sycamores.
Little Wilbraham and 6 Mile Bottom Parish Council
Received £1,125 for all three phases of their project to plant 5 trees, create paths at the rec and the 'pits' and plant vegetation on verges around the village. They will be working with Wilbraham's Environment Group on this project which forms part of a larger project known as 'Wilding the Wilbrahams' with Great Wilbraham.
Northstowe Horticultural Association
Received, £5,800 to create a community garden and orchard that can be used by all local residents to learn about growing their own fruit and vegetables. Find out more on the Northstowe Horticultural Association Facebook page. 
Sawston Parish Council
Received £2,792 to pay for a tree consultant to develop planting guides for 12 separate green spaces spread across Sawston Village and provide additional support for their community planting events. Funding will also be used for wildflower plantings to increase biodiversity. This project is being undertaken as a partnership between Sawston Parish Council and Green Groups in the Shelfords, Stapleford and Sawston (2G3S).
Cycling
Camcycle
Received £2,000 to provide support, advice, resources and connections to enable South Cambridgeshire residents to organise, plan and apply for funding and traffic regulation orders for their local schools. This project, known as School Streets will reduce carbon emissions through fewer car journeys and reduced congestion during school start and finish times with the additional benefit of helping to create a safer environment for children at these times.
Cottenham Parish Council
Received £1,500 for the Installation of secure cycle stands at two community spaces-one at the North and one at the South of the village.
Fowlmere Parish Council
Received £2,690 to install 14 cycle stands in four key public locations in the village to promote and encourage cycling.
Great Abington Parish Council
Received £2,055 in round one for their project to reduce car round-trips from the Abingtons by switching to Electric Bikes through an Awareness-raising/promotional weekend and purchase of an e-bike for extended free trials by parishioners of Great Abington, Little Abington and Hildersham over a 12-month period. The e-bike scheme is proving to be very popular, being out on loan 100% of the time.
In 2020 they received further funding of £3,050 to Kickstart a commercial share-bike scheme with bikes and expertise provided by Cambridge Electric Transport.
Milton Cycling Campaign
Milton Cycling Campaign received £15,000 to provide high quality cycle parking stands at key sites in Milton parish or on a habitual commuting route for Milton residents. By prioritising sites which will attract more cycle traffic, the grant money will be used to offer a reimbursement scheme for those organisations whose racks will get used often and have provided sufficient publicity on how to reduce routine car use in Milton.
Community buildings
St John the Evangelist Parish Church, Waterbeach
Received, £15,000 to install an air source heat pump, solar PV and an energy monitor in their Church room-a room constructed in 1970s to 1980s which is connected to the main Church and is well used by the local Community. The Church belongs to the Eco Church scheme under which publicity on the part of the Church is encouraged to demonstrate the benefits of "eco" initiatives. They will also make use of "Explore" days, Church Services and local events to demonstrate and communicate benefits as a way of informing the village community and encouraging people to take up "eco" developments.
Willingham Parish Council
Received £13,142 to install infrared heating panels in their village hall (Ploughman hall) which has no gas supply and currently relies on inefficient convection panels for heating. As part of their project, they will also increase awareness of energy saving in buildings in the wider community, through information in Willingham News, delivered free to every household, plus will look at other actions such as an exhibition in the local library, posters, and an event in the low-energy refurbished Ploughman hall.
Contact Details
Was this web page helpful?