News release from 22/10/2019
More than 60 new Council homes to be built in Sawston for local people
63 affordable new homes are to be built as part of a 158-home development in Sawston, enhancing South Cambridgeshire District Council's existing stock of circa 5,500 properties.
The development will comprise 1 and 2-bedroom apartments and 3 and 4-bedroom houses.
Almost 70 percent of the new homes (44) will be reserved as Affordable Rent, which is kept at below market rates, with a further 19 available through a Shared Ownership scheme. Applications for 31 of the properties will be assessed in relation to people's 'local connection' to the area, with priority given to those people who are from the area and have grown up locally.
Smaller property types are in high demand in Sawston, which is why 41 of the 44 Affordable Rent properties will be 1 and 2-bedroom apartments, while four 1-bedroom apartments and 11 2-bedroom apartments will be available through Shared Ownership.
There will also be three 3 and 4-bedroom houses available through Affordable Rent, and four 3 and 4-bedroom Shared Ownership homes.
The Council has partnered with award-winning housebuilder Hill to develop the 63 affordable homes, with each of the apartment blocks set to feature solar panels on their roofs to help reduce energy costs.
Cllr Hazel Smith, South Cambridgeshire District Council's Lead Cabinet Member for Housing (pictured below), said: "1 and 2-bedroom homes have the fastest growing demand around Sawston and the highest demand across our district, so it is really positive that 50 of the 63 homes will be the right size to meet this local need. We are also aware of the need for a small range of larger homes to be built, and it's fantastic to be able to provide some 3 and 4-bedroom houses to meet this need too.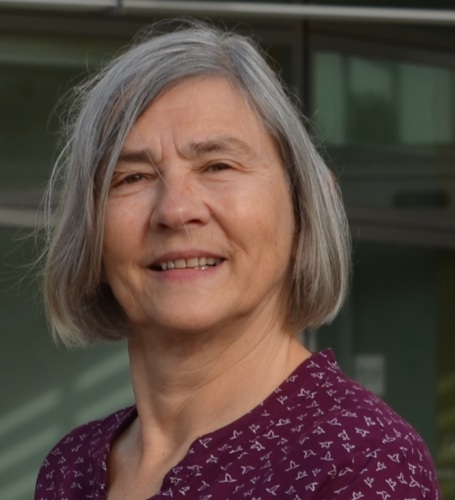 "We have worked with Hill previously to build a number of high-quality homes that are affordable to live in, and we are really positive about this new project. We know future residents can look forward to solar panels supplying homes and communal areas, bringing down energy bills and service costs. The development will also provide people with opportunities to enjoy their surroundings, with areas for all children to play and a green buffer to open countryside.
"With around 90 Council houses already being built as part of smaller developments around the district, and a further 81 announced at Northstowe recently, today's announcement reemphasises our commitment to double the number of truly affordable homes being built annually in South Cambridgeshire by 2024. House prices remain a big issue for residents but, by securing new Council houses, we intend to shift things in the right direction for residents." 
Jon Thistlethwaite, Regional Director at Hill, said: "We are extremely committed to working with local authorities and housing associations across Cambridgeshire to deliver much-needed, affordable new homes. We're thrilled to be working on our latest development with South Cambridgeshire District Council, and are excited to see the positive impact it will have on the local community who have lived in the area for generations."
First priority for the 31 properties for local people will be given to those who have a local connection to Babraham and Sawston, with second priority given to those with a local connection to other South Cambridgeshire villages. Qualifying criteria would need to be met. 
The new development is subject to planning permission being granted. Work is scheduled to start in autumn 2019 with the first residents expected to move into the homes in autumn 2020.