News release from 07/09/2020
'Lifeline' meal schemes extended for vulnerable residents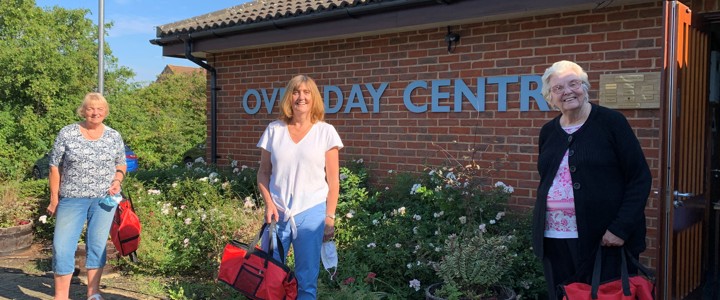 'Lifeline' schemes that have delivered more than 2,200 meals to vulnerable residents in lockdown are being extended for two months in South Cambridgeshire, thanks to fresh funding.
The District Council has secured £1,400 from Cambridgeshire Community Foundation's (CCF) Coronavirus fund to enable initiatives to continue operating from Over Day Centre and C3 Church in Cambridge until the end of October.
At Over Day Centre the nutritious meals are prepared twice a week by the centre's chef Karen Croxon, supported by staff and volunteers and distributed by 25 helpers to vulnerable residents in Over and beyond, including Bar Hill, Caldecote, Cottenham, Longstanton, Swavesey and Willingham.
Meanwhile, C3 Church will continue to prepare and supply around 35 meals each week for older residents in Waterbeach, Teversham and Fulbourn.
Since lockdown, many of these residents have been unable to meet up for meals and enjoy each other's company at their local day centres or lunch clubs.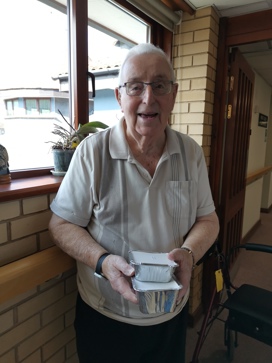 For 91-year-old widower Roy Sutton (pictured - above) the Over scheme has been a lifeline, providing him with not only a nutritious two-course meal each Wednesday but also a welcome chat with his volunteer about what's happening in the community.
"The day centre has been my second home since I lost my wife four years ago," he said. "So, when Covid closed its doors, I felt completely lost. I missed the warm welcome and big hug that I'd get as I walked through those doors four days a week.
"But the meals service has been a lifeline, opening up a new way for me to get some of that feeling back. The volunteers are so friendly and caring and although I enjoy the food – it's delicious – the chance to have a chat and a bit of banter is every bit as important. It means the world to me.
"Last week my volunteer arrived with a hot meal and a tray of tomatoes she'd grown – it was so caring of her and it's little acts of kindness like that that make all the difference to my day."
He added: "I think I can speak for all my friends when I say we want to thank these volunteers from the bottom of our hearts. They really are amazing – all of them, preparing our meals, delivering them and clearing up afterwards. As far as I am concerned, they are heroes, each and every one of them. I don't know where we'd be without them."
The meal schemes were launched in June with a £10,000 contribution from developers Countryside and CCF's grant will enable both of them to continue.
CCF's Chief Executive Officer, Michael O'Toole, said: "We are so grateful to all our supporters who have helped raise over £1million for our Coronavirus Community Fund appeal so far.
"The fund has provided community organisations emergency funding to support vulnerable people affected by the pandemic. This has included projects addressing financial hardship, health issues, home education, need for self-isolation/shielding, loneliness and the need for nutritious meal deliveries such as this."
South Cambridgeshire District Cllr Bill Handley (pictured - above), Lead Cabinet Member for Community Resilience, Health and Wellbeing, a trustee of Over Day Centre and one of the local Members for Over and Willingham Ward, thanked CCF for its generous backing in enabling the vitally important schemes to continue.
He said: "Local vulnerable residents continue to need our support through these difficult times. Hundreds of meals have been provided so far by the scheme and I'm delighted that we are able to continue with it until the end of October.
"It is a credit to the hard work of the staff and volunteers at Over Day Centre and the C3 Church, plus the people who collect and deliver the meals. We thank them all as well as CCF and Countryside for their financial support."
Martin Leach, Managing Director, Strategic Land, Countryside said: "We are so pleased that the hot meals initiative by South Cambridgeshire District Council has been extended until October. Countryside is committed to the local community in Cambridgeshire and very proud to support this vital service which provides food and companionship to some of the most vulnerable residents in the area – the scheme has clearly been a community lifeline for many people in recent months. Together with the council, we applaud the hard work of the staff and volunteers running the scheme."