News release from 21/05/2019
Late May 2019 bank holiday bin collection changes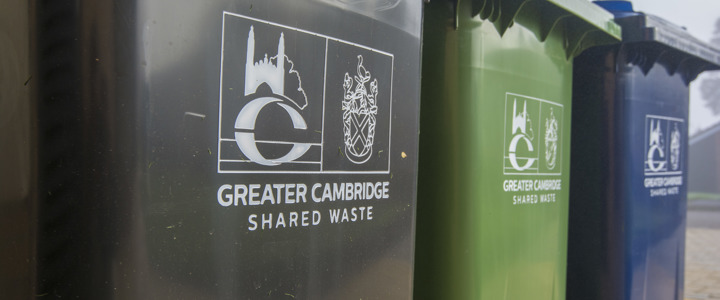 Residents of South Cambridgeshire and Cambridge are being reminded that bin collections will be one day later than usual next week, following the bank holiday weekend.
The collection scheduled for Friday 31 May will take place on Saturday 1 June.
The schedule returns to normal on Monday 3 June.
Scroll for more
| | |
| --- | --- |
| Usual collection day | Revised collection day |
| Monday 27 May | Tuesday 28 May |
| Tuesday 28 May | Wednesday 29 May |
| Wednesday 29 May | Thursday 30 May |
| Thursday 30 May | Friday 31 May |
| Friday 31 May | Saturday 1 June |
| Monday 3 June | Back to normal |
Cllr Bill Handley (pictured - below), South Cambridgeshire District Council's Lead Cabinet Member for Environmental Services and Licensing, said: "The long weekend is a great opportunity to enjoy time with family and friends but, whether at home or away, please recycle as much as possible. Packaging items such as foil trays from cakes and quiches, drink cans and bottles, plastic fruit punnets or foil from sandwiches can all be recycled in your blue bin. Please remember though, that everything you put into your blue bin is not waste - it is a resource which can be re-processed and turned into new materials – and it's really important that we all treat it as such, and make sure it is as good quality as possible. It's also important to make sure containers are empty and rinsed out as liquid and food residues can leak onto other recycling material, contaminating it and possibly rendering it unusable. And if you spend time gardening, and you don't have your own compost heap or bin, your green bin can take all your grass clippings, weeds and prunings. I hope everyone has a great bank holiday."
Cllr Rosy Moore, Cambridge City Council's Executive Councillor for Climate Change, Environment and City Centre, said: "If you decide to do a bit of spring cleaning and end up with items that are still in a good condition, like clothes, toys or books but you don't want them anymore, please donate to charity or take to one of our recycling points. You can also take a whole plethora of items, like paint tins, electricals and treated wood, to Household Recycling Centres at Milton and Thriplow. Please check the Cambridgeshire County Council website for details of opening times at these Recycling Centres. Everything you can do to cut down on the amount of waste you generate makes a real difference and helps the environment."
More information about bin collections and waste and recycling services can be found on the recycling section of our website.
For Milton and Thriplow Household Recycling Centre opening hours, visit the Cambridgeshire County Council website.