News release from 26/05/2021
Investment partnership and local Council agree £14.3 million deals to build new homes in Cambourne along with Cambourne Business Park investment
The new South Cambridgeshire Investment Partnership (SCIP) has agreed to purchase land in Cambourne to bring forward new homes – while South Cambridgeshire District Council is also making a major investment in the future of Cambourne Business Park.
The deals being announced today will allow the District Council and SCIP to work together to shape the development of the area, with a focus on creating a thriving, environmentally-friendly place where people will want to live and work.
The land on the southern edge of Cambourne Business Park being purchased for £12.9 million by SCIP is expected to lead to around 275 new homes. 40% of these will be much needed affordable housing. This will include social housing, such as rented accommodation managed by the Council or a Housing Association. SCIP is a 50:50 partnership between South Cambridgeshire District Council and top 20 housebuilder, Hill Group.
Images above and below: Rob Hall, Deputy Managing Director at the Hill Group, and Councillor Bridget Smith, Leader of South Cambridgeshire District Council.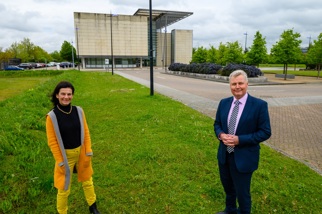 Additional land is also being made available to enable SCIP to improve vehicle and pedestrian access to the adjoining development scheme to the west, including the planned new schools and community facilities. Plans for this site are still being worked on and both Hill and the Council are keen to carry out extensive engagement with the local community before finalising proposals and submitting a planning application.
Additionally, South Cambridgeshire District Council is purchasing a currently empty plot of land at Cambourne Business Park, which is identified for commercial activity, with a view to completing this part of the Business Park. Key parts of the infrastructure of the Business Park are also being purchased by the Council. The total cost of these two transactions is £1.4 million. This acquisition also gives the Council wider control of, and the ability to initiate, carefully considered further development at the Business Park as part of a proactive approach to recovery from the COVID-19 pandemic.
Cllr Bridget Smith, the Leader of South Cambridgeshire District Council, said: "These deals represent a direct and long-term investment into this local community – establishing Cambourne as one of Cambridgeshire's prime business locations and playing an important part in our commitment to bringing forward new homes that are truly affordable to live-in. As the amount of funding we receive from central Government has decreased over time, our Investment Strategy enables us to find new ways to generate income that not only helps fund frontline services, but directly benefits the local area and economy too. Through these purchases, we will be providing much needed new homes and state-of-the-art commercial spaces. Additionally, the entire development process will support local jobs, apprentices and supply chains, whilst ensuring that we can keep the environment at the heart of the design and construction process."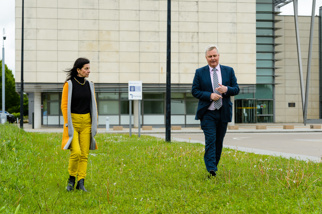 Rob Hall, Deputy Managing Director of the Hill Group, comments: "Building a successful development and investment pipeline without a landbank to draw on is a brand new model of public/private partnership and we are delighted that our first scheme will be such a prominent site within Cambourne. As a Cambridge-based, family run business, we bring over 20 years of experience in sourcing land and building exceptional sustainable homes, as well as unrivalled expertise in delivering successful partnership schemes. We look forward to working with the neighbouring residents to further enhance this thriving community, while also investing in the local economy and providing long-term returns for the Council."
The first, and largest of the sites, comprises 19.2 acres of brownfield residential land to the south of the access road. It has been purchased by SCIP and is allocated in the District Council's current adopted Local Plan for residential and employment use. It has the potential to deliver around 275 new homes, with 40% affordable.
The residential site marks the maiden land acquisition for SCIP, an innovative joint venture partnership formed in 2020 to generate brand new, long term revenue streams, investment opportunities and assets for the Council, without drawing on any existing landbanks or Council assets. Over the next four years, the Council is actively looking to invest up to £170 million with its investment partners in the acquisition and development of land in South Cambridgeshire and the wider travel to work area, as determined by the Cambridgeshire and Peterborough Independent Economic Review (CPIER).
The second site, being purchased just by South Cambridgeshire District Council, comprises 2.77 acres adjacent to South Cambridgeshire Hall, with detailed planning consent for 48,000 sq ft of office space, set within the Cambridge Compass Enterprise Zone area. The Council has also purchased 3 acres of associated infrastructure land around the access road, including a car park, the marketing office and two electric car charging points. These two smaller parcels of land were purchased solely by, and will be retained by, the Council.
The Council and SCIP will speak with neighbouring residents and businesses, along with the Greater Cambridge Shared Planning Service, to bring forward detailed planning applications, with a focus on sustainable design  in line with the Council's aspirations towards net zero carbon.
Cambourne Business Park is located nine miles west of Cambridge, set in 55 acres of picturesque parkland with lakes, cycleways and footpaths. Part of the park was awarded Enterprise Zone status in 2016.
To find out more about the South Cambridgeshire Investment Partnership and its plans for the site in Cambourne, register your interest.