News release from 15/10/2018
Homeowner stumped after cutting hole in protected tree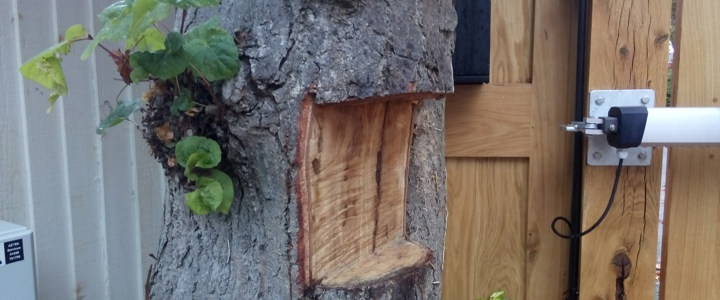 A man from Girton has been hit with over £1,300 in fines after he allowed a protected tree on his property to have a hole cut out of it so a new electronic gate could be installed.

Mr James Heaver, 71, from Cambridge Road, Girton, admitted the offence when he was interviewed by South Cambridgeshire District Council planning enforcement officers before appearing at Cambridge Magistrates' Court on Thursday (11 October).
The Magistrate fined Mr Heaver £293, awarded the Council £1000 in costs and imposed a £58 victim surcharge.
The tree will now be monitored by the Council and if it dies Mr Heaver will be ordered to replace it.
Homeowners and landowners are normally aware if a tree on their property is protected and the Council is warning other people to check online if they are in any doubt before doing any work to trees. Visit this part of our website to check for Tree Preservation Orders (TPOs).
Tree Preservation Orders are only given when a tree has significant value to the community.

Cllr Tumi Hawkins, South Cambridgeshire District Council's Lead Cabinet Member for Planning, said: "Significant trees are protected for a good reason and we make no apologies about taking action when people take chain saws to them. Our green and beautiful landscape is one of the things that make the area such a great place to live. Please check online before you do any work on significant trees or you could also end up in court."
Cllr Douglas de Lacey, local member for Girton, said: "I am pleased that the Council has taken firm action in this case. Our residents will welcome the knowledge that trees cannot be harmed without due process being taken, and that planning permission must always be sought where works might affect our trees."