News release from 26/07/2018
Help your bin crews during the heatwave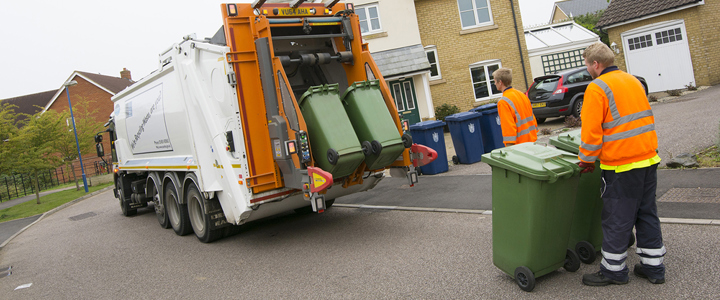 Residents of Cambridge and South Cambridgeshire are being asked to help bin crews deal with the hot weather, as heatwave conditions continue.
With a Level Three – Heatwave Action alert currently in force from the Met Office, and temperatures set to rise further tomorrow, collection crews are facing challenges completing their rounds.
The Greater Cambridge Shared Waste Service, a partnership between South Cambridgeshire District Council and Cambridge City Council which collects waste across both areas, has contingency plans in place to support crews in finishing their rounds safely. Staff are issued with caps and sunscreen and around 2,500 bottles of water are stockpiled at the service's depot to keep crews hydrated during the hot weather.
There are more than 150 frontline bin collection staff in the service, with each crew able to empty up to 1,300 bins during a typical day. Between all crews, they empty up to approximately 36,000 bins across Cambridge and South Cambridgeshire every day. On average, a collection operative will walk up to 12 miles during one shift.
Residents can help them out by, where appropriate:
Putting your bin out at the kerbside, with the handles facing the road, the evening before collection if possible. This will allow us to collect bins slightly earlier in the day if we are able to, during cooler temperatures
Avoiding putting additional recycling out for collection, by the side of blue bins, if possible. Crews are having to work more slowly and take extra breaks, so this will help them to collect everyone's bins
If you know you have plenty of space in your bin and don't really need to have it emptied this time, please don't put it out. For example, if you only have a small bag at the bottom of the black bin or a few bottles in your blue bin
If any resident finds that their bin has not been collected, they can check our service announcements page to find out if this is due to the hot weather. 
If after checking the above pages a resident believes they live in an area where the bins have been missed, and there is no service update relating to their address, they can report a missed bin collection on this part of our website.
South Cambridgeshire District Council's Deputy Leader, Cllr Aidan Van de Weyer, said: "Our crews are facing really tough conditions during this heatwave so will genuinely appreciate any help that residents can give them. Even just making sure your bin is out at the kerbside the evening before collection, with the handles facing the road, will be useful. Each crew member is walking the equivalent of almost a half marathon every day, so we're making sure they're working more slowly, taking extra breaks and drinking plenty of water."
Cambridge City Council's Executive Councillor for Environmental Services and City Centre, Cllr Rosy Moore, said: "We are doing all we can to make sure our waste collection crews are pacing themselves properly during the heatwave and I know they will be grateful for any assistance that residents can give them. We're absolutely not saying don't put your bins out. What we are saying is that, if it is nowhere near full, and residents can manage without it being emptied this week, it will help our teams. Remember to check the service announcement page on the Councils' websites for updates on bin collection rounds."