News release from 14/09/2017
Have your say on vision for new town north of Waterbeach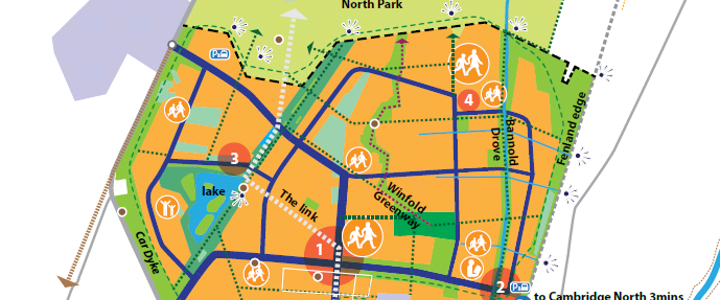 Comments about the vision for a new town north of Waterbeach are being invited, at the start of a six-week consultation.
This comes after Government Inspectors recently found South Cambridgeshire District Council's Local Plan 'sound'. This Local Plan, which sets out where jobs and development should take place up to 2031, includes the development of a new town north of Waterbeach.
Following confirmation from the Government on the Waterbeach site's inclusion in the next plan for the district, the Council is now pressing on with the next stage and setting out its aspirations for the new town. This next step asks local people to comment on a Supplementary Planning Document (SPD).
This document contains a vision for the future place, as well as proposing practical details such as where the town and local centres, and important community facilities like schools, parks and open space, will go.
It outlines aspirations for the new town to be as environmentally-friendly as possible, and considers factors like how people will move around, with walking and cycling prioritised to reduce the use of private cars. In addition to the relocation of Waterbeach Railway Station, which the Council's Planning Committee considered earlier this week, this SPD builds on the Local Plan and outlines expectations for other links required, including:
New public transport and cycle links to Cambridge
Transport improvements that could include dualling the A10
Upgrades to the junctions on the A10
Improvements to the Milton Interchange
Once adopted, the SPD will set the benchmark that planning applications for the new town's homes will be assessed against. Residents can comment on the document from 5pm today (Friday 14 September) until 5pm on Friday 26 October.
Alongside the document, a guide including an executive summary has been added to help residents and local groups consider the SPD and take part in the consultation.
A local exhibition will be held, on Monday 8 October from 12:30pm to 7:30pm at the Waterbeach Salvation Army Hall on Station Road, so residents can ask officers questions face-to-face. Council staff will also attend the upcoming Waterbeach Community Forum meeting on Tuesday 25 September from 6pm at the Waterbeach Baptist Church on Chapel Street.
A guide to the SPD and associated documents can be found at www.scambs.gov.uk/waterbeachspd where people can also make comments. Please note that this page will be live on our website from 5pm today (Friday 14 September). If you visit this page before then, you will see a 'page not found' message.

Deputy Leader of South Cambridgeshire District Council and Lead Cabinet Member for Strategic Planning and Transport, Cllr Aidan Van de Weyer, said: "I'm very keen to hear the thoughts of as many people as possible on this. We know there are many issues to understand, such as the proposed new town's impact on the A10, so this document sets out our thoughts and aspirations for how we expect developers to help address those. We now want to hear thoughts and ideas from others. Waterbeach is a thriving community so we are very conscious that any new development must be respectful of the existing village so it keeps its look and feel. It's also important the planned new town has its own sense of identity."