News release from 13/08/2020
Grow-your-own community flourishes at first Northstowe allotments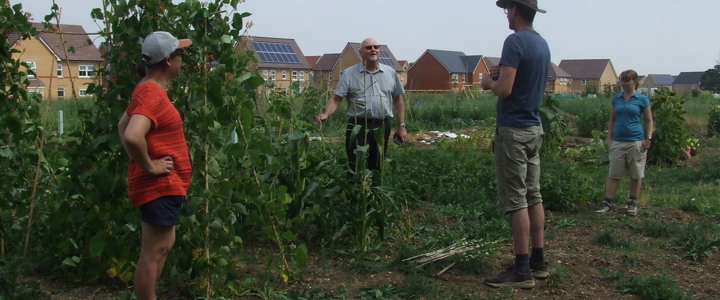 Residents are reaping the benefits of growing their own food at the very first allotments in Northstowe – and enjoying respite from lockdown.
Families, young people and pensioners are producing their own fruit and vegetables on the land thanks to a joint initiative between South Cambridgeshire District Council and Northstowe Horticultural Association.
Over 40 plots are being cultivated in Phase 1 of the new town and more are due to be released later in the year as other residents move in.
With allotments allowed to stay open during the pandemic, provided social distancing rules are observed, many gardeners have savoured spending time outdoors at the site.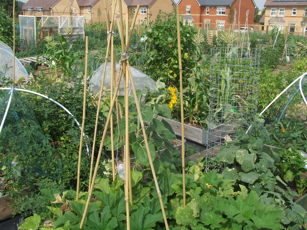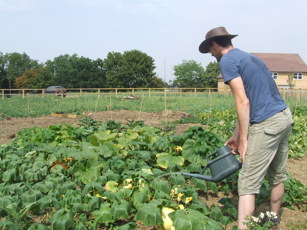 One of them is Northstowe Horticultural Association chairman, David Evans (pictured - above), who regularly takes his two-year-old daughter and baby son off to the family allotment.
"It's been challenging for everyone during lockdown so to be able to get out and hear the birdsong, spot the butterflies, tackle some digging and talk to fellow residents, has been a real treat." he said.
"It does wonders not just for your physical and mental well-being but it gives you the opportunity to meet like-minded people and to enjoy a sense of community. Being able to eat your own fresh fruit and veg is pretty special, too."
The association is planning to introduce beehives to help pollinate the crops and encourage other wildlife; it hopes three plot holders who originally signed up for bee-keeping training will be able to complete the course once lockdown restrictions are lifted.
The allotments form part of a wider green ambition for the district – the Council adopted the first-ever Zero Carbon Strategy for South Cambridgeshire in May and is supporting communities to halve local carbon emissions over the next decade.
Growing your own helps cut your food's carbon footprint in a number of ways, including reducing the use of pesticides, burning less fuel in trips to the supermarket and generating less packaging waste.
South Cambridgeshire District Council's Lead Cabinet Member for Health and Wellbeing, Cllr Bill Handley, said: "It is absolutely fantastic to see these allotments now available for residents.
"As an allotment owner myself, I couldn't be more enthusiastic about the mental and physical health benefits of having a space to grow your own food.
"Did you know 30 minutes' work on an allotment can burn around 150 calories? And allotments offer a great way to meet new people too, which is even more important for those moving into new developments. And then there's eating the food that you've grown yourself, which is incredibly satisfying and rewarding."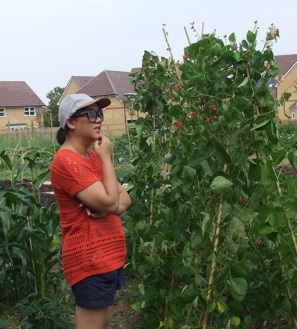 One of the local members for Northstowe, Cllr Sarah Cheung Johnson (pictured - above), added: "We are so pleased Northstowe residents are able to get to work on their Northstowe allotments and want to thank the proactive Allotments Committee for helping to get this up and running. It's been wonderful to see the community spirit here."
The association will pay a peppercorn rent for the land under a licence agreement with the Council and is keen to hear from local residents who want to register an interest in the 11m by 6m allotments. Some are allocated on a permanent basis and others for a shorter term to enable as many residents as possible to take part in the scheme.
Next year it hopes to establish a community garden and orchard on the site and is inviting anyone who wants to be involved to also get in touch by emailing northstoweallotments@gmail.com