News release from 12/11/2018
First bus service runs after funding boost saves it for villagers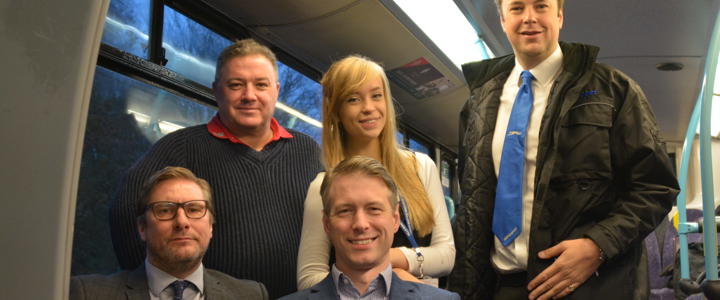 The first bus service has run from Papworth to Cambridge since it was saved thanks to a £10,000 grant from South Cambridgeshire District Council and the Cambridgeshire and Peterborough Combined Authority.
Above image left to right: Bottom row: Mayor of Cambridgeshire and Peterborough James Palmer and South Cambridgeshire District Council's Deputy Leader Cllr Aidan Van de Weyer. Top row: South Cambridgeshire District Councillor for Caxton and Papworth Cllr Mark Howell, Grace Fisher from Papworth and MD of Whippet Coaches Charlie Hamilton.
Whippet Coaches' Managing Director, Charlie Hamilton, took to the wheel to drive the 7.01am X3 bus from Papworth today (Monday 12 November) to celebrate the first bus running after it was saved.
South Cambridgeshire Councillors and the Mayor of Cambridgeshire and Peterborough, James Palmer, stepped in last month and said they would both pay half the subsidy to keep the service going to bridge the gap until some proposed changes to bus services, that are due to be put in place from April, can be finalised and announced.
When it was announced that the X3 bus service was due to be cancelled, Heidi Allen, MP, contacted District Council leaders and the Mayor's office to see if a solution could be found. A petition initiated by 17-year-old Grace Fisher from Papworth also signed by over 2,000 people calling on Cambridgeshire County Council to save the Papworth bus service.
South Cambridgeshire District Council's Deputy Leader and Lead Cabinet Member for Strategic Transport, Cllr Aidan Van de Weyer (pictured - below left with Whippet Coaches MD Charlie Hamilton), said: "It is fantastic news that this service is continuing we really hope as many people as possible support the service. No one really wanted a gap until new arrangements are put in place as this would have given people real issues in accessing jobs, education and leisure as well as them moving away from using public transport. It was the right thing to do to step in to save this service and bridge the gap but we cannot provide money to fund bus services in the longer term. We know how vital rural public transport is and are very keen to see how bus franchising can help improve the level of service offered to the communities we serve. I'd also like to say thank you and well done to Grace Fisher in Papworth for making the views of the community so clear."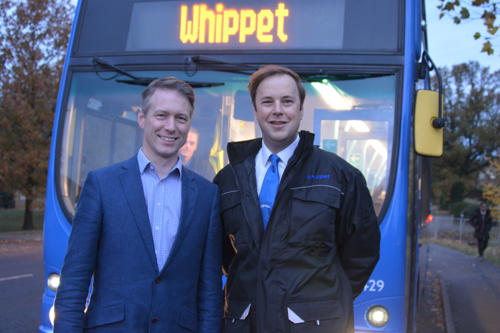 Mayor James Palmer said: "The continuation of this service I know will come as a welcome relief for the many people who relied upon it, particularly those living in Papworth Everard.
"The voices of those concerned about the loss of this service were heard loud and clear and I pay tribute to the work of Grace Fisher who so ably brought those views to wider attention.
"There has been a co-ordinated effort to find a solution and so I'm pleased we have been able to work together to retain this service in the short term. The Combined Authority is working on long term solution to bus services across Cambridgeshire and Peterborough, which will aim to provide as much coverage to as many people as possible, and avoid the need for such interventions going forward.
"I would now urge the communities served by the X3 to support their bus service as much as possible to help keep it sustainable."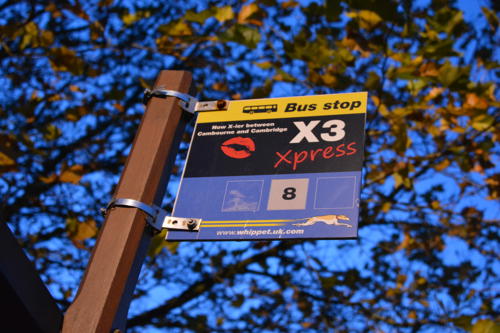 Charlie Hamilton, Managing Director of Whippet Coaches, said: "Whippet are delighted that a multi-party solution has been reached to support the community. This clearly highlights the need for local Government to support such a vital service as the X3. We hope that the future of public transport in the region will gain similar support under the franchising powers given to Mayor Palmer under the Bus Services Act 2017 as Whippet and our passengers eagerly await the results of the Mayor's bus review. A lot of the recognition needs to go to Grace for getting the wheels turning to save this service."
South Cambridgeshire District Council's local member for Caxton and Papworth ward, Cllr Mark Howell, said: "Huge thanks to the Council executive and Combined Authority for agreeing to fund the service. A lot of credit must also go to Grace Fisher in Papworth for raising awareness and organising the petition. It is now down to people in the village to use local buses to make sure we continue to have a good service."
Heidi Allen, MP said: "This bus service is a lifeline for Papworth. I am delighted that South Cambridgeshire District Council, Mayor James Palmer and Whippet have been able to provide support to keep this vital community asset running. Residents made their voices heard in their thousands and I was pleased to instigate discussions between all parties to ensure the stability of Whippet's X3. Papworth constituents reached out for help and I'm proud to be part of the cross-authority solution."