News release from 01/07/2019
First Blue Plaque for South Cambridgeshire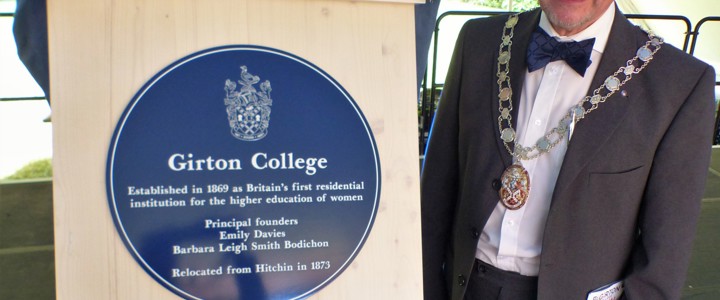 The launch of South Cambridgeshire's Blue Plaque scheme, to honour the most famous people or events associated with the district, has taken place at Girton College.
South Cambridgeshire District Council agreed to set up the scheme last year, in conjunction with local charity Cambridge Past, Present and Future (CambridgePPF), which already runs the scheme in the city.
Yesterday (Sunday 30 June) South Cambridgeshire's first Blue Plaque was unveiled at Girton College, to honour its two principal founders, Emily Davies and Barbara Bodichon, completing a weekend of festivities during which the college was celebrating the 150th anniversary of its foundation.
These pioneering women believed that higher education should be accessible to women on the same terms and to the same level as men, and because of their vision, determination and hard work Girton was founded as the first residential college for degree level instruction and examination of women in the UK. The College was initially based at Hitchin with a handful of students. It is now a multi‐cultural, international and fully co‐educational Cambridge College of 136 Fellows and nearly 800 students, mainly undergraduate but with a growing graduate community.
The plaque will be installed on the Tower at the main entrance to Girton College, off Huntingdon Road. The College's 150th anniversary was seen as a fitting moment to install a Blue Plaque to honour those visionary and courageous women who led a step change for women's education, and for women's advancement more generally, in the UK.
South Cambridgeshire residents are now being encouraged to nominate a person or event for commemoration. You can do so via the Blue Plaque section of our website.
To nominate a person or event for a Blue Plaque, you need to supply a name or details of the event, where the plaque should be located and why that person or event has had a significant impact in life locally, in the UK or the world.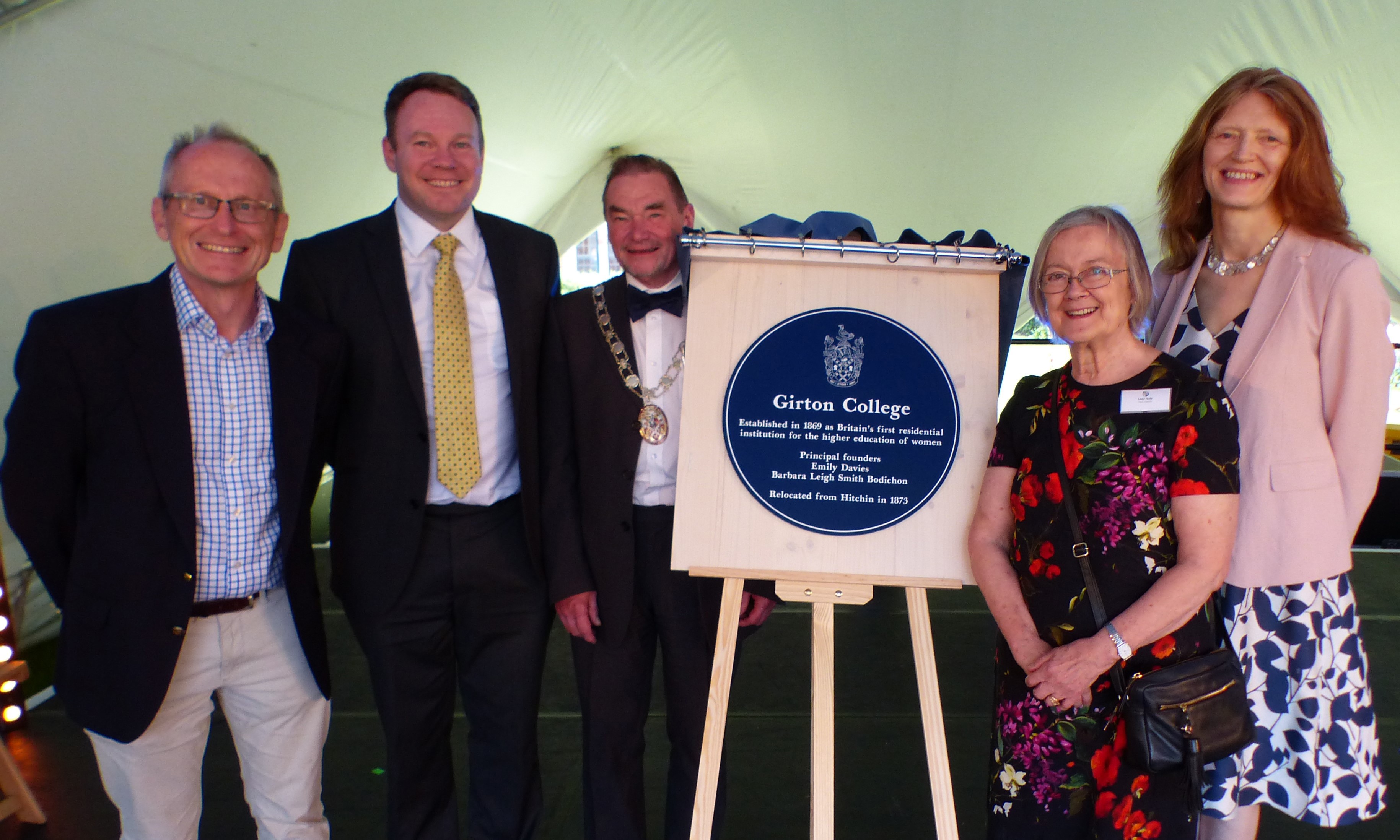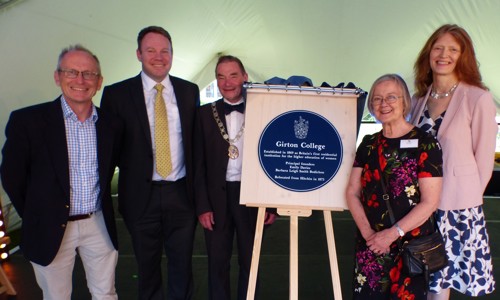 Pictured above, left to right: Blue Plaque Committee Member Cllr Geoff Harvey, Blue Plaque Committee Member and Local Member for Girton Cllr Tom Bygott, Council Chairman and Local Member for Girton Cllr Douglas de Lacey, Baroness Hale of Richmond Brenda Hale and Mistress of Girton College Susan Smith.
The local Blue Plaque Committee, which includes local historians, CambridgePPF and South Cambridgeshire District Council representatives, will then assess the nomination and decide whether one should be put up. Cllr Geoff Harvey, a member of the local Blue Plaque Committee, said: "The Blue Plaque scheme is a wonderful way of publicly acknowledging the contribution of key local figures and events, and it is extremely fitting that two inspirational women appear on the first plaques in South Cambridgeshire. We have a great deal of heritage and history in the district and I'm looking forward to helping to consider suggestions from residents for more blue plaques here. I'd urge residents who think that a plaque should be installed to mark a particular person or event to look carefully at the criteria via the Council's website and then get their nomination in."
South Cambridgeshire District Council member for Girton and a member of the Blue Plaque Committee, Cllr Tom Bygott, commented: "Blue Plaques have been erected in London since 1867. The highly successful scheme in Cambridge City has been in operation since 2001, and has installed 33 plaques in the city, commemorating events such as the discovery of the structure of DNA in 1953, and famous individuals such as the mathematician and code-breaker Alan Turing, and Sir Frank Whittle who invented the jet engine. This plaque will be the first in a series to mark important historical events and honour the contributions of individuals in South Cambridgeshire. Each one of our 106 parishes has a unique character and history and a Blue Plaque can bring that history to life for future generations. I am glad that this plaque is not only in my ward but also marks an important milestone in gender equality."
James Littlewood, CEO of CambridgePPF, added: "We are delighted that South Cambridgeshire District Council has joined the Blue Plaque scheme, which was originally set up in Cambridge in 2001 in celebration of the millennium. We are so grateful for the fantastic efforts of the volunteers on the Committee who do so much of the work for the Blue Plaque scheme. You can find out about those who are already commemorated and where they are on the CambridgePPF website."
The Mistress of Girton College, Professor Susan J Smith said: "We are thrilled to have the opportunity to honour our Founders by displaying a Blue Plaque on our iconic tower in their memory. People sometimes forget how brave, determined and game‐changing they were, and I hope that catching sight of the plaque will remind visitors of that bold pioneering spirit that still drives this College on"