Changing our streetlights to LEDs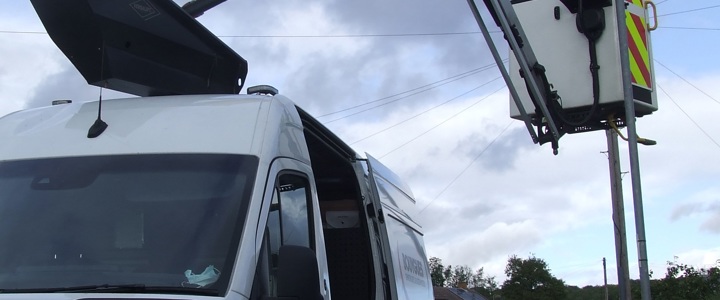 Contents: 
We will be upgrading the lights that we are responsible for within South Cambridgeshire to low-energy LEDs and, where needed, replacing entire streetlights as part of this work.  All our lights can be found on our map. 
Each LED will be fitted to provide the equivalent light output to the lamp it replaces and improve the control and quality and of the light. LEDs focus the light they emit and provide greater colour rendition, making objects clearer to the eye.  
The LEDs we have chosen will be a slightly warmer colour temperature to those generally used (3000k compared with 4000k), in response to concerns around the potential effects of the bluer LEDs on ourselves and wildlife.   
Consistent with the majority of streetlights, which are provided by Cambridgeshire County Council, the lights will be dimmed by 40%, giving a 60% light output between 10pm and 6am. 
When will this
 work 
take place?
Some lights have already been upgraded but the main program of works will begin in September this year and is scheduled to finish in March 2021. A second phase of works will include all ornate and heritage lights. 
Details on when we plan to undertake works in each parish can be found below. As work progresses, this schedule will be updated and therefore may change. Please note that we do not have lights in all parishes across the district, so you may not see your parish listed. 
Work timetable
Please note, as work progresses, this schedule will be updated and therefore may change.
October/ November
Balsham
Bartlow
Barton
Bourn
Caldecote
Castle Camps
Caxton
Comberton
Conington
Coton
Croxton
Dry Drayton
Elsworth
Eltisley
Fen Ditton
Fen Drayton
Fulbourn
Girton
Grantchester
Graveley
Great Eversden
Great Wilbraham
Hardwick
Harlton
Haslingfield
Histon
Horseheath
Impington
Kingston
Knapwell
Linton
Little Eversden
Little Wilbraham
Lolworth
Longstanton
Longstowe
Madingley
Oakington
Orwell
Over
Papworth St Agnes
Shudy Camps
Stow-Cum-Quy
Swavesey
Teversham
Toft
Waterbeach
Weston Colville
Willingham
November/ December
Arrington
Babraham
Barrington
Bassingbourn
Bassingbourn Cum Kneesworth
Duxford
Fowlmere
Foxton
Gamlingay
Great Abington
Great Chishill
Great Shelford
Guilden Morden
Harston
Hauxton
Hildersham
Hinxton
Litlington
Little Abington
Little Shelford
Meldreth
Melbourn
Newton
Pampisford
Sawston
Shepreth
Stapleford
Steeple Morden
Thriplow
Whaddon
Whittlesford
Wimpole
Why are 
the
 lights
being
 changed
to LEDs?
The upgrade will benefit communities and the environment by reducing the energy used by our streetlights by 60%, improving the quality of the light emitted and reducing light pollution.  
The old sodium lamps used on nearly all of our streetlights are also being phased out of production, with LEDs being the most current, efficient and effective alternative lighting option available for streetlighting.  
Why can't we use solar powered streetlights?
Solar powered streetlights were considered and found to currently be more practical for use in remote situations and where there is no existing power supply. As this technology is developed further, this could be considered as an alternative to steetlighting in the future. 
How much is this costing the 
taxpayer
?
The works are capped at £1.38m, which includes the replacement of entire streetlights and surveying works. Funding is coming from savings that have been set aside by the authority to achieve energy savings and therefore environmental benefits.   
Although we are not required to provide new streetlights, we are required by law to maintain all lights we are responsible for and maintain them in a safe condition. Prior to the commissioning the upgrade all Parish Councils were consulted on the need for the streetlights in their areas and as a result some have been removed. There remains an aging streetlighting stock which means increasing annual service management, maintenance, and energy costs. Upgrading the lights as part of a planned program of works will be a more cost-effective means of maintaining the service.  
I reported an SC light

 

out some time ago

, why has

 

it still not been fixed?
Many of our lights have old lamps which need an LED lamp fitted to get them working again. As this is scheduled as part of the LED upgrade works program it may be that we have not yet reached this parish.  Please refer to our works schedule for details. It is cost effective for the fault to be rectified as per the works schedule, but where necessary and to ensure safety, we will look to bring works forward. 
Are t

he

 

LED

 

lights as bright as the old lamps?

 
The LEDs have been specified to provide the equivalent light output to the lamps they are replacing whilst providing a more focussed light, which reduces light pollution. The light from the older lamps is, by comparison, emitted in all directions which can mean that the LEDs can appear to be providing less light.   
The light is shining in my property, can this be blocked?

 
The LEDs better control the light emitted, so should reduce light pollution when installed. Where there is still an issue, the benefit of LEDs is that shields can be fitted to block the light. Please contact the service by emailing street.lighting@scambs.gov.uk
Why are some of 
the 
LED lamps different types?
The LED lamps fitted before commissioning the full upgrade program were installed on an ad-hoc basis.  Following a tender exercise, the LEDs being fitted as part of the wider program were selected as they demonstrated best value.   
Why haven't all the lights in my area been changed to LEDs?

 
We are responsible for a relatively small proportion of the streetlights in South Cambs. The majority of streetlights are owned by Cambridgeshire County Council, with a small proportion in private ownership or owned by Parish Councils. We can only upgrade the lights that we are responsible for.  
The small number of ornate or heritage lights that we are responsible for will be considered as part of a second phase, as these will need careful consideration. We will be working closely with Parish Councils to determine an approach with these lights.  
Will you be installing more streetlights as part of this work?
We do not have the resources available to install additional lights and our policy for the service is to maintain our current stock. We will, however, look to support Parish Councils where they wish to install new lights.  
Why have some streetlights been completely replaced, 
whereas
 some have only had 
the 
lamps 
changed to LEDs
?
Not all the units, i.e. columns and brackets, need replacing. A conditions survey was undertaken on all our lights which identified where a unit needed replacing due to its condition and where shown to be more cost effective.   
An 
LED 
ha
s 
been 
installed but it is not working.
Please report any instances using our webform. Sometimes we do uncover electrical faults during works which need to be attended to by the energy provider. 
Contact Details
Was this web page helpful?