News release from 17/12/2019
Early Christmas present as residents given keys for new Council homes
South Cambridgeshire residents have been given the keys to nine new energy-efficient Council homes in Balsham.
The new properties are part of the District Council's ambitions to double the number of Council homes built every year in South Cambridgeshire.
The nine new affordable rent properties at High Street, Balsham, are a mixture of one-bedroom apartments and two-bedroom apartments. Each property has been allocated to someone with a local connection to Balsham or South Cambridgeshire. The apartments also benefit from having solar panels and extensive insulation, keeping them warm and reducing energy bills.
There are also four homes being made available for shared ownership, where they are partly owned by both the Council and local resident. The affordable rent and shared ownership properties form part of a new development called Farriers Yard that has a total of 33 homes and includes open space and bicycle parking.
Yesterday (Monday 16 December) the local people who will be moving into the homes met for the first time as part of a 'meet your new neighbour' event to build community links. The new residents met at Balsham Village Hall, a short distance from their new homes. They have all been given the keys and so can move in before Christmas if they choose.
South Cambridgeshire District Council owns and maintains around 5,500 Council homes. The new homes at Balsham will be added to this stock and have been constructed by local housebuilder Hill. More than 75 other new Council homes have also been built this year or remain under construction in Caldecote, Foxton, Great Abington, Hardwick and Waterbeach. On top of this, a further 199 Council homes are planned to be built in Impington, Northstowe, Sawston, Teversham, Toft and West Wickham by 2023.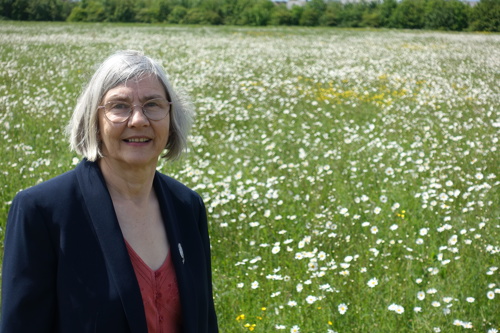 South Cambridgeshire District Council's Lead Cabinet Member for Housing, Cllr Hazel Smith (pictured above), said: "We know we have a growing population coupled with a shortage of homes that are affordable to live in, so it's excellent that these new Council homes will help meet some of that local demand in Balsham. Our New Build team is hugely ambitious about adding more homes to our Council house stock and they are doing an excellent job right now – exceeding their target to double the number of our properties. These may be Council owned houses, but they will soon be made into real homes by the local people who are moving in and I'm so pleased that they can be in before Christmas. Bringing forward more homes that are truly affordable to live in remains one of our top priorities and I'm looking forward to seeing even more Council homes come forward in 2020."
Jon Thistlethwaite, Regional Director at Hill, comments: "We're thrilled to be working with South Cambridgeshire District Council at Farriers Yard together to create sought-after homes for the benefit of local people. The development includes a collection of 20 spacious three, four and five-bedroom houses available for private sale. There are also 4 Shared Ownership homes and 9 apartments available to rent.
"Each of the homes have been designed to seamlessly blend with the traditional village setting. The village of Balsham boasts a strong community atmosphere, and plays host to cricket and football teams, an array of societies, and a regular market that sells local meats, baked goods, crafts, and even fresh produce from the local allotments. We want to ensure that those who are moving into their new homes at Farriers Yard, enjoy this community spirit as much as the current residents, so we're delighted to be part of South Cambridgeshire District Council's efforts to introduce everyone to their new neighbours at this event at the local village hall."