News release from 20/06/2019
Councils investigate when electric could power up to 26 tonne bin lorries for zero emission collections
Two councils are investigating when electric technology will be ready to power their fleet of bin lorries that collect around 8 million bins in South Cambridgeshire villages and Cambridge City each year.

The Greater Cambridge Shared Waste Service – a partnership between South Cambridgeshire District Council and Cambridge City Council – got behind the wheel of an electric bin lorry on National Clean Air Day (Thursday 20 June), a day of action to encourage people and organisations to take steps to improve air quality and health.

Council leaders at both authorities have pledged to deliver changes to make the area carbon neutral in the future.

Waste bosses and councillors at the event at the Shared Waste depot in Waterbeach saw up close how green energy can power the electric bin lorry, including the rear tail lift that empties the bins.

The shared waste service currently has 50 bin lorries and 18 street sweeping vehicles all fuelled by diesel. The current vehicles meet the highest environmental standards possible for a diesel bin lorry, but the trucks only travel between 4 and 6 miles to the gallon and cost the councils around £46,000 every four weeks to fuel the fleet.
Leading electric bin lorry provider Geesinknorba, who brought the zero-emission vehicle to the Waterbeach depot on National Clean Air Day, estimates that a typical, conventionally powered bin lorry will consume around 70 litres of diesel a day, leading to the annual emission of 52 tonnes of CO2, 160kg of CO and 380kg of NOX gases. In comparison, the all-electric vehicle produces zero emissions.

The electric vehicles' batteries are charged by electricity which can be taken from entirely renewable sources. Geesinknorba also suggests that the running cost of the vehicle is around a tenth of a traditional diesel bin lorry. The all-electric vehicle is ideally suited to urban collections and is already operating successfully on a bin collection route in the city of Manchester.

Council bosses have said they hope moving to electric power for bin collections is not too far away as electric technology is improving at a rapid rate.
Each Greater Cambridge Shared Waste crew can empty up to 1,300 bins in a typical day, with the average bin man or woman walking up to 12 miles a day – almost the distance of a half marathon.
Solar panels were recently installed on the roof of the shared waste depot to provide green electricity for the offices and two electric vans are already in use for carrying out non-collection work in the area, and South Cambridgeshire District Council is an official supporter of National Clean Air Day.
Cllr Bill Handley, South Cambridgeshire District Council's Lead Cabinet Member for Environmental Services and Licensing (pictured below), said: "The speed of technological progress in electric vehicles is breath-taking and it's good to see that electric bin collection vehicles are part of that progress. A battery-powered bin lorry that weighs, fully loaded, 26 tonnes would have seemed impossible only a few years ago. We want to be green to our core at the Council and we will look seriously at anything that helps us to achieve our goals. Innovative firms such as Geesinknorba are already introducing green energy powered bin lorries on shorter city rounds such as in Manchester and I am sure that vehicles suited to our rural environment are only a few years away. When they are launched we will give them serious consideration; we will be watching developments closely.

"Maintaining and improving air quality is an issue our communities have told us is a priority and electric vehicles will help us improve and maintain air quality. They are incredibly quiet too."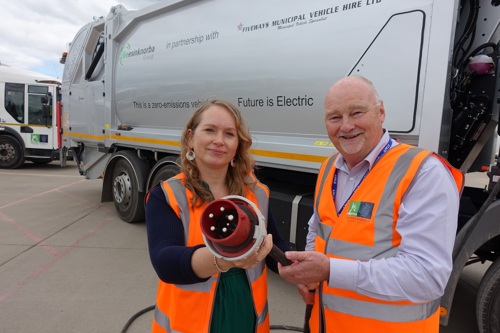 Cllr Rosy Moore, Cambridge City Council's Executive Councillor for Climate Change, Environment and City Centre (pictured above), said: "Tackling pollution in the City Centre is really important and as a Council we want to be at the centre of the green agenda. Electric bin lorries are one of the ways we can do this, and it has been interesting to see first-hand what they are capable of. I'm excited to see the progress that is made over the coming months and years and we very much want to see electric vehicles driving up and down the streets in the city."

Mick Hill, UK Business Director for Geesinknorba, said: "We were delighted to supply one of our fully-electric RCVs to the Greater Cambridge Shared Waste Service for Clean Air Day before it goes into service with Fiveways in its fleet of hire vehicles.
"Sustainability is hugely important to our business and Geesinknorba has been pioneering alternative fuel solutions for many years. Our Li-On Power Pro electric technology can help waste and recycling fleets reduce emissions, improve local air quality, and save on running costs and today was a great opportunity to demonstrate the vehicle in and around Cambridge. I would like to thank everyone involved for organising such a fantastic event."

For more information about National Clean Air Day, visit www.cleanairday.org.uk