Leading councillors at Cambridge City and South Cambridgeshire District councils say they will look closely at plans to redevelop Cambridge Airport site, considering whether the proposals fit within future plans for Greater Cambridge.
The two Councils will open up discussions in the coming months, ahead of a full public consultation, including with adjacent communities in Cherry Hinton, Abbey and Teversham.
The possible relocation of Marshall's Aerospace and Defence Group operation announced today could, subject to the findings of the next Local Plan, enable the Cambridge Airport site to be redeveloped.
The proposal just received from Marshall for their site could potentially provide thousands of new homes plus business space on the edge of Cambridge if supported in the next joint Local Plan – a strategic planning document that will start later in 2019 with residents being asked to shape their vision for their communities on key issues such as housing, transport and the local economy.
The two councils have recently started preparatory work on the next Local Plan, which will guide the area's future ambitions and ensure growth is sustainable.
The airport site was submitted earlier by Marshall as a site option for the last Local Plans of both councils, recently adopted, but was withdrawn because the company decided at that time to continue its operations on the airport and adjacent sites.
Cllr Lewis Herbert, Leader of Cambridge City Council, said: "Today's announcements by Marshall are of real significance for Cambridge and South Cambridgeshire, as Marshall have long been the largest engineering and aeronautics employer locally and a key driver of the local economy, including creating employment in dozens of other local firms. Marshall have played a major role in the life of Cambridge for more than a century, and it is critical to both Councils to see this business retained locally in the future whether it moves or stays where it is.
"The Councils will work closely with the company to explore and understand their plans for relocating most of their business, and for the potential redevelopment of the Cambridge Airport site on the edge of the city.
"The option of this site and others will be included in the dialogue with local residents on what they want from the next Local Plan, which needs to identify the most sustainable sites in the 2030s for badly-needed affordable homes and new workplaces and community facilities. All sites will need to be assessed for environmental and wider benefits, climate change impacts and overall quality, including critical transport links to the rest of the city and Greater Cambridge area."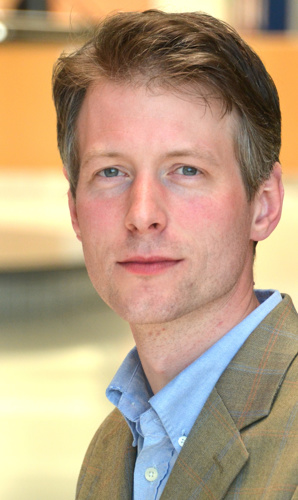 Cllr Aidan Van de Weyer (pictured - above), Deputy Leader and Lead Cabinet Member for Strategic Planning at South Cambridgeshire District Council, said: "Today's announcement marks just the beginning of the conversation between the Councils and Marshall. Marshall's ambition to redevelop the current airport site will need to be thoroughly considered through our next Local Plan – which we see as the blueprint for the area's development.
"With Duxford mentioned as one of three sites that the company is looking to relocate its existing staff and operations to, we are also keen to explore with Marshall and with local communities the impact and opportunities that this proposal presents.
"At this early stage there is no planning application and nothing formal to consider. But it is really positive to see recognition from Marshall even in this initial announcement that any development would need to feature 'integrated, high-speed public transport connections' for East Cambridge. It is factors like these, as well as the pressing need for affordable, energy-efficient homes, close to where people work, that we know are absolutely critical for residents and employers alike."
The Councils have confirmed that officers and the team from Marshalls will be meeting in the coming week and in the months ahead to understand the project and its implications, ahead of sharing full details on this and other sites in the full public consultation on Local Plan objectives and then site options.