News release from 30/10/2018
Council teams-up with hotel for bedding donation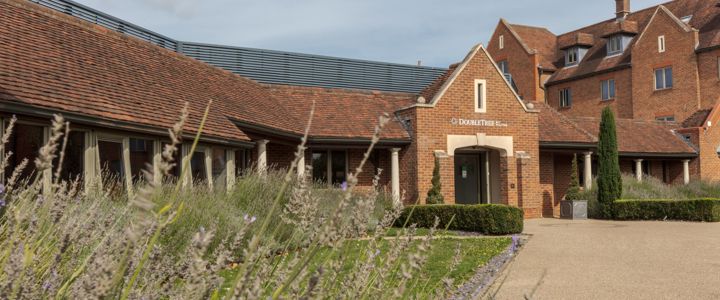 A Cambourne hotel has donated good quality bedding to South Cambridgeshire District Council – which in turn has passed it onto local housing good causes.
DoubleTree by Hilton Cambridge Belfry recently changed all of its bedding as part of a rebrand, and wanted to ensure previously-used duvets, pillows, mattress protectors and throws were re-used. Staff at the hotel contacted South Cambridgeshire District Council, whose main office is also in Cambourne, and asked if they could assist.
The authority's housing team suggested it could store the bedding and ensure it got passed on to the YMCA charity in Cambridge, which provides young people with a safe place to stay, and the Council's emergency temporary accommodation provider, Sanctuary.
The bedding has now been handed over to both organisations, who work to ensure people in the area have a roof over their head when they need it most.
South Cambridgeshire District Council's Lead Cabinet Member for Housing, Cllr Hazel Smith, said: "This was a lovely, thoughtful gesture from the hotel and we were only too pleased to be able to act as the go-between, using our contacts to ensure the bedding went to good homes. It's excellent that, between us, we have worked out a way that this good quality bedding can be re-used by local good causes rather than end up in a skip."
Darren Townsend, General Manager of DoubleTree by Hilton Cambridge Belfry said: "As part of our rebrand to DoubleTree by Hilton, the hotel underwent a refurbishment, including the bedrooms. The team thought it a shame to waste bedding and linen that was in such good condition when it could potentially go to a great cause.
"When we contacted the Council, the team was happy to help ensure our donations were sent to the right place. We're delighted that the two groups, and the people they work so hard to help, will benefit from this."
Local Councillors for Cambourne ward, Cllr Ruth Betson, Cllr Shrobona Bhattacharya and Cllr Gavin Clayton, commented: "As local Councillors we are all really pleased that DoubleTree by Hilton Cambridge Belfry are able to distribute their excess duvets and covers to good causes via the Housing Department at South Cambridgeshire District Council.
"With winter approaching it will make a significant difference to those homeless individuals who sleep under these covers and feel warmth and comfort overnight as a result."
Cllr Clayton added: "With rough sleeping having doubled since 2010, I know this is a tiny part of the solution, but it should still be applauded."