The Council Tax you pay funds a wide range of public services across the district and county area.
For Adult Social Care authorities, your bill shows two percentage changes: one for the part of the overall change attributable to Adult Social Care precept, and one for the part attributable to the general expenditure.
To find out more about how the money you pay is spent, please visit the following websites:
For all enquiries relating to the Adult Social Care precept shown on your bill, please visit the County Council website above, or by using the contact details below.
Telephone: 0345 045 5200
Your total bill is made up of the following (for an average band D property):
Scroll for more
Cambridgeshire County Council
£1,179.85
Cambridgeshire County Council - Adult Social Care Precept
£69.98
South Cambridgeshire District Council
£140.31
Cambridgeshire Police & Crime Commissioner
£198.72
Cambridgeshire Fire Authority
£68.76
Parish Council Precept
See Parish list below
 
The graph below shows the allocation of Council Tax to the precepting authorities - comparing 2017/18 with 2018/19.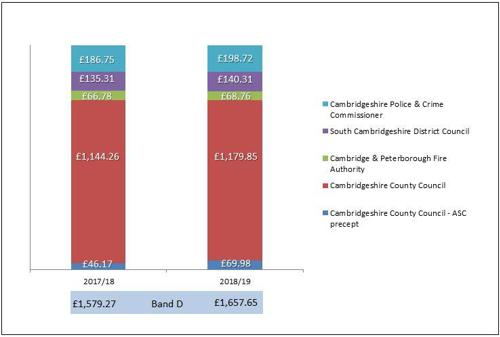 The table below shows how the South Cambridgeshire District Council element of your Council Tax is calculated (for an average band D property):
Scroll for more
| | |
| --- | --- |
|   | (£million) |
| Gross spending | £32.61m |
| Income | -£12.64m |
| Net expenditure | £19.96m |
|   |   |
| Government funding |   |
|        Business rates | -£5.47m |
|        Non-ring fenced grants | -£0.09m |
|        Ring fenced grant | 0 |
|        Police grant | 0 |
|   |   |
| Internal funding |   |
|        Use of / addition to Reserves | -£5.79m |
|   |   |
| Council tax Requirement | £8.62m |
| Council Tax at Band D | £140.31 |
The table below shows the amount each Parish Council in South Cambridgeshire has agreed to charge for their proportion of Council Tax (for an average band D property):
Scroll for more
| | | |
| --- | --- | --- |
|    PARISH | 2018/19 | COUNCIL TAX |
|   | £ |  £      p |
| Great Abington | 12,000 | 31.97 |
| Little Abington | 16,990 | 65.73 |
| Abington Pigotts | 0 | 0.00 |
| Arrington | 12,230 | 72.07 |
| Babraham | 12,255 | 98.20 |
| Balsham | 44,000 | 65.90 |
| Bar Hill | 131,000 | 89.84 |
| Barrington | 52,000 | 111.09 |
| Bartlow | 0 | 0.00 |
| Barton | 22,000 | 56.98 |
| Bassingbourn | 70,000 | 61.64 |
| Bourn | 32,759 | 76.84 |
| Boxworth | 2,500 | 24.22 |
| Caldecote | 70,943 | 99.99 |
| Cambourne | 490,000 | 130.17 |
| Carlton | 3,200 | 33.06 |
| Castle Camps | 17,500 | 64.84 |
| Caxton | 19,921 | 84.05 |
| Childerley | 0 | 0.00 |
| Chishill | 22,500 | 70.56 |
| Comberton | 59,400 | 65.20 |
| Conington | 0 | 0.00 |
| Coton | 26,000 | 71.78 |
| Cottenham | 328,834 | 140.19 |
| Croxton | 4,500 | 59.45 |
| Croydon | 3,265 | 30.18 |
| Dry Drayton | 13,287 | 46.30 |
| Duxford | 74,959 | 98.23 |
| Elsworth | 18,500 | 62.75 |
| Eltisley | 11,866 | 65.85 |
| Great & Little Eversden | 26,458 | 70.80 |
| Fen Ditton | 25,000 | 74.78 |
| Fen Drayton | 21,000 | 59.61 |
| Fowlmere | 36,810 | 66.04 |
| Foxton | 32,500 | 59.84 |
| Fulbourn | 176,000 | 91.76 |
| Gamlingay | 199,202 | 137.64 |
| Girton | 117,561 | 65.23 |
| Little Gransden | 8,000 | 56.94 |
| Grantchester | 21,025 | 83.07 |
| Graveley | 5,954 | 63.07 |
| Hardwick | 60,289 | 63.79 |
| Harlton | 8,500 | 58.50 |
| Harston | 59,511 | 74.06 |
| Haslingfield | 94,511 | 135.77 |
| Hatley | 5,400 | 56.96 |
| Hauxton | 27,072 | 61.36 |
| Heydon | 6,500 | 52.80 |
| Hildersham | 12,000 | 115.72 |
| Hinxton | 12,556 | 76.89 |
| Histon | 187,265 | 106.31 |
| Horningsea | 16,705 | 104.08 |
| Horseheath | 10,200 | 48.18 |
| Ickleton | 24,500 | 72.59 |
| Impington | 160,836 | 106.31 |
| Kingston | 9,391 | 77.04 |
| Knapwell | 2,500 | 54.70 |
| Landbeach | 24,000 | 63.31 |
| Linton | 171,709 | 99.26 |
| Litlington | 22,000 | 63.95 |
| Lolworth | 4,250 | 55.63 |
| Longstanton | 103,228 | 73.93 |
| Longstowe | 5,250 | 56.51 |
| Madingley | 7,379 | 69.09 |
| Melbourn | 236,570 | 124.96 |
| Meldreth | 60,000 | 78.37 |
| Milton | 125,000 | 71.21 |
| Guilden Morden | 33,750 | 79.28 |
| Steeple Morden | 30,000 | 57.13 |
| Newton | 7,000 | 38.38 |
| Oakington/Westwick | 35,350 | 60.07 |
| Orchard Park | 76,500 | 94.70 |
| Orwell | 43,904 | 91.68 |
| Over | 53,000 | 47.39 |
| Pampisford | 12,000 | 75.90 |
| Papworth Everard | 115,000 | 86.39 |
| Papworth St Agnes | 0 | 0.00 |
| Rampton | 14,500 | 75.44 |
| Sawston | 314,146 | 125.85 |
| Great Shelford | 218,420 | 110.27 |
| Little Shelford | 29,000 | 76.54 |
| Shepreth | 24,816 | 72.86 |
| Shingay-cum-Wendy | 1,500 | 26.41 |
| Shudy Camps | 5,750 | 40.87 |
| Stapleford | 65,000 | 70.89 |
| Stow-cum-Quy | 10,450 | 49.76 |
| Swavesey | 63,400 | 66.88 |
| Tadlow | 2,576 | 32.90 |
| Teversham | 78,000 | 78.50 |
| Thriplow | 17,615 | 35.80 |
| Toft | 15,000 | 59.76 |
| South Trumpington  | 19,923 | 134.98 |
| Waterbeach | 154,923 | 82.00 |
| Weston Colville | 8,250 | 42.31 |
| West Wickham | 11,000 | 59.82 |
| West Wratting | 11,374 | 50.04 |
| Whaddon | 17,478 | 80.92 |
| Whittlesford | 46,500 | 59.12 |
| Great Wilbraham | 25,200 | 87.77 |
| Little Wilbraham | 11,875 | 63.03 |
| Willingham | 119,950 | 79.67 |
| Wimpole | 5,200 | 38.38 |
Contact Details