News release from 08/01/2021
Council reminds residents and businesses 'we are here for you' during latest lockdown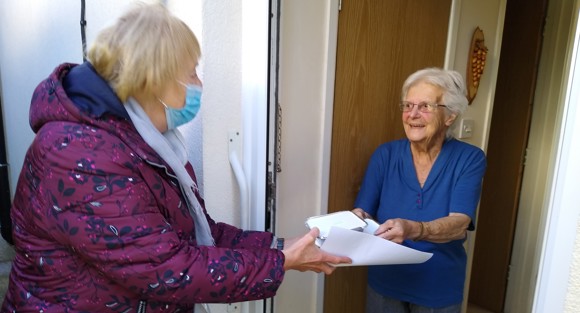 As people are urged to stay at home again under new National Lockdown restrictions, South Cambridgeshire residents and businesses struggling during the pandemic are reminded of the support available to them via the District Council.
The new guidelines are that no-one should leave or be outside of their home except where necessary to shop for necessities for themselves or a vulnerable person, to go to work if they cannot work from home, for exercise within a household or support bubble, or for medical assistance or to avoid injury, illness or risk of harm. Those in eligible sectors can also attend education or childcare.
South Cambridgeshire District Council has a wide range of support available and details of how to seek help, especially for those in the vulnerable, elderly or clinically extremely vulnerable categories. It is supporting community organisations, parish councils and voluntary groups which are helping local residents to get through the pandemic by assisting with food and emergency supplies (as pictured above), priority shopping deliveries or accessing self-isolation payments, and there is also financial help available to local businesses with Government grants which can be claimed via the Council.
The Council's Sustainable Communities and Wellbeing Team is continuing to work hard organising and securing funding for free meals schemes in the community which are delivered to elderly and vulnerable residents. Following on from providing almost 1,000 Christmas lunches to the most in-need families and vulnerable and elderly residents across the District on Wednesday 23 December, its successful meals scheme in the summer with the C3 Church group is soon to be relaunched and expanded to help more households.
There is a wealth of information on our website regarding Coronavirus, covering everything from information webinars, links with organisations in the voluntary sector and how to access financial or practical help.
The Council is also distributing the Government's Winter Support Grant scheme by using its £30,000 share of the grant pot allocated to the county to support local charities and community organisations. This includes Cambridge Online which provides data packages or devices to children in families in the District who currently have no internet access, enabling them to get online to learn and keep up-to-date with school work; and Cambridge Council for Voluntary Service (CCVS) to which parishes and community groups can apply for sums of up to £500 for local projects to provide food, fuel and essential supplies.
Meanwhile, South Cambridgeshire businesses are also urged to check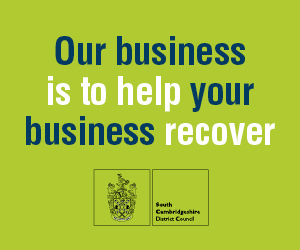 they are receiving all the financial help they are eligible to claim. The Council is currently only taking grant applications for the restrictions which were in force up to Boxing Day. Details of future financial help for those affected by the Tier 4 restrictions, from December 26 to January 5, and the current new National Lockdown will be publicised as soon as they become available.
This will include Government grants via the Council of up to £1,500 for each 14-day period of closure during the Tier 4 period, and one-off grants worth between £4,000 and £9,000 for closures during the current lockdown to help through the Spring.
In the meantime, businesses can still apply for grants via the Council website for the following schemes:
Local Restrictions from November 5 to December 2:  Businesses impacted by this still have time to apply for the Government's Local Restrictions Support Grant (LRSG) and the Additional Restrictions Support Grant (ARSG). The Council also has a third scheme, the Local Restrictions Discretionary Hardship Scheme (LRDHS), to support those facing extreme hardship but who cannot claim under the first two schemes and/or have received limited state help to-date.
Christmas support payment for wet-led pubs: The Government's Christmas Support Payment (CSP) gives £1,000 one-off payments for the festive period up to December 29 2020 for 'wet-led' pubs which derive less than 50% of their income from food sales. Final applications must be received by January 31 2021.
Tier 2 Restrictions imposed in South Cambridgeshire from December 2 to 25:  The Local Restrictions Support Grant (Closed) is available to businesses forced to close during Tier 2 for a period of no less than 14 days, and the Local Restrictions Support Grant (Open) is for those which didn't have to close but which were severely impacted, such as in their supply chain. Help is also available via the Additional Restrictions Support Grant (ARSG) and the Local Restrictions Discretionary Hardship Scheme (LRDHS) - eligibility criteria apply.
Details of all financial support grant funding for businesses is available on our website.
The Leader of South Cambridgeshire District Council, Cllr Bridget Smith said: "While re-iterating how important it is that everyone complies fully with the new lockdown rules on staying home, and also continues to follow the Hands, Face, Space mantra, we also want to reassure residents that the Council is here to support them through this next difficult phase of fighting the pandemic.  Our office may continue to be closed to the public, but the Council is fully open for business and our teams are out in the community supporting the amazing organisations and volunteers who are doing so much to get everyone through this. Please do visit our website as your first port of call if you need support or contact your local District Councillor. We are all here to support you however we can. I would urge anyone who is struggling - individuals, families or businesses - not to suffer in silence but to get in touch with us and seek help."