News release from 03/02/2021
Council lays out strategy to double the 'nature' on its doorstep for the benefit of all
A high-level strategy for 'Doubling Nature' in South Cambridgeshire, setting out an approach to increasing wildlife-rich habitats and the tree canopy and improving access to green spaces, has been given the go-ahead by leading Councillors.
You can read a copy of the draft Doubling Nature strategy that was discussed at today's Cabinet meeting.
Members of the District Council's Cabinet voted to finalise and adopt the plan today (Wednesday 3 February). The document complements South Cambridgeshire District Council's Zero Carbon Strategy, which sets out plans to support the aspiration to halve net carbon emissions in the district by 2030 and reduce them to zero by 2050. The two documents chart how the Council will contribute to a green local economic recovery out of the pandemic.
Cllr Pippa Heylings (pictured), Chair of South Cambridgeshire District Council's Climate and Environment Advisory Committee, said the global pandemic had highlighted more than ever the value and importance of Nature for our physical and mental wellbeing.
"It has also exposed the terrible inequality that exists because of the number of families who do not have close and easy access to wild, open green spaces. South Cambridgeshire is one of the fastest growing areas in the country and yet is one of the poorest in terms of biodiversity and has one of the smallest areas of land managed for nature, relative to size. The challenge to balance economic growth with measures to protect and enhance nature has never been more urgent."
The Doubling Nature Strategy sets out the Council's approach to achieving an aim first agreed by the Full Council in July 2019 and will see it working with communities, partners and businesses to protect and enhance the district's natural capital, as well as taking action on its own estate. 
The scope of the strategy, drafted by the Council's Development Officer for Climate and Environment in collaboration with officers from the Greater Cambridge Shared Planning Natural Environment and Planning Policy teams, the Air Quality Scientific Officer and the Housing Neighbourhood Services Manager, includes:
giving nature space and help to reverse declines in habitat and species
providing more areas for people to enjoy nature and benefit their health & wellbeing
improving the quality of air
helping to manage water for nature
creating more resilience to climate change, and
boosting the economy of the district.
While it directly controls only a tiny area of land in the district, the Council aspires to act as an exemplar to others through its tree planting and nature enhancing measures. It is already undertaking a tree audit to map every tree on communal land on the Council's housing estates and is planting additional trees and identifying opportunities to reseed suitable green spaces with wildflowers.
The strategy sets out how the Council will make the most of its influence as the local planning authority and states its aspiration to achieve 20% biodiversity net gain on all developments in the district.  Ensuring that nature is not just protected but significantly enhanced as a result of development will be essential over the coming years, especially given that South Cambridgeshire is one of the fastest growing areas in the country.  The strategy explains how the Council is developing guidance to make the most of its current planning policies for nature, commissioning evidence to underpin new policies in the Local Plan, and meanwhile encouraging partners to work with it to achieve gains for nature ahead of policy and legal obligations.
The strategy also sets out how the Council will support and encourage residents and communities to do more for nature including through grants programmes and support for volunteer Tree Wardens.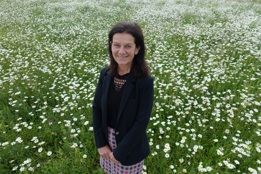 South Cambridgeshire District Council Leader Cllr Bridget Smith (pictured), said: "The days when we can just take nature for granted are long gone. The cumulative damage that began with the Industrial Revolution has now reached the point where all nature is under serious threat and just minimising and mitigating for damage is no longer an option. We now have no choice but to actively find every opportunity we can to protect and enhance what natural assets we have and to double, as an absolute minimum, the land that is devoted to nature. If we do this right, we will create well managed natural habitats for both nature and humans to enjoy. We will improve air quality and biodiversity and reduce the damage from climate change. In South Cambridgeshire we are determined, through everything we do, to do to create a district where nature come first and thrives as a consequence."
You can read a copy of the draft Doubling Nature strategy that was discussed at today's Cabinet meeting.
Climate and Environment fortnight 2021
Meanwhile, starting on Monday 22 February, the Council will be marking Climate and Environment fortnight 2021 with a series of free online webinars featuring guest speakers, activities and information to help people think about how to live more sustainably, reduce carbon emissions and in turn help tackle climate change. 
The topics covered will be:
Greener businesses on Thursday 25 February;
Sustainable farming in Cambridgeshire on Friday 26 February;
Greening your older home, tips and inspiration on Tuesday 2 March;
A shrinking your carbon footprint webinar on Wednesday 3rd March;
A Food for our Future workshop on Thursday 4 March.