News release from 21/07/2022
Council confirms plans to help fund Northstowe community facilities
More than £14.8 million in funding, to secure high-quality community facilities for Northstowe residents, has been confirmed by South Cambridgeshire District Council.
A report discussed at a Full Council meeting today (Thursday 21 July 2022) outlines a plan for the Council to help fund the growing new town's Sports Pavilion and Community Centre on phase one, and Civic Hub and additional Sports Pavilion on phase two. Councillors unanimously agreed the proposals at the meeting.
The phase one Sports Pavilion (pictured above), near the sports pitches, will provide changing facilities for teams and officials and a multi-use club room and catering facilities. The Community Centre will be within the Local Centre and will be a multi-use facility for Northstowe residents. The Local Centre is expected to contain a mixture of shops and commercial development.
The Civic Hub on phase two is intended to be the landmark building within the Town Centre. This will have space for community activity and development, a library service, a GP surgery, and other similar services.  The Sports Pavilion on phase two is likely to be similar to the phase one Pavilion, but details are still being confirmed.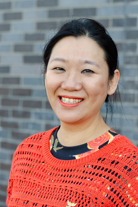 One of the District Councillors for Northstowe, Cllr Sarah Cheung Johnson (pictured), commented: "This is a real milestone for Northstowe residents and shows how committed we are to our growing new community. New towns and their facilities don't appear immediately but take careful planning and a lot of hard work to bring forwards. We can now however be confident that there is now a funded plan in place to deliver these new buildings which Northstowe residents need and deserve."
When developers build new homes that will have a significant impact on an area or community, they are asked to contribute funding to local services like community buildings through what is known as a Section 106 agreement. Funding arrangements intended to cover the cost of constructing Northstowe's community buildings in phases one and two were outlined in Section 106 agreements that were signed some time ago. However, in the years that have passed, it has become clear that the funding allocated for the community buildings will not cover the full costs of building them.
One of the main reasons for this is because the costs associated with construction have risen significantly recently because of several national and global factors. These include issues such as Brexit, rising inflation, the fuel crisis and its repercussions on global material production and, more recently, Russian sanctions.
As a result, and to ensure that truly high-quality community facilities are delivered for current and future residents of Northstowe, South Cambridgeshire District Council put together a plan to step-in and cover the shortfall in funds to bring the new buildings forward as quickly as possible. The funding which has now been confirmed by Councillors includes:
£1.53 million towards the phase one Sports Pavilion
£6.5 million towards the phase one Community Centre
£4.82 million towards the phase two Civic Hub
£2 million towards the phase two Sports Pavilion
The money to pay for the investment into Northstowe will all come from capital receipts, aside from a contribution of £300,000 from the Renewable Energy Reserve towards the phase one Sports Pavilion.
South Cambridgeshire District Council's Lead Cabinet Member for Communities, Cllr Bill Handley (pictured), said: "I'm thrilled that we now have a fully-funded path to delivering these high-quality community facilities for Northstowe residents. Each one will clearly be well used by residents long into the future. Despite the challenging financial times that we are all living through, we will be working to bring these new facilities forwards so they can be enjoyed. Whether it be by confirming these funds for buildings, running community forums, our Northstowe development officers working with local groups or helping new residents settle in, we are focused on doing all we can to continue ensuring Northstowe is a thriving new community."
Last month, the Council announced that it was purchasing two homes and a sales office (pictured below) at Northstowe – and plans to modify them for use by community groups. The buildings are proposed to be a medium-term replacement for the temporary community facilities which were in place at the Community Wing at the town's Pathfinder Primary School. These facilities closed in June as the growing school requires the space. A public consultation on the plans is now underway and, subject to receiving planning permission to change the use of the buildings, they will be repurposed to provide community space ahead of the Sports Pavilion, Community Centre and Civic Hub coming forwards. The plans are available to view on the Greater Cambridge Shared Planning website by using the reference number 22/03034/FUL.