News release from 15/08/2018
Council chairman launches foodbank campaign in South Cambridgeshire villages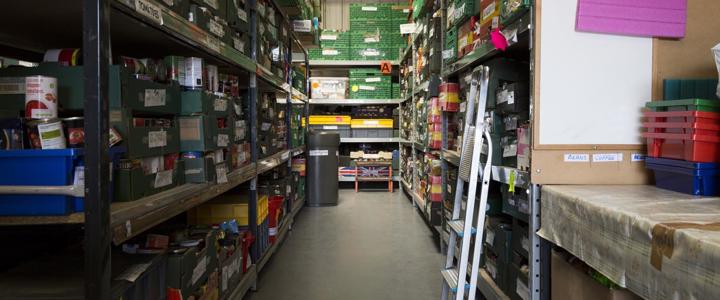 A Council chairman is urging local shops to set up a food collection point to support a national campaign to help ensure children do not go hungry during the summer holidays.
Cllr Douglas de Lacey has written to all district councillors to ask them to work with their local shops to help increase donations for anti-poverty charity The Trussell Trust.
Across Cambridgeshire local collection points, which are part of The Trussell Trust's 420 foodbank network, supported families with 25,448 three day emergency food supplies during the last financial year.
Typically, a third of food supplies collected go to children, but The Trussell Trust has said that the extra financial pressure to provide main meals during the school holidays for families who rely on free school meals during term time sees this increase in some parts of the country.
The Cambridge City Foodbank, who are part of The Trussell Trust's network and work across some parts of South Cambridgeshire, have said that their supplies are at an all-time low and they are struggling to cope with demand during the summer. More donations are needed.
A report last year by the All Party Parliamentary Group on Hunger estimated the loss of free school meals during the holidays adds between £30 and £40 a week to parents' outgoings for one child.
Cllr Douglas de Lacey, said: "I was inspired to launch this across the district after the councillors in Longstanton worked with their local shops to get local collection points set up. It was such a brilliant initiative that I wanted to ask our other 43 local district councillors to follow suit. No one wants to see anyone go hungry and I was really concerned to hear of the impact the school holidays can have on for some children. I am glad that the local foodbanks in this area have said they do not see the same trend as some parts of the country, but they always need to increase their stocks.
Cllrs Sarah Cheung Johnson and Alex Malyon, local members for Longstanton have set up collection points in shops and community spaces in Longstanton and Oakington. Plans are also underway to add a collection point at Northstowe.
Food collected at the points across South Cambridgeshire will be delivered to the local foodbanks.
Jon Edney from Cambridge City Foodbank, said: "Summer holidays are very difficult for some families. We often meet mothers who have to skip meals so that their children can eat. We can only help them with support from the public so this initiative to increase food collection is very welcome. Together we can help people escape the spiral of poverty."