News release from 24/09/2020
Council backs Local Electricity Bill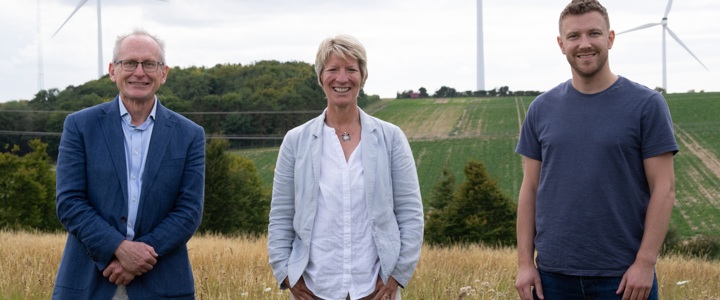 A Local Electricity Bill which would let community, green energy generation schemes sell energy to residents has received the backing of South Cambridgeshire District Council.
In a motion backed unanimously at the Full Council meeting today (Thursday 24 September 2020) members of the District Council expressed their support for the cross-party bill which is currently making its way through Parliament.
The aim of the legislation is to permit smaller scale green energy schemes, such as community buildings with solar panels or community wind turbines, to supply this electricity locally via the grid. Currently the costs involved mean it is not viable for smaller scale schemes to sell electricity direct to local consumers; instead, they must sell it to a utility company who then sells it on.
If the bill is passed, local suppliers would be able to receive a better price for their energy, helping ensure their schemes are economically viable. The idea is to generate electricity locally in a low-carbon form, to heat and power homes and workplaces and to run transport networks and vehicles.
Cllr Geoff Harvey (pictured - above left with Cllr Pippa Heylings and Cllr Henry Batchelor), who put forward the motion, said: "I'm very pleased that, as a Council with strong green credentials, we have firmly signalled our support for this bill. If passed it will help to bring renewable energy generation down to a local level and lead to more village schemes being established that generate clean, renewable energy. We know from our hugely successful Zero Carbon Communities grant scheme that our residents want to do their bit on a local level to help address the climate emergency we face, and generating energy closer to home, with the reduction in carbon associated with that, would be another positive step."
In agreeing to support the Bill, the Council authorised the Leader to contact MPs to discuss their support for the Bill and how they can enable its passage into law
It also allows the Chief Executive to write to the Minister of State for Business Energy and Industrial Strategy, supporting the aims of the Bill and asking for these aims to be taken into account in the forthcoming Energy White Paper.
The next stage of the Bill, its second reading, is expected to take place early next year.
Solar Together Cambridgeshire
The support from South Cambridgeshire Councillors comes as the District Council continues to promote a local group-buying scheme for solar panels. The authority is working with Cambridgeshire County Council to deliver Solar Together Cambridgeshire, a group-buying scheme to help residents purchase high-quality and competitively priced solar panels and battery storage systems for solar panels.
Almost 1,000 South Cambridgeshire residents have already expressed an interest in the scheme.
Residents have until 6 October 2020 to register their interest in Solar Together Cambridgeshire.
After that, they will be given a no obligation personalised quotation. They can then decide whether they wish to accept that recommendation and proceed with the work.
The Council adopted the first-ever Zero Carbon Strategy for South Cambridgeshire in May and is supporting communities to do their bit to help halve local carbon emissions over the next decade through its Zero Carbon Communities grant scheme. Meanwhile, Cambridgeshire's first all-electric bin lorry will soon enter service at the Greater Cambridge Shared Waste Service, which is shared with Cambridge City Council.
The Leader of South Cambridgeshire District Council, Cllr Bridget Smith, said: "All of this is further proof that being green to our core, which we outlined as a Business Plan priority just over two years ago, is firmly established in all elements of the Council. We have known we are on the right track after being named one of the top performing Councils on climate change at the end of last year, but we remain determined to do more. As we continue to deal with the impacts of the Coronavirus pandemic, we will continue putting the environment at the centre of everything we do to create a cleaner, greener South Cambridgeshire."