News release from 17/12/2019
Council asks fly-tippers if their mum still cleans up after them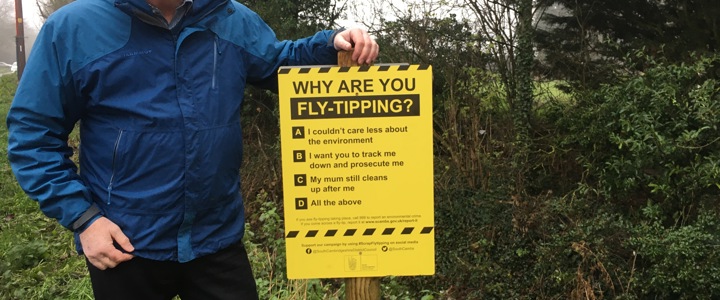 Eye-catching signs that question why people are fly-tipping – including asking whether their mum still cleans up after them – are being installed in South Cambridgeshire.
The yellow and black signs are being put up in fly-tipping hotspots that have been identified by data, as part of the District Council's continuing S.C.R.A.P. fly-tipping campaign.
The high-visibility yellow and black signs ask 'Why are you fly-tipping'? Four multiple choice answers are then presented. These are:
I don't care about the environment
I want you to prosecute me
My mum still cleans up after me
All of the above
The new signs are the latest part of South Cambridgeshire District Council's campaign to tackle fly-tipping, which was launched with a mock fly-tip at a local Park and Ride site back in July. This mock fly-tip was captured on film with rubbish dumped in broad daylight to see the reactions of passers-by.
More than 900 recorded fly-tips are reported in South Cambridgeshire each year – some costing the Council or landowners as much as £2,000 to clear – and the campaign is aimed at showing local communities what they can do to help combat the problem. If your rubbish ends up dumped in the countryside and is traced back to you, you could end up being prosecuted or fined up to £400. With most of the fly-tipped waste originating from households, residents have a big part to play in helping to reduce this environmental problem. Making sure whoever takes rubbish away is a registered waste carrier is vital.
The campaign and new signs also encourage people who spot fly-tipping taking place to call the Police on 999 and report an environmental crime in progress. Anyone who comes across a fly-tip that has already taken place is asked to report it to the Council so that it can be investigated for evidence and removed.
With around 80 fly-tips investigated and cleared each month within South Cambridgeshire, the Council has already sped up the way it carries out this process.
Cllr Bill Handley, South Cambridgeshire District Council's Lead Cabinet Member for Environmental Services and Licensing, said: "We've put a great deal of effort into trying to tackle fly-tipping this year because we know that residents hate it as much as we do. These are not the usual "No Fly-tipping" signs; they are eye-catching and deliberately provocative, intended to get a response from the fly-tippers and also likely to stimulate discussion in the wider community. We are putting them up in places where there is an issue with fly-tipping to make those dumping waste think twice before doing it. There's simply no excuse for dumping waste in the countryside; it is an eyesore, expensive to clear up and can be dangerous. Residents can continue to help us reduce this issue by making sure that they use properly licensed waste carriers when getting rid of rubbish. Two thirds of waste that ends up being fly-tipped comes from households so it's vital that you know the final destination for your rubbish.
"We have designed these signs to make them a bit different to what people usually see and a bit provocative. Look out for them in the coming weeks and when you're getting some fresh air over the Christmas holiday."
The Cambridgeshire-wide S.C.R.A.P. campaign, which all local Councils have taken part in during the past few months, asks residents to:
Suspect all waste carriers
Check with the Environment Agency that the provider taking away waste is registered
Refuse unexpected offers to have waste taken away
Ask what will happen to your waste
Paperwork – which should be obtained via a full receipt
Fly-tipping is an environmental crime and if spotted taking place should be immediately reported to the police by dialling 999. If found afterwards it should be reported online to the Council as quickly as possible so it can be investigated and cleared up. In both cases, people are being asked to note the exact location, time, what the items are and, if safe to do so, take photos.