News release from 21/08/2018
Council and Hill celebrate the delivery of 20 new homes in Great Abington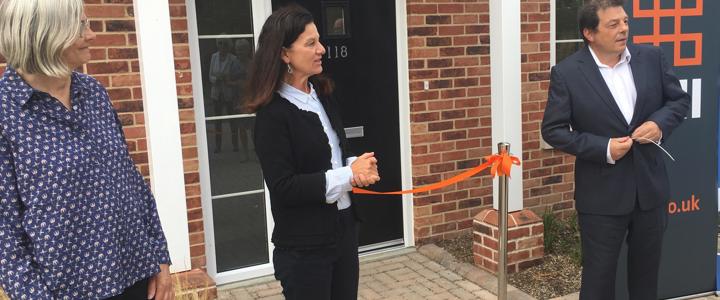 The top 20 UK housebuilder, Hill, together with South Cambridgeshire District Council, have marked the opening of a new development of 20 homes, 40 per cent of which are affordable, in Great Abington.
The eight high-quality new Council homes were officially handed over to the Council at a community event last week on Wednesday 15 August which involved colleagues from Hill, District Councillors, Great Abington Parish Council and residents.
Councillor Bridget Smith, Leader of South Cambridgeshire District Council, and Councillor Hazel Smith, the authority's Cabinet Member for Housing, officially opened the development at a ribbon-cutting ceremony with Hill's Regional Director, Jon Thistlethwaite.
Moorefield is a collection of 20 three, four, five and six-bedroom high quality homes located seven miles south-east of Cambridge on the edge of the village of Great Abington. The site offers a selection of mixed tenure, stylish homes, with eight affordable properties and 12 private sale homes. The homes at Moorefield have been thoughtfully designed and developed, taking inspiration from the thatched cottages and listed buildings of the surrounding historic village. Moorefield has added to the village's flourishing community, which currently boasts a sixteenth century pub, primary school and village shop for residents to enjoy.
The Moorefield development builds on Hill's commitment to delivering mixed tenure homes throughout South Cambridgeshire. The housebuilder is currently developing a number of other sites in South Cambridgeshire including The Orchards and Farriers Yard. The Orchards, also located in Great Abington, will provide 45 new family homes for the village, whilst Farriers Yard will provide 33 mixed tenure homes for Balsham.
Jon Thistlethwaite, Regional Director at Hill, comments: "We have a strong reputation for working in partnership with local authorities and housing associations across South Cambridgeshire to deliver high quality, mixed tenure homes. We have been working across the district for more than ten years and have delivered over 500 new homes for the area, 82 per cent of these properties were affordable and delivered in partnership with housing associations and South Cambridgeshire District Council. We are therefore proud to be delivering additional much-needed family homes here in a further partnership with the council.
"Moorefield is the perfect destination for families. These beautiful and well-proportioned homes will offer views of stunning, open countryside, and there a number of good schools nearby too."
South Cambridgeshire District Council's Cabinet Member for Housing, Cllr Hazel Smith, said: "These are top-quality, affordable new homes that are fantastic additions to our Council housing stock. We continue to be very clear that bringing forward homes that are affordable for people to live in is a top priority for us, and this is an example of us doing just that. We're very pleased to have worked with Hill on this scheme, and look forward to continuing that partnership to deliver affordable housing across other parts of South Cambridgeshire."
South Cambridgeshire District Councillor for Linton ward, which includes Great Abington, Henry Batchelor, commented: "I'm very happy with the development and developers like Hill that engage with Parish Councils and local Stakeholders. This scheme is of great need, and one that the Parish Council supported. The local community now has more affordable homes to support the growing community."
There are currently two private sale homes remaining at Moorefield, including one three bedroom chalet bungalow and one detached six-bedroom house. Please call 01223 60750 or visit the Hill website for more information.