News release from 19/05/2022
Community rail group urges people to 'give the train a try' during Community Rail Week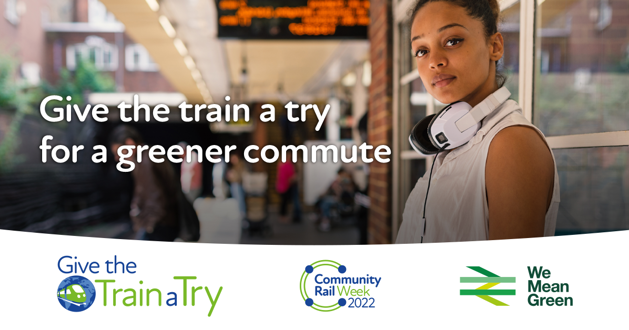 The Meldreth, Shepreth and Foxton Community Rail Partnership will join 74 community rail partnerships and 1,200 station volunteer friends groups across Britain for next week's Community Rail Week 2022 to encourage people to 'give the train a try'.
 The partnership is especially encouraging local families and individuals who rarely or never get on a train or bus, but instead rely on cars, to consider the benefits of making at least the occasional switch to greener, healthier, more social forms of travel.
 Community Rail Week, organised by Community Rail Network and sponsored by Rail Delivery Group, runs from 23-29 May and will invite people to take the train by raising awareness about the use of local railways combined with buses, walking and cycling.
Meldreth, Shepreth and Foxton Community Rail Partnership is hosted by South Cambridgeshire District Council and funded by Govia Thameslink Railway and local parish councils. It was established to encourage the use of trains as an active and environmentally-friendly way to travel. Its recent activities have included restoring the Memorial Garden at Shepreth Station, clearing and replanting areas around the car park at Meldreth Station, promoting interesting visitor destinations on the line and walking and hiking trails around the stations.
As part of community events and activities planned nationwide, it will be holding an event at Melbourn Science Park, asking employees to pledge to 'give the train a try' to get to work. The Bruntwood SciTech, owners of the Science Park, have pledged to refund a percentage of rail fares in High Street Shopping Vouchers.
Project Officer for Meldreth, Shepreth and Foxton Community Rail Partnership, Sarah Grove, of South Cambridgeshire District Council, will be at the Science Park at the Moat House restaurant, Unit 6, SG8 6HB, between 11am and 3pm on Wednesday, May 25th, to give out pledge cards. By the end of the day, a tally of pledges will establish how many car journeys through Melbourn will be saved, and how that equates to a reduction in CO2 emissions. Melbourn Science Park is a mile from Meldreth Railway Station and about 20 minutes on foot or five minutes by bike.
Throughout the year the partnership will also encourage community involvement in looking after station environments and promote take-up of rail travel as society reshapes itself in the wake of the pandemic.
Chair of the Local Community Rail Partnership, South Cambridgeshire District Cllr Susan van de Ven said:
"Travelling by train is not only much better for the environment than driving a car, but also a totally different way to experience a journey. We really hope that during Community Rail Week, as many people as possible will take the opportunity to make a change and 'give the train a try'.  The Meldreth, Shepreth and Foxton Community Rail Partnership is one of many rail partnerships across the country which work to promote and improve our local rail services for the benefit of residents and commuters. We would also like to encourage as many people as possible who work at Melbourn Science Park to 'try the train for work' so that we can demonstrate how many car journeys can be saved thereby benefiting the environment."
Jools Townsend, chief executive of Community Rail Network, said:
 "Community Rail Week, and its call to action of 'give the train a try', is all about connecting local communities with their railways and encouraging and enabling more people to travel sustainably by train. Community rail has an inspiring track record of doing just that: promoting travel confidence and increasing access to opportunity, while bringing people together, giving communities a voice, and putting railways and stations at the heart of community life.
"Community rail partnerships and volunteers the length and breadth of Britain are this week mobilising en masse, engaging local people and partners to raise awareness about the importance of rail, and get people enthused about its benefits. We want to help people who feel less confident with train travel to give it a go and get across the positive difference it makes switching even the occasional journey from car to public transport, for our planet, healthy living, and local communities."
Rail Minister Wendy Morton said:
"I am honoured to be involved in this year's Community Rail Week as we encourage people to 'give the train a try' and welcome more passengers to our railways. The rail network is an integral part of our communities, connecting us together and providing opportunities that improve our lives in many different ways. I encourage everyone to try and make a trip on a train this week and experience our brilliant railways first-hand."
Jacqueline Starr, Chief Executive Officer of the Rail Delivery Group, said:
 "This Community Rail Week, we're looking forward to welcoming everyone onto our network and connecting them to the people and places they love. We encourage people to give the train a try not only because it's one of the greenest forms of transport, but also because it boosts local businesses and the wider economy."
Pledge cards will be available at Melbourn Science Park, at the Moat House restaurant, Unit 6, SG8 6HB, between 11am and 3pm on Wednesday, May 25. Venue is circled.