News release from 11/05/2020
Comment on plans for next stage of Northstowe
The closing date for the Northstowe 3B consultation has been extended to close on Tuesday 14 July 2020 (from 23 June). 
Plans for the next part of the growing new town of Northstowe have been published – and local people are being encouraged to comment.
Homes England, the government's national housing agency, have submitted an outline planning application proposing 1,000 homes as part of phase 3B of Northstowe. This follows in-depth discussions with the community, local parish councils, District and County Councillors. The plans cover the area to the north and west of the homes that are part of phase 1, and to the north of Longstanton up to the guided busway.
The plans propose:
1,000 homes
A new primary school
New play spaces, allotments and orchards
A mixed-use commercial area for employment, shops and restaurants
New roads and links including access off Station Road
The retention of the prominent group of existing trees on the land
A public consultation has been launched by the Greater Cambridge Shared Planning Service, a partnership between South Cambridgeshire District and Cambridge City Councils, to help people have their say. This consultation considers the current social distancing guidelines and aims to make it as easy as possible for local people to comment despite Coronavirus outbreak.
The easiest way to comment on the plans is to register views online using the reference number 20/02142/OUT. The consultation is planned to close on Tuesday 14 July 2020 (extended from 23 June). This will be kept under review in light of current restrictions on movement and can be extended if necessary. People can also send comments via email to planningcomments@greatercambridgeplannning.org
To raise awareness of the consultation, letters are being sent to residents of Northstowe, Longstanton and Oakington. Official notices are being displayed in approximately 20 locations across Northstowe, Longstanton and Oakington for people to view while exercising locally. A copy of the planning application documents will be sent directly to Longstanton and Oakington Parish Councils while the South Cambridgeshire District Council website and social media accounts will carry information too.
Prior to the Coronavirus outbreak, several steps had already been taken to keep residents informed about these emerging plans for Northstowe. These included updates at all 2019 and 2020 Northstowe Community Forums, a Homes England presentation to more than 100 Oakington residents in early March, Homes England presentations to Oakington and Longstanton Parish Councils and a public exhibition and consultation event in September 2019 at Homes England's Northstowe Office.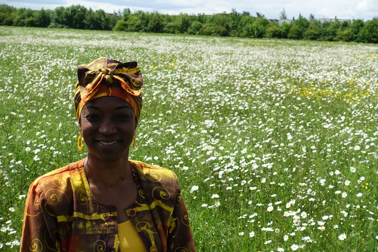 South Cambridgeshire District Council's Lead Cabinet Member for Planning, Cllr Dr. Tumi Hawkins (pictured - above), said: "The Government has made it clear that, despite the challenges presented by the Coronavirus outbreak, the planning system must continue. Bearing in mind the social distancing guidelines which we clearly must all continue to follow, we want to make it as easy as we can for local people to comment on this large planning application. Please do take some time to tell us what you think about these proposals via the planning section of our website. We are ambitious about creating a truly 21st century town where people of all ages want to live, and this is our chance to work towards those aims. Please do have your say."
A separate planning application for phase 3A of Northstowe, which will include 4,000 homes, has also been submitted by Homes England. This application is now being validated by the Planning Service. A separate public consultation on this application will take place once the application has been validated.
Phase 1 of Northstowe gives permission for 1,500 homes and is under construction. Phase 2 will be made up of 3,500 new homes, including 1,000 town centre apartments, the town centre itself and civic centre which will house a library and health centre as well as general community space. The first part of phase 2 will include 81 age-exclusive designer apartments for those over 55 years old, which will be part of the District Council's housing stock.
When complete, Northstowe will have up to 10,000 homes and an anticipated population of around 24,000 people. The first residents moved in during early 2017 and there are now approximately 500 homes occupied, along with primary and secondary schools and a local square. There are around 1,350 people already living at Northstowe. The new town is connected to the Cambridgeshire Guided Busway, which has adjoining cycle routes providing quick connections to the major towns of Cambridgeshire.
Local people can comment on the proposals for Northstowe phase 3B by using the reference number 20/02142/OUT. If residents have any questions they can contact the planning department via planningcomments@greatercambridgeplannning.org