Guidance for Three Free Trees
Guidance documents
Tree planning planting and care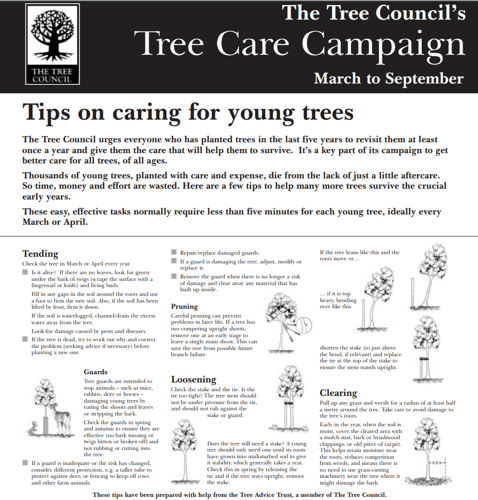 How do I pick which tree/s to buy with my voucher?
First you should think about where you would like to plant your new tree, once you have the location you can think about how much room you have. Try to find a space where your new tree can grow to its fullest without it needing regular pruning or where it could become a nuisance in the future. Once you know what size tree you can grow its just a case of looking at what takes your fancy. All trees are good for biodiversity. We are not ruling out non-native trees and fruit trees from our offer but those trees native to Britain do tend to support more habitats. An idea would be to look in your Parish to see what grows well. If you are unsure of what will grow well, please email our Trees team.
I haven't got a suitable space but still want 3 Free Trees, can I still apply?
You can Contact our Housing officers who can identify potential District Council land in your Parish. Please email our Housing team.
Can I plant my new tree in a pot instead of in the ground?
Trees do not generally do well in pots and are very hard to maintain because of the lack of water and nutrients available. Having said that, if that's your only option some of the smaller fruit trees can happily grow for 5 – 10 years in a good sized pot – get as large a pot as you can and pot it with a soil based compost then keep up with the watering. You can also use a pot to temporarily hold the tree for a year before you find its forever home.
Do I need to stake my tree and add a protection guard?
Along with your free trees, you will also need tree stakes, ties and guards. The £60 voucher is intended to cover the cost of these too.
What does bare-root mean?
The trees come in two forms; potted and bare-root. Potted trees are self-explanatory; they're grown in a plastic pot and can be planted whenever it's convenient for you and your family. The second type, bare-root, require a bit more care if you're unable to plant immediately after receiving your tree. Bare-root trees are supplied without any soil or compost around their root system. The roots are contained in a plastic bag to prevent them drying out too quickly. Ideally, bare-root trees should be planted the same day as receiving them.
When can I pick up my tree?
Your trees can be picked up any time from participating garden centres until 31 March.
Where can I get my free trees?
Is there a delivery charge for trees?
If you would prefer to have your trees delivered there may be additional costs, depending on the tree supplier. Please note the voucher does not include a budget for delivery although parishes which are close to each other could order together to save on costs.
I applied for my trees but didn't hear anything from you, am I still eligible?
If you have not received confirmation, it's possible that the application didn't go through properly or that the email from us got stuck in your junk mail. If you've checked and still haven't got your confirmation and reference number, please email Emma Dyer.
How large are the trees when we come to collect them, will they fit in my car?
All trees should fit in a large estate car. If this proves to be a problem, most of the Tree suppliers will deliver.
Contact Details
Was this web page helpful?