News release from 20/09/2018
Chance to comment on plans for new village at Bourn Airfield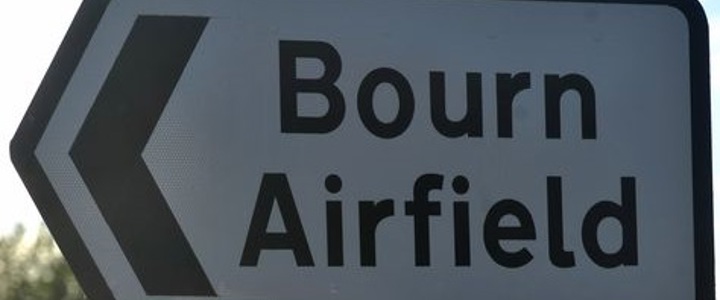 Plans for a new village on Bourn Airfield have been submitted to South Cambridgeshire District Council – and residents can now comment on the proposals.
The outline planning application from developer Countryside proposes the creation of a new community of up to 3,500 homes on the former World War Two airfield. The old airfield, including runways, sits between Cambourne and Caldecote, and covers a total of 210 hectares.
The site is a mixture of previously developed land and agricultural fields. It is currently used for farming, recreational flying, storage and research, development and industrial production.
A six-week consultation into Countryside's plans has now begun, and runs until Thursday 1 November.
A new village at Bourn is part of the emerging South Cambridgeshire Local Plan, which was found sound by Government Inspectors at the start of this month. The site at Bourn is seen by the Council as an area where new homes and jobs can be created to support the District's growth.
The proposals from Countryside include:
A new village of 3,500 homes
A village centre made up of shops, restaurants, services and leisure opportunities
Two primary schools, a secondary school and nursery provision
New health facilities
A hotel
Open space
Sports and leisure facilities
Cycle and pedestrian links to Cambridge, Cambourne and surrounding villages
Cllr Aidan Van de Weyer, Deputy Leader and Lead Cabinet Member for Strategic Planning and Transport at South Cambridgeshire District Council, said: "These proposals have been discussed for some time, but we are now at the stage where we have an official planning application so it's important that as many people as possible have their say. I'm well aware there are lots of factors to understand, not least the implications for roads, public transport and rural character of the area, before any decision is made. This site is earmarked for development in our Local Plan, which Government Inspectors recently found sound, but any development must be well-planned, carefully considered and provide a wide-range of new housing options. I am truly encouraging all local people who have a view on the planning merits of these plans to register them during the public consultation. All relevant views can then be taken into account by the Council when a decision on the planning application is made."
To view and comment on the plans, visit this part of our website and type the reference number S/3440/18/OL into the box.