News release from 12/05/2020
Cambridge caterers work with volunteers to feed families during lockdown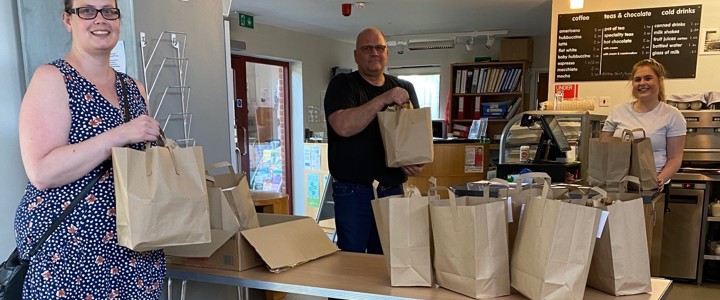 Hundreds of prepared, nutritious meals have been delivered to residents in Melbourn and Meldreth thanks to local chefs and hospitality partners, the Melbourn Coronavirus Community Response, and the Council – and the Council is offering to support others to do the same.
Across the district people's circumstances have changed enormously from house to house. Liz Young, a professional chef who now runs catering company The Modern Table, was offered funding to put her skills to work to help feed those who may be in difficulty due to the coronavirus pandemic.
The idea came about with help and offers of support from many members of the local hospitality industry including Rosie Sykes, chef, author and writer; Jack van Praag, chef and owner of Jack's Gelato; Tom Morgan, chef; Marcus Edwards, owner of Albany Vinters; and Leo Riethoff, chef and founder of Steak and Honour.
Liz needed to work out the details around who to provide meals for, and how to distribute them. She was put in touch with South Cambridgeshire District Council, which was able to use existing networks and local knowledge to identify Melbourn Coronavirus Community Response as a community group that would be able to rapidly distribute the meals to residents in Melbourn and Meldreth.
The scheme was quickly set up, with the meals prepared in Steak and Honour's commercial kitchen in Cambridge, where they are portioned into the right size packs for the families who will receive them, cooled, and cold-transported to the Melbourn Community Hub kitchen. From here the team of Melbourn Coronavirus Community Response volunteers deliver them to families' doorsteps. To ensure food safety is paramount throughout this process, the Council's Environmental Health team advised the group as they established the way the project would work.
Along with one of the volunteer chefs Rosie Sykes – who is also working towards setting up a charitable community food project to support local people – Liz sources the ingredients and designs a varied menu that offers nutritious meals.
The ingredients for the meals are provided by donations from Cambridge Organic Food Company (COFco); Meadows, a small Newnham shop and supplier; and local wholesaler Fieldgate Nurseries. These are topped up using the generous funding Liz was originally offered, alongside support from the Melbourn Hub and Meldreth Coronavirus Community Support. The Council is encouraging other groups considering setting up similar projects to apply to existing funding schemes e.g. the Cambridgeshire Community Foundation Coronavirus Fund or the National Lottery's Awards for All fund.
Liz said: "Melbourn Hub is so well set up that working with them was going to benefit as many people as possible because of the network system they had already created."
Cllr Jose Hales (pictured above), District Councillor for Melbourn, said: "I feel really fortunate that this idea was brought to life in my village. The fact that our Hub's catering facilities have previously been approved by Environmental Health meant that we could offer to help without any delay, and our Coronavirus Community Response volunteers were eager to join this fantastic group of individuals from the catering industry to support our residents.
"All credit to this group for having the idea and the get up and go to make it happen, and to Council colleagues and Cath Sharman, who heads up our Melbourn Coronavirus Community Response, for bringing all the pieces of the puzzle together. The pandemic is putting pressure on families in so many ways and I'm pleased our residents are benefitting from these nutritious meals. If other chefs or community groups are wondering what they can do to help, get in touch and Council staff will be happy to help."
To contact the Council to discuss setting up something similar – whether you are a chef, someone who has food to donate, or a community group that can help to get meals to families – email duty.communities@scambs.gov.uk