How local businesses are adapting
Innovative firms across South Cambridgeshire have been adapting to life under lockdown. We share some of their inspiring stories.
If your business has diversified as a result of Coronavirus, or has an uplifting or innovative story to tell, email communications@scambs.gov.uk.
Histon Produce, Over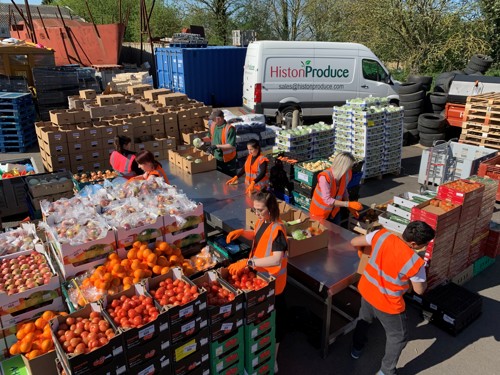 "The day Boris Johnson announced all schools would close, we were sitting on £25,000 of fresh stock, intended for hundreds of them. Demand for our business all but vanished overnight," Mark Channell says.
Faced with the prospect of furloughing staff and ditching stock at his fruit and vegetable wholesale firm, Histon Produce - with a £3 million turnover - Mark came up with an innovative solution.
"We're not a cash-rich company but we don't owe the bank any money and I have such a great team that I wanted us to keep going. Not to make a profit but to cover our business costs and support our local communities."
After advice from his elderly parents in Bar Hill, Mark decided to adapt his business to deliver essential food supplies to vulnerable residents over 70, people having to self-isolate and key workers.
Used to supplying large orders, he had to quickly adjust to large numbers of small purchases, averaging £8-£10. Mark launched a Facebook group page for eligible people to join, rearranged his assembly line to meet social distancing rules, set up cash payments, distributed order forms and manned the phone.
In 48 hours they were inundated with calls and today 25 staff and volunteers – his 'army of box-making fairies' – work flat out to deliver up to 200 orders a day, five days a week within a 10-mile radius of Over.
They also pack up to 1,100 boxes a day for the Operation Shield relief effort in Hertfordshire.
Mark explains: "My staff have really risen to the challenge and I'm so proud of them."
The Dog & Duck, Linton
"We lost thousands of pounds of Mother's Day business when we had to close our pub doors in March, but we were determined to keep going," says landlord Sam Ghaith.
Forced to furlough a 20-strong team, he and his partner Julie Manning started a food box service for the local community and within a matter of weeks had turned The Dog & Duck from pub to grocer.
When Facebook orders grew, they set up an online shop using their regular suppliers, and are now serving up to 100 families, including key workers, vulnerable residents and people having to self-isolate. The initiative is also supporting community groups and charities, such as the local foodbank, by supplying items at cost.
Most customers pick up their meat, fruit and vegetable and beer and wine boxes in the pub car park, in line with social distancing rules, but for others who can't leave their homes, the pub offers a twice-weekly taxi delivery for a nominal £2 fee.
The initiative has seen one member of staff return to the pub and if plans to cook takeaways in the kitchen go ahead, Sam hopes to unfurlough more.
"The shop really saved our bacon," says Sam. "We're keeping the business ticking over, ready to start up again as soon as the Government says we can and it's safe to do so.
"Our focus is on serving the community and retaining jobs. We have a lovely pub with a great thatched roof and an interesting history but our staff are the most important resource we have."
Sam recognises the support they've been able to access in "steadying the ship"; avoiding redundancies under the Government's furlough scheme and deferring payment of a £30,000 VAT bill under temporary new HMRC rules. They may also apply for funding under the national Bounce Back Loan scheme.
Harvey & Son, Little Shelford
Jo and Robert Harvey had to temporarily suspend orders at their 90-year-old family nursery after a flood of new business in the wake of going into lockdown.
The couple usually grow and sell plants, fruit and vegetables at Cambridge market, but had already put their stall on hold before lockdown because they needed to keep their elderly mothers safe.
They had diversified, setting up a website to sell plants to families with home-schooled children to help them learn how to grow.
However, after lockdown began, many customers were unable to collect their purchases and with new enquiries mounting as other outlets closed, the couple stopped taking orders for three weeks to catch up with the backlog. Their Facebook page had grown from 300 to 500 followers and they were struggling to cope.
"It was a steep learning curve for us but we have extremely loyal customers who have been so supportive and we wanted to ensure we could meet their needs before continuing," says Jo.
While Robert tends to thousands of plants, she delivers orders in her trusty Volvo – in bulk where communities have grouped together. Some customers collect while on essential trips, always observing social distancing rules.
"Our stock is so important to people young and old, particularly now" says Jo. "To be able to grow and eat your own veg or enjoy the colour and scent of flowers in your garden or window box is so important for your mental health."
Contact Details
Was this web page helpful?