Wasting food feeds climate change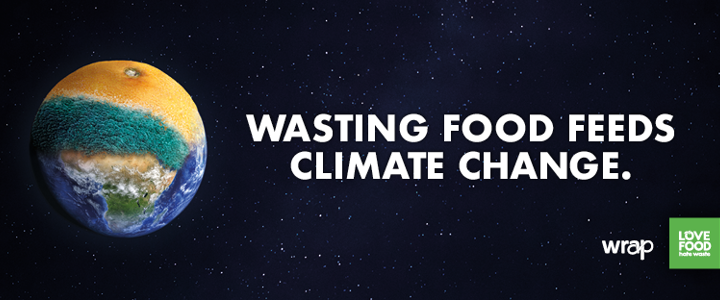 Don't believe us? Well, if we stopped throwing away the 710,000 tonnes of potatoes we waste every year in our homes, it could stop 330,000 tonnes of CO2e from going into the atmosphere!
When we throw away food that could have been eaten we are not just wasting food but the valuable resources that went into making it including water, land and greenhouse gases.
That's why during Food Waste Action Week (Monday 1 to Sunday 7 March 2021), South Cambridgeshire District Council is calling on everyone to understand the true value of food and to consider the impact of their behaviours. You can start by whipping up tasty leftover recipes, using up edible broccoli stalks and potato peelings, storing food the correct way, and spreading the word to ensure that no food that could have been eaten goes to waste.
70% of all wasted food in the UK comes from our homes. That's 4.5 million tonnes of tasty food wasted, and we can save every last crumb!
Join Love Food Hate Waste and spread the word about how to waste less food. Everyone can make a difference, and something as small as saving your leftovers and encouraging friends and family to do the same means you're doing your part. 
How to do your bit
This week:
Take the Food Waste Action Week Challenge at Love Food Hate Waste  - there are some fab prizes to be won!
Share your actions to reduce food waste on social media, and tag #FoodWasteActionWeek
Check out all the tips and advice at Love Food Hate Waste and Out Of Date UK and follow them on Facebook, Instagram or Twitter
Follow our waste social media accounts @gtrcamrecycles on Facebook and Twitter, and @greatercambridgerecycles on Instagram
Any time:
Check your cupboards and fridge, plan meals and make a list before you shop 
Hit pause on produce by freezing it before it's past its best e.g. chicken 
Get creative in the kitchen to use up food which would otherwise be wasted – think banana bread and bread pudding 
Turn your fridge temperature down to below 5°C – keeping foods like milk fresher for longer 
Contact Details
Was this web page helpful?